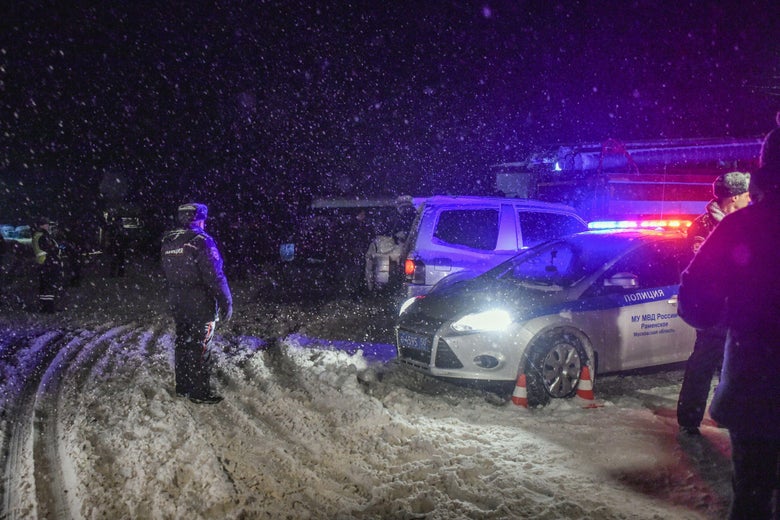 A Russian passenger plane operated by Saratov Airlines crashed shortly after taking off in the Moscow region on Sunday, and all 71 people aboard the plane were killed, according to the Russian Transport Ministry. The An-148 regional jet vanished from radars mere minutes after departing Moscow's Domodedovo Airport with 65 passengers and six crew members. Russia's Emergencies Ministry published the list of passengers and crew members.
"Fragments of the An-148 plane and several bodies have been found near the village of Stepanovskoye," a ministry spokesman told Russia's TASS news agency. Witnesses said the plane was on fire as it fell from the sky. The flight-tracking service Flightradar24 wrote on Twitter that the plane started descending at about 3,300 feet per minute around five or six minutes after takeoff before its signal was lost. In the last moments before it crashed, the plane was falling at up to 22,000 feet per minute, according to the flight-tracking service.
Flight 6W703 was headed from Dmodedovo Airpot, located around 26 miles from the center of Moscow, to Orsk, which is around 1,000 miles southeast of Russia's capital. It is a flight that regularly takes around two hours to complete.
The plane had been in service since 2010, although it had to be taken offline for two years because of a shortage of parts.
President Vladimir Putin expressed his condolences and ordered an investigation into the crash, which officials say could have been caused by anything from bad weather to pilot error to a technical malfunction. "The president offers his profound condolences to those who lost their relatives in the crash," Putin's spokesman, Dmitry Peskov said. Search and rescue workers recovered a black box at the crash site, which should help investigators figure out what happened.
A video claiming to show the site of the crash was published online Sunday showing the  plane's wreckage spread out in the snow.
---