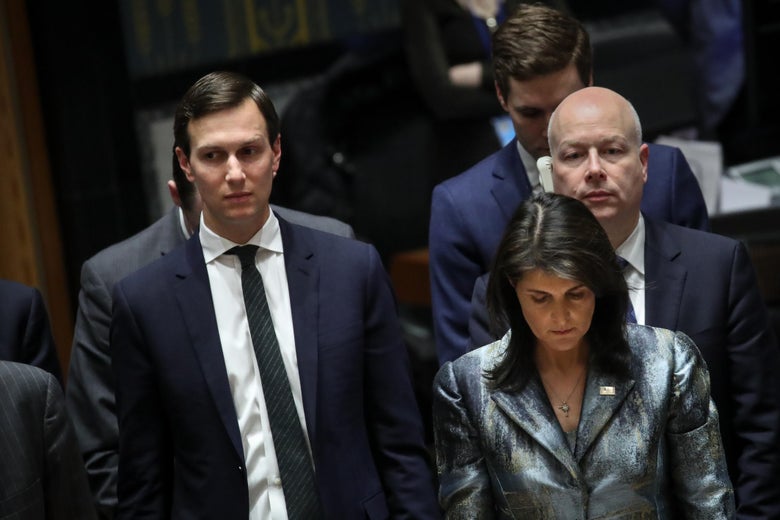 The Washington Post reported on Friday that Deputy Attorney General Rod Rosenstein called the White House two weeks ago to discuss ongoing concerns about Jared Kushner's security clearance.
Kushner has been accessing the nation's top secrets for more than a year through an interim clearance that allows him to see both top-secret and sensitive compartmented information, the highest clearance level.
The issue of security clearance came to the spotlight earlier this month when Rob Porter was fired from his job as White House staff secretary after allegations of domestic abuse were publicized. Porter had been working on a similar interim clearance as Kushner and the White House repeatedly lied about the status of his clearance investigation, according to FBI Director Christopher Wray. More than 130 political appointees working for the president were also still on an interim clearance as of late last year, NBC News recently reported.
The publicizing of this unprecedented situation led White House Chief of Staff John Kelly to declare a new policy that as of this past Friday would supposedly strip interim clearances for individuals with investigations or adjudications pending since July. It would also limit access to highly classified information for individuals with interim clearance without approval of the Chief of Staff's office, "which would be granted only in the most compelling circumstances."
It was unclear whether or not the policy actually went into effect on Friday and how it might have affected Kushner's status. The Post reported that Rosenstein told White House Counsel Donald McGahn that "significant information requiring additional investigation would further delay the security clearance process of senior adviser Jared Kushner, according to three people familiar with the discussion."
It's unclear, though, what exactly Rosenstein shared with McGahn, who himself reportedly lacks permanent security clearance at the SCI level.
The Post reported:
Justice Department officials said Rosenstein did not provide any details to the White House about the matters that needed to be investigated relating to Kushner.

 "The Deputy Attorney General has not referenced to the White House any specific concerns relating to this individual's security clearance process," spokeswoman Sarah Isgur Flores said in a statement.
Rosenstein reportedly wanted to talk with Kelly, who does have full clearance, about Kushner's situation, but couldn't get him on the line.
"There are conflicting accounts about whether Rosenstein discussed with McGahn the significance of the information and its possible impact on Kushner's clearance," the Post reported. "Two people said the deputy attorney general told McGahn the Justice Department had obtained important new information, suggesting it could be an obstacle to his clearance process. One other said Rosenstein did not discuss the nature of the ongoing investigation."
Kushner repeatedly had to amend his disclosures of contacts with foreign officials when applying for security clearance, a move that the Post reported would normally "jeopardize an applicant's chances of obtaining final clearance."
Along with Donald Trump Jr. and then campaign chairman Paul Manafort, Kushner attended a meeting in the summer of 2016 with a Russian lawyer who was promised to have dirt on Hillary Clinton as part of Russia's support of Trump's election. Later that summer, emails from the Democratic National Committee which had been stolen by the Russians were made public as part of Russia's interference in our election, according to the assessment of the intelligence community.
Manafort has since been indicted on multiple counts including conspiracy, failure to register as a foreign lobbyist, money laundering, and tax evasion related to lobbying work he allegedly did for a pro-Russian political party in Ukraine before he worked for the Trump campaign. His former deputy, Rick Gates, pled guilty to conspiracy and to lying to investigators on Friday.
It's unclear whether or not Kushner will actually lose his clearance, as it appears the new Kelly order would demand. The president ultimately has the final say over who is granted access to the nation's biggest secrets.
On Friday, Trump told a new briefing that it would be up to Kelly to determine if Kushner maintained that access.
"I will let General Kelly make that decision, and he's going to do what's right for the country," Trump said. "And I have no doubt that he will make the right decision."
---