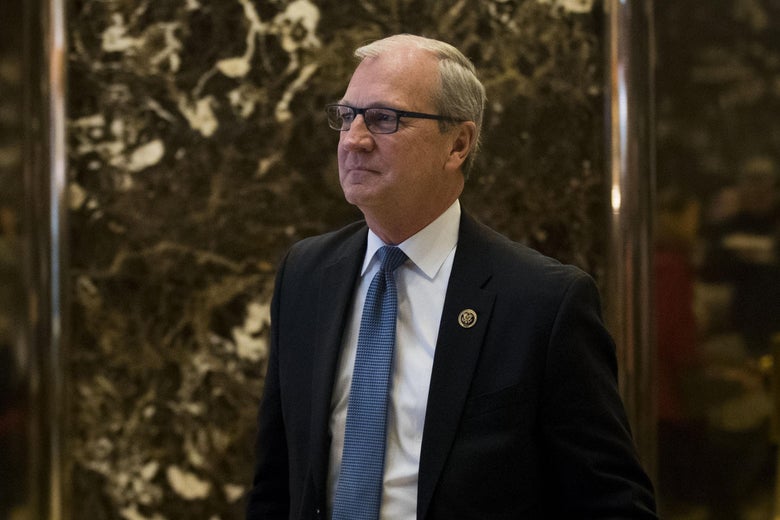 Republicans have finally gotten their man—at least one of them, anyway. Rep. Kevin Cramer has decided to mount a challenge to Sen. Heidi Heitkamp in North Dakota, one of 10 Senate Democrats running for re-election in states that went to Donald Trump in 2016. That's undeniably great news for Republicans, who haven't had much to celebrate this campaign cycle.
Cramer's official announcement Friday comes more than a month after he publicly declined his party's invitation to run, saying then he'd take the easier (and cheaper) route and simply seek a fourth term in the House. But the Republican Powers That Be didn't give up until they got the answer they wanted. The reversal represents a rare victory for a party that has struggled mightily to attract top-tier candidates. And GOP recruiters hope that Cramer will be a sign of things to come given his change of heart happened, not incidentally, as Trump's still-dismal approval rating ticked upward and as Republicans closed some of the gap on Democrats on the generic congressional ballot.
For all the attention paid this week to Sen. Bob Corker and his second thoughts about retirement, Cramer's decision has a more immediate impact on the battle for control of the Senate. Cramer gives the Republicans a very good chance to win back a seat in what is otherwise shaping up to be a very good year for Democrats. Heitkamp is a popular incumbent with nearly universal name recognition, having served two terms as North Dakota attorney general in the '90s and ran unsuccessfully for governor in 2000 before winning her Senate seat six years ago (by a single percentage point).
Cramer is one of the few North Dakota Republicans who can compete with Heitkamp's resume. The at-large congressional district he's held since 2013 covers all of the state, meaning he won't need to introduce himself to new voters. And he won't need to run on his name alone.
Tying oneself to the president is a questionable strategy in many places—but not in North Dakota, a state Trump won by more than 35 percentage points over Hillary Clinton. According to Gallup, the president's average approval rating in the state during his first year in office was 57 percent; the only place it was higher was in West Virginia. Given North Dakota's conservative streak, most experts saw this race as competitive even before Cramer jumped in.
Cramer won't have to go out of his way to convince voters that he's on Team Trump, either.
He served as one of his energy advisers back during the presidential campaign, and has continued in that role, informally, since. He's also proved to be both a reliable vote in the House, and willing to defend pretty much anything that comes out of the White House—as he made painfully clear last spring when he came to the defense of Sean Spicer after the then-White House spokesman compared Adolf Hitler favorably to Bashar Assad and rebranded concentration camps as "Holocaust centers." Similarly, Cramer also moonlighted as a fashion critic after Trump's first address to Congress, declaring that the Democratic women who wore white to send the president a message were "poorly dressed" and looked "silly."
Democrats will need to gain just two seats this fall to flip control of the Senate. That seems easy enough until you remember there are only eight Republican seats up in November, at least half of which are considered about as safe as you can get. Campaign handicappers currently believe that, at best, there are only three places Democrats have a legitimate chance to flip a seat: Arizona, Nevada, and Tennessee. But that's only half of the equation; Democrats also need to protect the 26 seats they have that are also up in the midterm, as many as eight of which experts expect to be competitive. The math is simple but daunting for Democrats: every incumbent they fail to protect means one more seat they need to turn blue. Their already narrow margin for error, then, is noticeably smaller now that Cramer is involved.
Support our journalism
Help us continue covering the news and issues important to you—and get ad-free podcasts and bonus segments, members-only content, and other great benefits.
Join Slate Plus
Join
---