As expected, Pennsylvania's Supreme Court released a new congressional map on Monday that will be implemented in time for the 2018 election. The new map was mandated by the swing state's supreme court after it found the redistricting conducted by the Republican-majority legislature in 2011 unconstitutional due to the guarantee of "free and equal" elections in the state's constitution. The task of revising district lines fell to the court after the state's Republican legislature and Democratic governor, Tom Wolf, failed to agree upon one of several different proposals by Feb. 15.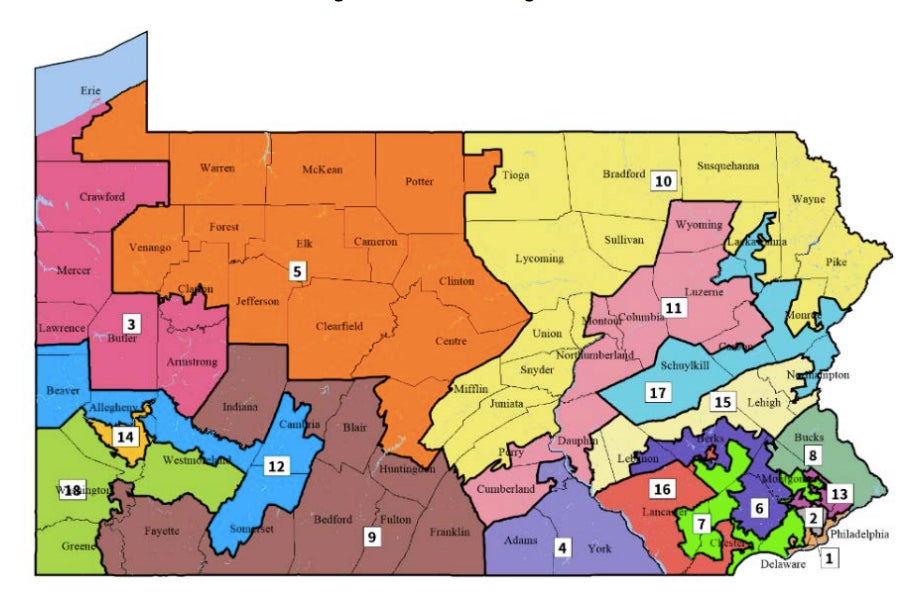 To create the new map, the Pennsylvania Supreme Court enlisted Nathaniel Persily, a professor at Stanford Law School and a redistricting expert. Persily drew a map whose boundaries split only 13 of Pennsylvania's 67 counties (as opposed to the 2011 map's 28 splintered counties). The new map also divides Philadelphia into fewer congressional districts than its predecessor.* While the 2011 redistricting bestowed a hearty advantage to GOP candidates, who have repeatedly won 13 of the state's 18 congressional seats despite the number of registered Democrats exceeding that of registered Republicans in Pennsylvania, the just-released map will likely mean some seats in the House of Representatives will turn blue come November midterms.
Pennsylvania Republicans won't be happy. As Mark Joseph Stern has previously written, Republicans have challenged the impartiality of the justices, defied the state supreme court, and requested an intervention by the U.S. Supreme Court. (Justice Samuel Alito Jr. rejected their appeal.) State Senate President pro tempore Joe Scarnati and House Speaker Mike Turzai, both Republicans, also submitted a map that Wolf rejected because, while tidier than its predecessor, it still had a "decidedly partisan skew," according to a mathematical assessment. Pennsylvania Republicans are expected to challenge the new map in federal court, but perhaps they would do well to ready candidates for the now-fair playing field in the 2018 midterms.
*Correction, Feb. 19, 2018: This post originally misidentified Philadelphia as Pennsylvania's capital. The state's capital is Harrisburg.