Almost immediately after the deadly attack at Marjorie Stoneman Douglas High School in Parkland, Florida, ended, some (though not all!) of the shooting's survivors began using their impromptu platforms to endorse gun-control legislation and criticize the politicians (generally Republican, and including the president) who have long blocked its passage. For the sizable contingent of right-wing media figures and consumers whose ideology presently amounts to little more than perpetual, aggressive bad-faith Trumphilia, this was an obviously unacceptable provocation; attempts to discredit the students began appearing soon after their statements to the press did. And given that the only ideas that seem to pass into the president's mind in any permanent way arrive via Fox News programming and Twitter, it seems both newsworthy and foreboding that in the past 24 hours or so criticisms of the Parkland gun-control advocates (and/or the left-wing media's exploitation thereof) have been made or endorsed by several individuals in his right-wing media diet:
• Bill O'Reilly, the former Fox star who Trump follows on Twitter.
• David Clarke, the full-of-it former Milwaukee sheriff and frequent Fox News guest.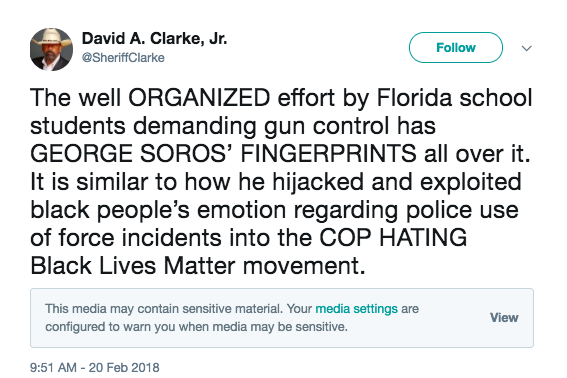 • The Drudge Report, which Trump follows on Twitter, which picked up both Clarke's statement and a "report" from the dumpster idiot site Gateway Pundit about a Parkland teacher allegedly encouraging students to attack the Second Amendment.
• Ben Shapiro, who appeared on Fox and Friends Tuesday, and who wrote in the National Review that Parkland students are being manipulated by "more sophisticated players" on the left.
Children and teenagers are not fully rational actors. They're not capable of exercising supreme responsibilities. And we shouldn't be treating innocence as a political asset used to push the agenda of more sophisticated players."
• Donald Trump Jr., whose father follows him on Twitter and who "liked" two Tweets suggesting that Parkland student David Hogg (pictured at the top of this article) has criticized the president because Hogg's father is a former FBI agent. (In Trump Brain the FBI—and apparently its alumni network—is committed to the president's destruction.) Hogg also discussed Trump Jr.'s "likes"on CNN, which the elder Trump is known to occasionally hate-watch.
The idea that it's unfair for liberal politicians to use shooting victims and survivors as "props" in gun-control advocacy is not a new one. What has made Parkland unique is that students themselves are leading the advocacy; since you can't really accuse someone of using themselves as a prop, the the obvious/standard news practice of interviewing shooting survivors about the shooting they survived must become an exploitative CNN-Soros-FBI conspiracy. And while anonymous White House officials are claiming that Trump is about to back several gun-control reform measures, which would seem to be incompatible with attacks on the students who are campaigning for them, no one has ever really gone wrong underestimating his interest in intellectual consistency or overestimating his willingness to get involved in petty, self-defeating feuds with people who have the moral high ground. Should be fun!
Update, 2:45 p.m.: Media Matters (a partisan Democratic site) observes that frequent Fox News commentator, NRA board member, and recent White House tour guest Ted Nugent has posted a conspiracy-site article to his Facebook account which alleges that David Hogg has been coached in "scripted" anti-Trump talking points by the "fake news media" and FBI "deep state." Big if true!