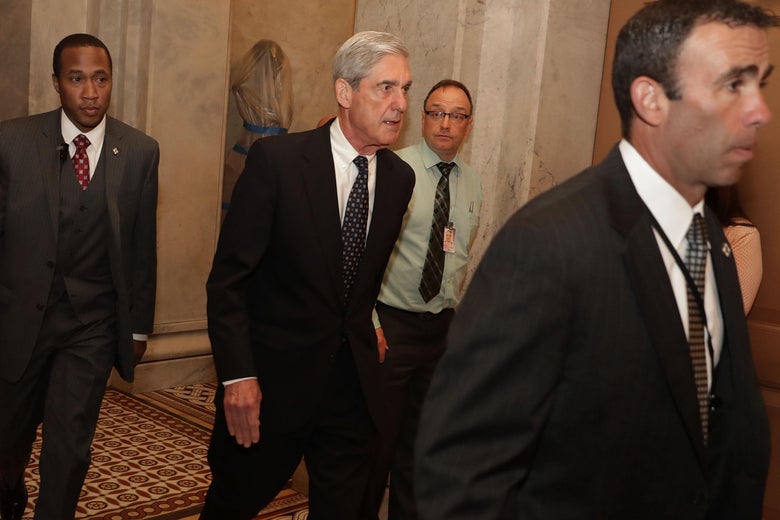 A Washington grand jury issued an indictment on Friday against 13 Russian nationals and three Russian companies accused of interfering in the 2016 presidential election to support the campaign of President Donald Trump. This was the first indictment by Special Counsel Robert Mueller that directly accused specific Russians of meddling in the U.S. election.
The indictment focuses on Russian internet content farm, Internet Research Agency LLC, with 12 of the defendants having worked for that company and the 13th defendant, Yevgeniy Viktorovich Prigozhin, working for a separate entity to fund the organization.
Deputy Attorney General Rod Rosenstein, who oversees Mueller's probe and has come under heavy fire from the president since he appointed Mueller as special counsel last year, told reporters that no Americans were implicated by this indictment.
"There is no allegation in this indictment that any American was a knowing participant in this illegal activity," Rosenstein told reporters. "There is no allegation in this indictment that the charged conduct altered the outcome of the 2016 election."
The eight-count indictment charged all defendants with a criminal conspiracy to defraud the United States by impairing the lawful functions of the Federal Election Commission, the Department of Justice, and the State Department.*
This involved the alleged circumventing of reporting requirements for political activities by foreign nationals, making illegal campaign expenditures, and obtaining visas through false and fraudulent statements.
Additional counts charged specific defendants with wire fraud and bank fraud, as well as with identity theft.
"The indictment alleges that the Russian conspirators want to promote discord in the United States and undermine public confidence in Democracy," Rosenstein said. "We must not allow them to succeed."
"The Department of Justice will continue to work cooperatively with other law enforcement and intelligence agencies and with Congress to defend our nation against similar current and future efforts."
The indictment charged the Internet Research Agency with attempting to build up social media sock-puppet accounts to influence American politics, ultimately "supporting the presidential campaign of then-candidate Donald J. Trump ("Trump Campaign") and disparaging Hillary Clinton." The organization had an annual budget in the millions of dollars and employed more than 100 people to do its work.
The indictment notes that some of the defendants allegedly used sophisticated methods to communicate "with unwitting individuals associated with the Trump Campaign and with other political activists to seek to coordinate political activities."
"The nature of the scheme was that the defendants took extraordinary steps to make it appear that they were ordinary American political activists, even going so far as to base their activities on a virtual private network here in the United States," Rosenstein said.
It describes defendants purchasing political advertisements on social media in the name of U.S. persons and entities. The indictment also charged defendants with setting up fake grassroots political events. Rosenstein noted that after the election, the group allegedly set up competing rallies in support of President Trump and in opposition to him in New York.
"This indictment serves as a reminder that people are not always who they appear to be on the internet," Rosenstein said.
Rosenstein reported that their had been no communication with the Russians over how a jury trial might unfold and that the Justice Department would follow "the ordinary process of seeking cooperation and extradition."
Correction, Feb. 16, 2018: This post originally misidentified the Federal Election Commission as the Federal Election Committee.
If you think Slate's election coverage matters…
Support our work: become a Slate Plus member. You'll get exclusive members-only content and a suite of great benefits—and you'll help secure Slate's future.
Join Slate Plus
Join
---