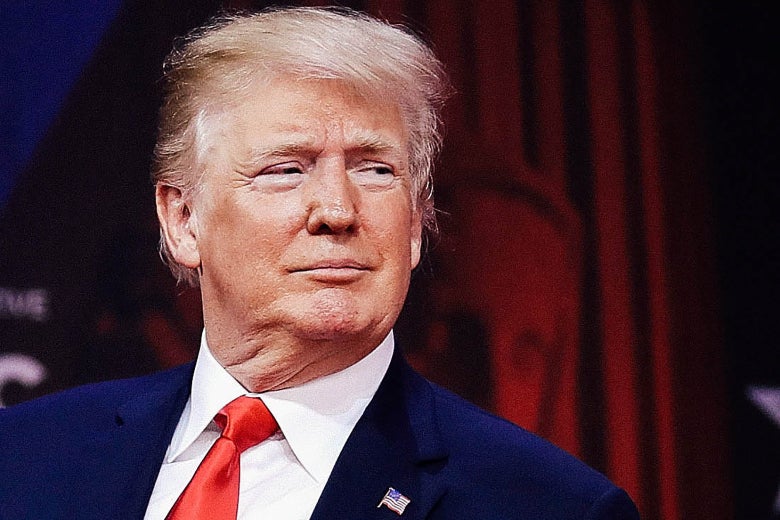 It's not exactly news that President Trump is running for re-election. Indeed, the only news in Tuesday's announcement from Trump's campaign—leaked to Matt Drudge of the Drudge Report—is that Brad Parscale, his 2016 digital director, will serve as his campaign manager. Parscale has the distinction of being one of the few high-level members of the Trump 2016 team not under direct investigation by Congress or the FBI, although Parscale too has been questioned about his knowledge of Russian intervention in the presidential election.
We've known of Trump's plans since he entered office. He filed the paperwork establishing his re-election committee the same day he was sworn in. Within months of his inauguration, he was holding campaign rallies in friendly parts of the country. He's been fundraising for re-election since he entered the Oval Office, and his press secretary, Sarah Huckabee Sanders, routinely refers uncomfortable questions to the Trump campaign. To say that Trump is running for a second term is to miss that he never stopped running to begin with.
A cynical observer might say that this isn't so different from past presidents, from Barack Obama to Bill Clinton, who worked with an eye toward re-election. But those presidents weren't pure political creatures; they had concrete agendas and tangible goals. Trump has neither. "Make America Great Again" was an empty slogan that stood for racial and cultural resentment more than any particular policies or outcomes. The truth is that Trump ran for president as a vanity play, and his bid for re-election is part and parcel of the same impulse.
We know that Trump loves the trappings of the presidency, from being feted by foreign leaders to demanding the respect and deference accorded to the office. He relishes the ceremony of a speech to Congress and the authoritative imagery of a Cabinet meeting. His daily rage at the Russia investigation is as much about violation—I deserve more respect than this—as it is about politics.
By contrast, Trump is less concerned with the actual work of the presidency, which has been more grueling and difficult than he expected. "I loved my previous life. I had so many things going," Trump told Reuters in an interview last year. "This is more work than in my previous life. I thought it would be easier." His response has been to simply do less work.
In January, Axios reported on the dwindling length of Trump's work schedule. The president spends hours each morning and afternoon watching cable news and tweeting, wrapping up his day by the early evening. During his first year in office, Trump was of limited help as Republicans tried to pass their priorities into law, offering little in the way of presidential leadership or guidance, and often subverting compromises that might have moved his agenda forward. On the weekends, the president spends time at his private resorts, golfing and glad-handing with guests and members.
Earlier this month, he announced his infrastructure plan—essentially a $250 billion grant to finance a projected $1.5 trillion in private and public spending—with great fanfare. "We will build gleaming new roads, bridges, highways, railways, and waterways all across our land. And we will do it with America heart, and American hands, and American grit," said Trump in his State of the Union address. Soon after, his White House released a framework for the plan. Silence followed. Trump and his team said little. And in the absence of any engagement—any sign that the president demands an infrastructure bill—Republican lawmakers have put it on the back-burner. "I think it's gonna be hard, because we have so many other things to do and we don't have much time," said Texas Sen. John Cornyn, speaking to reporters on Tuesday.
Re-energizing the campaign is another way for Trump to avoid the necessary work of the presidency, and the criticism and scrutiny that comes with that work. He can hold a rally, for himself or for another candidate, and bask in both the media coverage and the support and adoration of Republican voters. We saw this last week when the president spoke at the Conservative Political Action Conference in Washington, D.C. He was in his element, going to the same well of stories, anecdotes, and slogans he regularly deployed during the presidential election. He railed against Hillary Clinton, and the crowd of conservative activists went into a chant of "lock her up."
For Trump, who has begun his second year in office with a flailing legislative agenda, a federal investigation, and a growing backlash from Democratic voters, a return to the campaign is an escape into a safe space, where he is the beloved champion of the Republican Party, and where the pressure of governance has dissipated. It's the presidency as Trump expected it to be, not the presidency as it actually is.
Support our journalism
Help us continue covering the news and issues important to you—and get ad-free podcasts and bonus segments, members-only content, and other great benefits.
Join Slate Plus
Join
---