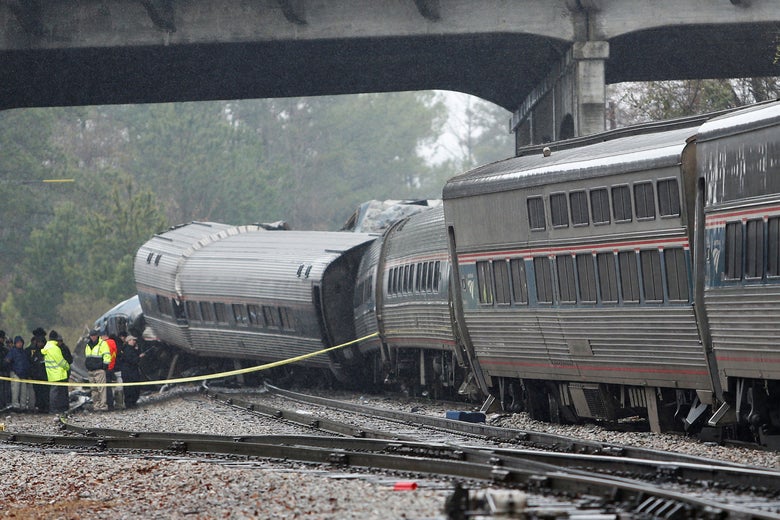 An Amtrak passenger train traveling from New York to Miami collided with a CSX freight train near Columbia, S.C., causing a derailment that left at least two people dead and 116 injured. The crash took place at around 2.35 a.m. in Cayce, South Carolina, causing the lead engine and "some passenger cars" of Amtrak Train 91 to derail, the company said in a statement.
The two people who were killed in the collision were Amtrak employees. Michael Kempf, a 54-year-old train engineer from Savannah, Georgia, was killed as was Michael Cella, the 36-year-old conductor from Orange Park, Florida.
The train was carrying 139 passengers and eight crew members, all of whom were evacuated off the train Sunday morning. The more than 110 people who were wounded suffered injuries that went from superficial scratches to broken bones.
The Amtrak train appeared to be on the wrong track. "The CSX was on the track it was supposed to be on," Gov. Henry McMaster said. The National Transportation Safety Board has sent investigators to the scene of the crash to try to figure out what happened.
One of the things the investigators will surely look into is whether the switch was misaligned, which could have led the Amtrak train to get off the main line and crash into the parked freight train. At least for now that seems to be the most likely cause of the crash. "Part of the preliminary indications are that it would have to be a switching issue,'' Tom Allen, a transportation safety director with the state Office of Regulatory Staff, told the State. "It was no derailment caused by a flaw in the track. The Amtrak was on the wrong track.''
This is the latest in a series of accidents involving Amtrak trains over the past few weeks. A December derailment in Washington state killed three people and injured dozens while last week an Amtrak train traveling to a Republican retreat in West Virginia struck a truck in Virginia. The driver of the truck was killed.
*This post has been updated with new information since it was first published.
---