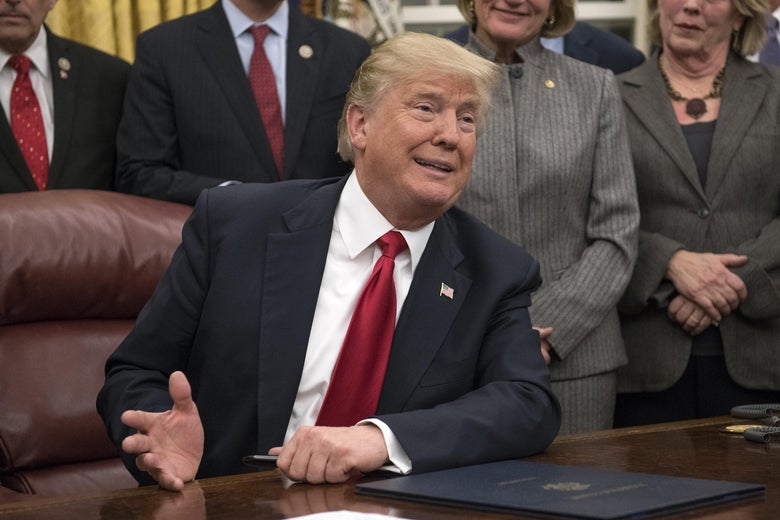 In a meeting with a group of lawmakers today, President Trump reportedly expressed frustration that the U.S. is taking in too many people from "shithole" countries in Africa and the Americas. The Washington Post reports:
"Why are we having all these people from shithole countries come here?" Trump said, according to these people, referring to African countries and Haiti. He then suggested that the United States should instead bring more people from countries like Norway, whose prime minister he met yesterday.
According to the Post, the remark came after Sens. Lindsey Graham and Dick Durbin suggested a potential bipartisan deal that would involve making cuts to the visa lottery program and funding Trump's long-sought border wall while restoring protections for people from countries that have been removed from the temporary protected status program. (As a side note, Trump has managed to say an impressive number of ridiculous things as a result of a relatively innocuous meeting with the prime minster of Norway yesterday.)
The Trump administration announced Monday that it would be taking away protected status from El Salvador, sparking fears that about 200,000 Salvadorans currently residing in the U.S. would have to leave, on top of the Haitians and Nicaraguans already removed from the program. Others who now benefit from the program include people from Nepal, Somalia, Sudan, South Sudan, Syria, and Yemen. The Obama administration decided in 2016 to end protected status for three West African countries affected by the Ebola outbreak.
Trump calling countries where people of color live "shithole[s]" in contrast to more desirable European countries of origin would be bad enough on its own, but it's the second time remarks like these have been reported in the past few weeks. On Dec. 23, 2017, the New York Times reported that in a June 2017 meeting in the Oval Office, an enraged Trump had read off a list of countries whose immigrants had received U.S. visas in 2017, saying that Haitians "all have AIDS" and that once Nigerians had seen America, they would never "go back to their huts" in Africa.
Coming just before Christmas, that story got less attention than it might have otherwise, and the White House denied he had made the comments, blasting the New York Times for its use of anonymous sources. This time, they didn't even bother with the denial, instead just blaming other politicians for choosing to "fight for foreign countries."
One more thing
You depend on Slate for sharp, distinctive coverage of the latest developments in politics and culture. Now we need to ask for your support.
Our work is more urgent than ever and is reaching more readers—but online advertising revenues don't fully cover our costs, and we don't have print subscribers to help keep us afloat. So we need your help. If you think Slate's work matters, become a Slate Plus member. You'll get exclusive members-only content and a suite of great benefits—and you'll help secure Slate's future.
Join