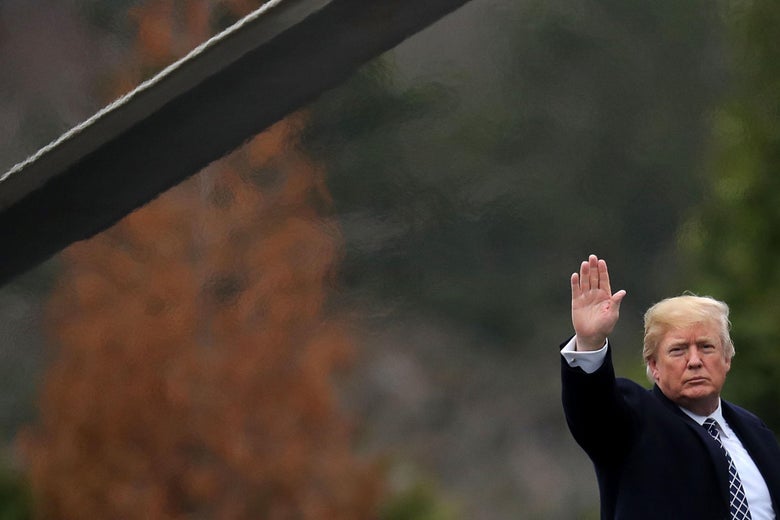 It has been more than 24 hours since the people of Hawaii and its visitors suffered harrowing minutes after a false alarm about an incoming ballistic missile attack left many locals and tourists terrified as they prepared for the worst. So far though, President Donald Trump has yet to comment on the apparent mistake.
At the time when so many of his fellow citizens were terrified, Trump was playing golf, and apparently stayed at the golf course in West Palm Beach during most of the incident, according to the press pool report. His entourage returned to Mar-a-Lago right as Hawaii residents were receiving confirmation that it was all a false alarm.
Many were quick to criticize Trump's attitude, with former Pentagon official Morris Davis noting that the president "continued his round of golf in Florida on his 120th taxpayer funded vacation day in less than a year."
A few hours after the panic had subsided, Trump did take to Twitter but not to comfort Hawaiians or vow to get to the bottom of what happened. Instead, Trump thought that was the right time to attack "Fake News," and criticize the media for promotion a "Fake Book of a mentally deranged author."
The commander in chief also took the time to retweet Jack Posobeic, the alt-right conspiracy theorist who was one of the ones who claimed Hillary Clinton ran a child sex trafficking ring from a pizza restaurant in Washington, D.C. He proceeded to be very active on Twitter but never once mentioned Hawaii.
He complained he wasn't getting enough credit for the state of the economy, retweeted a story about Hillary Clinton's emails, accused the Wall Street Journal of misquoting him, and criticized Democrats, to name a few of the tweets that the commander in chief put out over the past 24 hours.
The White House issued a short statement long after it was clear that the threat was a false alarm. "The President has been briefed on the state of Hawaii's emergency management exercise," White House spokeswoman Lindsay Walters said. "This was purely a state exercise." The suspiciously short statement seemed to have one purpose: make sure no one thought it was Trump's fault. The Washington Post's Philip Bump notes all the things the president could have done instead:
Trump could have tweeted as soon as possible that the alert was a false alarm, sharing that information with millions of Americans immediately. He could have additionally shared information about what went wrong, and assured people that he would work to make sure that no such error happened again in the future. He could, at the very least, have sought to offer some emotional support to the people of Hawaii. He did none of these. He has, as of writing, done none of these.

…

The result is that there was actually one message Trump sent to Hawaiians on Saturday.

You're on your own.
The way the White House responded to the warning also left many concerned that the Trump administration is still woefully unprepared to deal with a crisis of this magnitude. Politico explains:
President Donald Trump's Cabinet has yet to test formal plans for how to respond to a domestic missile attack, according to a senior administration official. John Kelly, while serving as secretary of Homeland Security through last July, planned to conduct the exercise. But he left his post to become White House chief of staff before it was conducted, and acting Secretary Elaine Duke never carried it out.

The administration ran the exercise on Dec. 19 at the deputies level, at the behest of Kelly and newly sworn-in Homeland Security chief Kirstjen Nielsen. But as of Saturday, when Hawaii residents were taking cover, the federal government had yet to play out the same scenario with Cabinet secretaries at what is known as the principals level. 
One more thing
You depend on Slate for sharp, distinctive coverage of the latest developments in politics and culture. Now we need to ask for your support.
Our work is more urgent than ever and is reaching more readers—but online advertising revenues don't fully cover our costs, and we don't have print subscribers to help keep us afloat. So we need your help. If you think Slate's work matters, become a Slate Plus member. You'll get exclusive members-only content and a suite of great benefits—and you'll help secure Slate's future.
Join Slate Plus
Join