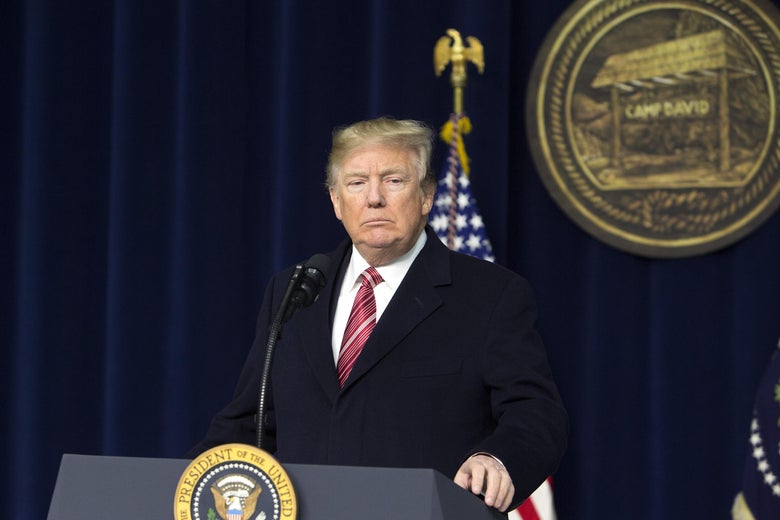 President Donald Trump took a break from discussing strategy with Republican leaders at Camp David to hold a news conference where he defended his fitness for office, criticized the ongoing Russia collusion investigation, and blasted Michael Wolff's Fire and Fury.
"Everything I've done is 100 percent proper," Trump said when asked about a recent New York Times story that he pressured Attorney General Jeff Sessions not to recuse himself from the Russia investigation. "That is what I do, is I do things proper." The president went on to say that the Times piece was "way off, or at least off," but he refused to elaborate when he was asked about what was wrong with the story. "You'll find out," he said. "But the story was off."
At one point, Trump appeared to say that he would be willing to meet with special counsel Robert Mueller's team, responding "yeah" when he was asked but then seemingly realizing he may have said something inappropriate. "Just so you understand, there's been no collusion, there's been no crime, and in theory everybody tells me I'm not under investigation—maybe Hillary (Clinton) is, I don't know—but I'm not," he told reporters. "But we have been very open. We could have done it two ways. We could have been very closed, and it would have taken years. But you know, sort of like when you've done nothing wrong, let's be open and get it over with."
The investigation is "very, very bad for our country. It's making our country look foolish," he said. "And this is a country that I don't want looking foolish. And it's not gonna look foolish as long as I'm here."
When the president was asked why he felt the need to defend his mental capacity in a series of tweets Saturday morning, Trump said he just wanted to set the record straight. "Only because I went to the best colleges, or college," Trump said. "I had a situation where I was a very excellent student, came out, made billions and billions of dollars, became one of the top business people, went to television and for 10 years was a tremendous success, which you've probably heard."
The commander in chief also took the opportunity to once again blast Wolff, calling his book a "work of fiction." The commander in chief knows just what is to blame for the publication. "Libel laws are very weak in this country," Trump said. "If they were stronger, hopefully, you would not have something like that happen." The commander in chief also said that Wolff "did not interview me for three hours, it didn't exist, OK? It's in his imagination."
Separately, Trump also noted he would be willing to hold a phone conversation with North Korean leader Kim Jong-un. "Our stance, you know what it is. We're very firm," Trump said. "But I would be—absolutely, I would do that. No problem with that, at all." He later recognized there would have to be preconditions before any talks could take place.
One more thing
You depend on Slate for sharp, distinctive coverage of the latest developments in politics and culture. Now we need to ask for your support.
Our work is more urgent than ever and is reaching more readers—but online advertising revenues don't fully cover our costs, and we don't have print subscribers to help keep us afloat. So we need your help. If you think Slate's work matters, become a Slate Plus member. You'll get exclusive members-only content and a suite of great benefits—and you'll help secure Slate's future.
Join Slate Plus
Join