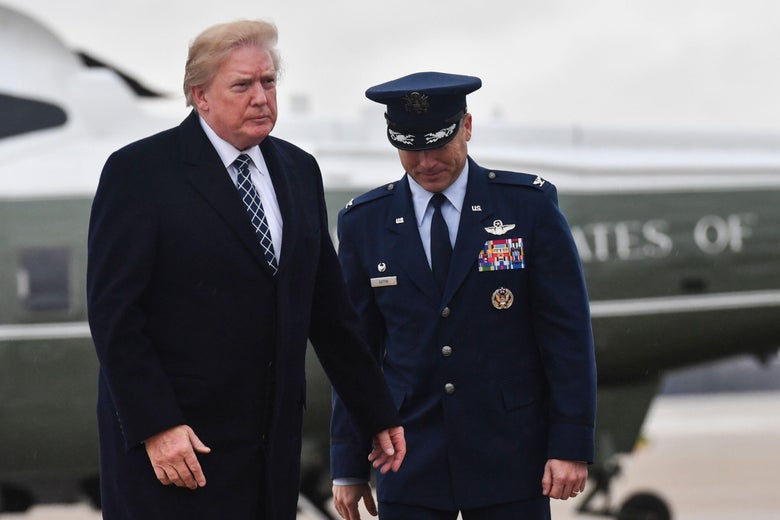 President Donald Trump went after the Wall Street Journal this weekend, shortly after the paper reported that a porn star received the equivalent of hush money to not talk about details of a sexual encounter with Trump.
The fight is really over one contraction: 'd. In a tweet Sunday morning, Trump said the Journal of purposefully misrepresenting his words in an interview. He accused the paper of peddling "fake news" when it claimed the president had proudly said during the interview: "I probably have a very good relationship with Kim Jong-un. I have relationships with people. I think you people are surprised."
Trump insisted he actually started that sentence with "I'd" and not "I," meaning he was predicting that he could have a good relationship with the totalitarian leader of North Korea. "Fortunately we now record conversations with reporters," he wrote. He claimed the reporters of knowing "exactly what I said and meant" but they "wanted a story."
The New York Times points out that it is "unclear what Mr. Trump meant by saying that the White House records 'conversations with reporters.' It is standard for White House communications staff members to make audio recordings of interviews with the president, though they do not publicly release a transcript of the interview."
Trump's tweets came hours after the White House press secretary, Sarah Huckabee Sanders, posted the "official audio showing WSJ misquoting @POTUS." She also published an image with the words "FAKE NEWS" across the top: "THE WALL STREET JOURNAL. FAKE NEWS IS AT IT AGAIN. FALSELY QUOTING PRESIDENT TRUMP."
The Wall Street Journal is standing by its initial report, noting that the ground rules for the interview included an agreement not to disseminate the audio recordings that would be used only for transcribing purposes. "After the White House challenged the Journal's transcription and accuracy of the quote in a story, The Journal decided to release the relevant portion of the audio. The White House then released its audio version of the contested segment," the newspaper wrote.
Most news outlets agree that from the two recordings it is difficult to tell whether Trump said "I" or "I'd."
One more thing
You depend on Slate for sharp, distinctive coverage of the latest developments in politics and culture. Now we need to ask for your support.
Our work is more urgent than ever and is reaching more readers—but online advertising revenues don't fully cover our costs, and we don't have print subscribers to help keep us afloat. So we need your help. If you think Slate's work matters, become a Slate Plus member. You'll get exclusive members-only content and a suite of great benefits—and you'll help secure Slate's future.
Join Slate Plus
Join