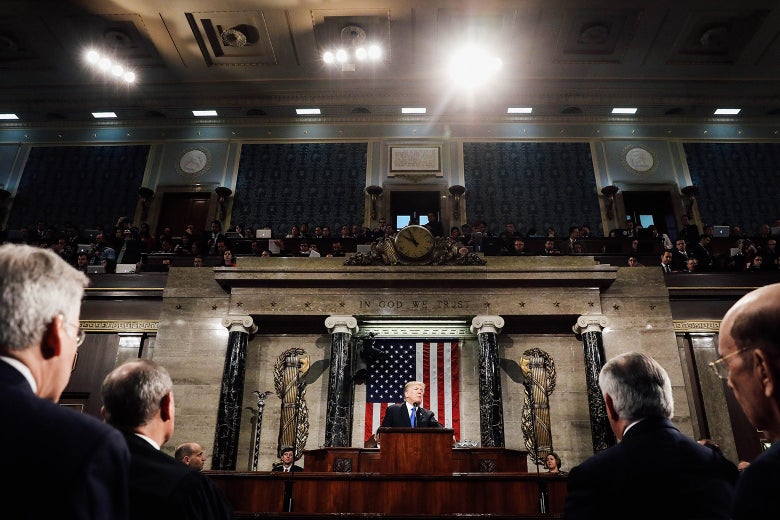 In his first State of the Union address, President Trump called on Congress to pass two major pieces of bipartisan legislation this year: an immigration bill and an infrastructure bill. The immigration legislation was the same proposal from last week that has already been left for dead on Capitol Hill, and the infrastructure concept he laid out has been consistently trashed by Democrats since his campaign first introduced it in 2016. Trump called for bipartisanship, but there were no winks nor nods to indicate to Democrats that he was willing to budge from his already-known positions.
Prior to laying out his immigration plan, Trump pulled one of his most common, and divisive, rhetorical tricks: exploiting parents whose children were killed by gang violence and extrapolating that into larger statement on the terror immigrants present to the nation. "Tonight," he said in a segue sure to charm those skeptical of his immigration approach, "I am calling on the Congress to finally close the deadly loopholes that have allowed MS-13, and other criminals, to break into our country."
He then went through the framework the White House released last week that offers Democrats a path to citizenship for 1.8 million Dreamers in exchange for nearly everything conservatives want on the subject of immigration. He gave comically incorrect descriptions of policy changes he was seeking to make. "Under the current broken system," he said, "a single immigrant can bring in virtually unlimited numbers of distant relatives." No, they can't. This is pure Stephen Miller fiction, and Democrats appropriately booed him when he said it. (He suggested, most quizzically, that the plan "protects the nuclear family by ending chain migration." The scourge of grandma will no longer be condoned.)
The president's plan leaked after a staffers' conference call last Thursday afternoon, and was dead and buried by Democrats, and plenty of Republicans, by early Thursday evening. Congress is already looking ahead to narrower backup plans, such as a straightforward codification of Deferred Action for Childhood Arrivals protections along with border security. That was what this whole exercise was supposed to produce before certain chuckleheads devised schemes to overhaul the legal immigration system in the same process.
On infrastructure, the president called on Congress to "produce a bill that generates at least $1.5 trillion for the new infrastructure investment we need." One way for Congress to "generate" that money would be to pass a bill appropriating it, but that money went to last year's tax cut. Instead, early drafts of the plan center around offering about $200 billion in incentives, via grants, to private companies or state and local governments, which would put up the rest of the money. Democrats deride this scheme as giving companies breaks to create private toll roads in well-trafficked areas likely to produce profits, because that's a likely effect.
"I would like to see how this private-public partnership proposal and toll roads idea would work in Wyoming," Illinois Sen. Dick Durbin, the No. 2 Senate Democrat, told reporters earlier on Tuesday. "To me, it's a throwaway line."
"If we could turn $200 billion in funding into $1.7 trillion in infrastructure," Delaware Sen. Tom Carper deadpanned, "maybe we could come up with ways to turn even larger amounts of money into deficit reduction, and this would solve all of our problems."
Trump also insisted "any [infrastructure] bill must also streamline the permitting and approval process—getting it down to no more than two years, and perhaps even one." Speeding up the approval process sounds swell. In the Trump administration's case, though, this is a backdoor mechanism for going after environmental regulations.
As in every State of the Union, the president called on Congress to pass things that will live or die according to long-standing congressional politics, not because the president did or didn't ask them to do so in a formal setting. There were perfunctory calls for items designed to please the other side: a mention of paid family leave, for example, that House Speaker Paul Ryan will (correctly) assume the president forgets he ever said by Wednesday morning. On the major items, though, the president introduced no new ideas that might nudge either fully matured or nascent congressional debates towards resolution—something he was able to do in last year's joint address when he called for tax credits to be included in Republicans' would-be Obamacare replacement. If anything, he poisoned the well further on immigration and shared his view that roads and bridges are nice.
Good ritual. Glad we did that.
Read more in Slate about the State of the Union.
Support our journalism
Help us continue covering the news and issues important to you—and get ad-free podcasts and bonus segments, members-only content, and other great benefits.
Join Slate Plus
Join
---