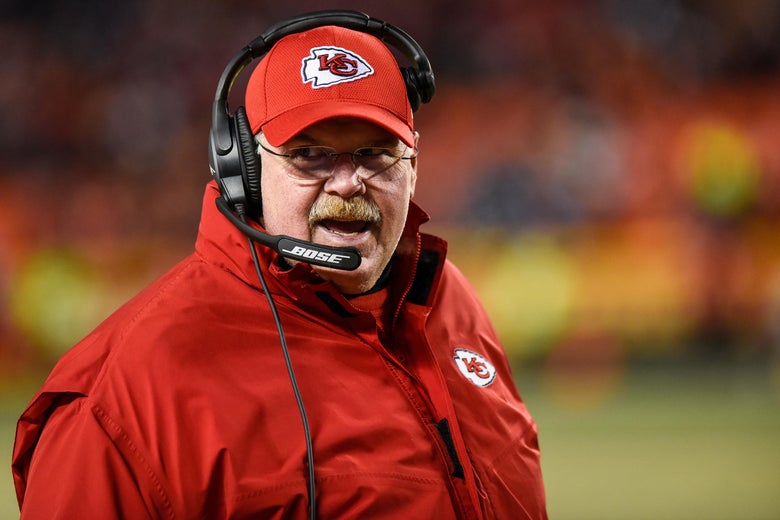 Like Wile E. Coyote, the Kansas City Chiefs are always one-upping themselves with contrivances of self-harm. In Saturday's wild-card loss to the Tennessee Titans, the Chiefs managed to blow an 18-point halftime lead—and this collapse started when the opposing quarterback threw a touchdown pass to himself. For any other team, it would be an all-time painful loss; for the Chiefs, it certainly cracks the decade's top-five.
There was, of course, the 45-44 Wild Card loss to the Colts in 2015 (a game in which the Chiefs were up 38-10 in the third quarter). There was also last year's heartbreaker against the Steelers, where Kansas City drove 75 yards in the fourth quarter to score, only to miss the game-tying 2-point conversion. Elements of Saturday's collapse against the Titans will bring back memories of those affairs, but it still managed to include plenty of fresh twists to torture Chiefs fans. To paraphrase Tolstoy, all playoff wins are alike; each Chiefs playoff loss is agonizing in its own way.
Marcus Mariota's aforementioned touchdown throw-and-catch combo proved to be a real noogie for Kansas City, as was the quarterback's game-sealing block.
Neither of those holds a candle, however, to the almighty swirly and wedgie that was the dramatic fumble-recovery-touchdown that wasn't. It even had ESPN's play-by-play man Sean McDonough squealing with pubescent delight before the refereeing crew reversed the call.
Head Coach Andy Reid will get the blame, as he always does in these situations, but his much-maligned clock management wasn't what doomed Kansas City this time around. A vibrant slew of miscues and misfortunes added up to this 22-21 loss. The Chiefs were deeply unlucky to lose star tight end Travis Kelce in the first half to a concussion, but that shouldn't be an excuse for throwing away an 18-point lead. Neither should the ramshackle refereeing, which affected both teams.
If you can point to a single moment or decision that's to blame, please let members of the Chiefs' coaching staff and front office know. Like a disaster that requires the intervention of federal authorities, there is a staggering amount of evidence lying around. For yet another postseason, it's up to Kansas City to parse through it all and figure out what, exactly, happened.
One more thing
You depend on Slate for sharp, distinctive coverage of the latest developments in politics and culture. Now we need to ask for your support.
Our work is more urgent than ever and is reaching more readers—but online advertising revenues don't fully cover our costs, and we don't have print subscribers to help keep us afloat. So we need your help. If you think Slate's work matters, become a Slate Plus member. You'll get exclusive members-only content and a suite of great benefits—and you'll help secure Slate's future.
Join Slate Plus
Join