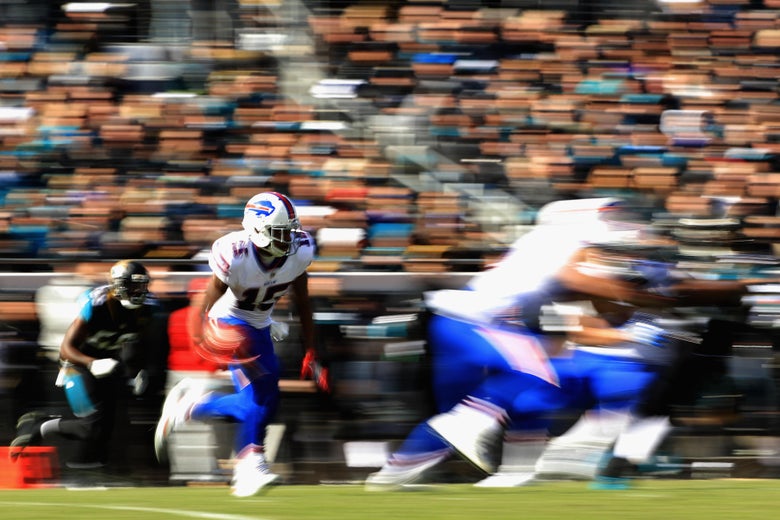 Sunday's wildcard game between the Jacksonville Jaguars and Buffalo Bills was one for the record books, in that it occurred and must be entered into the NFL's records for the purposes of bookkeeping. The Jaguars won 10-3, though the score makes it seem like more of a shootout than it actually was.
It was a punting shootout, however. The teams combined for 17 punts, which, while not a playoff record (that honor goes to a 1933 Giants-Bears showdown that featured 23 punts), it still is a lot of punts. Punt-haters will turn up their noses and say that's a sign of a terrible game between two pathetic and anemic offenses. Please. Fans were treated to a punting clinic by Jacksonville's Brad Nortman and Buffalo's Colton Schmidt. We should all send crisp $100 bills to these master craftsmen as small tokens of our thanks. It's the least we can do.
Their competent punting truly put the wild in wildcard weekend. To celebrate, here are their ten best efforts from Sunday:
1. When the Jaguars' Brad Nortman was called onto the field with 5:47 left on the clock in the first quarter, few could predict what would happen next. Well, everyone knew that a punt was coming, but it happened to be a great punt. His 62-yard rocket pinned Buffalo on their own 4-yard line.
2. Colton Schmidt's first punt of the game was one to remember. The magical 53-yard hoof temporarily hypnotized Jacksonville returner Jaydon Mickens, causing him to muff the catch. The ball rolled out of bounds at Jacksonville's 9-yard line.
3. Brad Nortman's 41-yard punt in the third quarter had Jacksonville fans screaming nice punt so loud that their vocal chords will never recover. Brandon Tate signaled for a fair catch at his own 8-yard line.
4. Who's a tease? Colton Schmidt is a tease. His 39-yard punt in the third quarter enticed Dede Westbrook to attempt a return. Westbrook only made it 2 yards and was tackled on the Jaguars' 14-yard line.
5. The first quarter may have been coming to an end, but Colton Schmidt doesn't know how to stop. With the clock winding down, he punted the ball 40 yards to the Jacksonville 11-yard line.
6. Aspiring punters will want to watch Colton Schmidt's 44-yard effort with 8:20 left in the fist quarter. It flew 44 yards and was fair-caught on the Jacksonville 13. Textbook, baby.
7. Brad Nortman unleashed chaos with 12:19 remaining in the second quarter when he uncorked a 52-yard punt. Sure, it was returned 18 yards, but an illegal block brought the ball back to the Buffalo 24-yard line. My heart still hasn't stopped racing.
8. What's cooler than a 22-yard punt? A 22-yard punt that forces the opposing team to start on their own 16-yard line (which is what Brad Nortman accomplished with 10:02 remaining in the 2nd quarter).
9. Start calling Colton Schmidt "Mr. Fourth Quarter." His 55-yard angel-scraper in the last frame was a joy to behold.
10. Continue calling Schmidt "Mr. Fourth Quarter." He had another nice punt, this one with 11:18 left to play in the game, which he booted 37 yards to the Jaguars' 11-yard line.
Honorable mentions: Colton Schmidt's 41-yarder in the fourth quarter; Brad Nortman's 51-yard punt in the first quarter.
One more thing
You depend on Slate for sharp, distinctive coverage of the latest developments in politics and culture. Now we need to ask for your support.
Our work is more urgent than ever and is reaching more readers—but online advertising revenues don't fully cover our costs, and we don't have print subscribers to help keep us afloat. So we need your help. If you think Slate's work matters, become a Slate Plus member. You'll get exclusive members-only content and a suite of great benefits—and you'll help secure Slate's future.
Join Slate Plus
Join