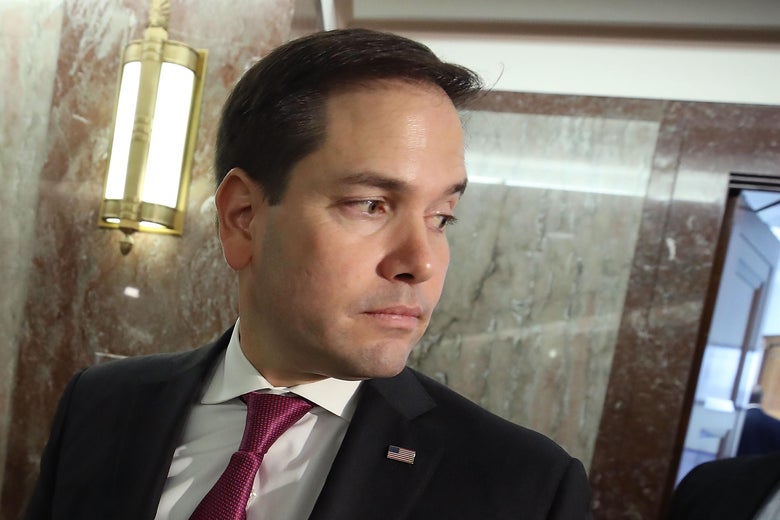 Sen. Marco Rubio acted quickly after he heard that his chief of staff, Clint Reed, had been involved in "improper conduct" with employees. The Republican senator from Florida claims he first received word about the allegations Friday afternoon and by Saturday afternoon he "had sufficient evidence to conclude that while employed by this office, my Chief of Staff had violated office policies regarding proper relations between a supervisor and their subordinates."
This violation included "threats to withhold employment benefits," Rubio said in a statement his office released late Saturday. The senator flew to Washington from Florida and fired Reed, who had been his chief of staff since December 2016.
Although Rubio's statement doesn't mention Reed by name, Rubio's office is confirming that he is the one who was fired. But it is not releasing much information about what the "improper conduct" involved. "We have taken steps to ensure that those impacted by this conduct have access to any services they may require now or in the future," Rubio said in the statement. "Pursuant to the wishes of those victimized by this conduct, we will not be disclosing any further details about the incidents which occurred. We will be formally notifying the appropriate congressional and Senate administrative offices of this matter when they return to work Monday morning."
Rubio's quick action on the issue "shows how seriously these allegations are being taken in the #MeToo era—and that sets a standard not only for Rubio's office, but for other senators to do the same," notes Axios.
Support our journalism
Help us continue covering the news and issues important to you—and get ad-free podcasts and bonus segments, members-only content, and other great benefits.
Join Slate Plus
Join
---