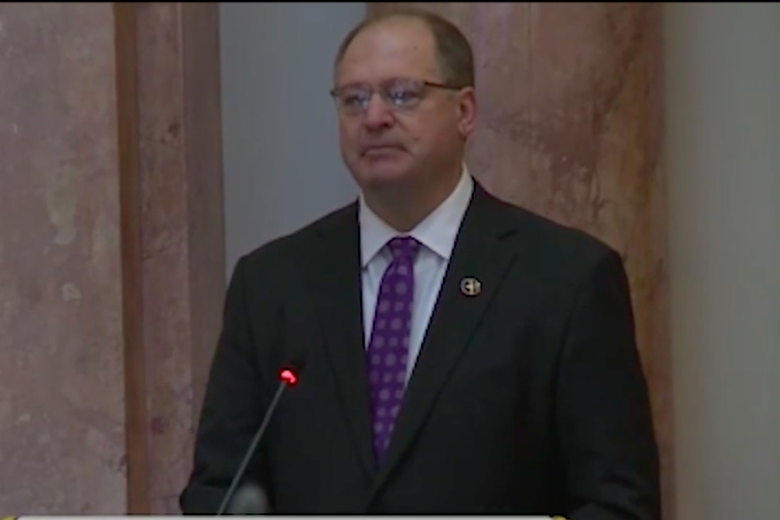 In a fiery and tearful speech, the speaker of Kentucky's House of Representatives resigned from his leadership position Monday after being accused of sexual harassment by a female staffer and vowed revenge on those who he believed betrayed him, according to the Associated Press.
The Courier Journal found in November that Republican Rep. Jeff Hoover, who is remaining on as a member of the legislature, had secretly settled a sexual harassment case with a woman who exchanged sexually charged texts with him after a colleague told her it would help her career. The woman accused him of creating a hostile work environment, according to the Journal. Kentucky Gov. Matt Bevin, also a Republican, called on Hoover to resign, and other lawmakers filed disciplinary charges against Hoover, according to the AP. The investigation is underway, and the committee could recommend Hoover be removed entirely from the legislature.
In his 20-minute-long resignation speech Monday, Hoover accused the governor of defaming him. He admitted he had exchanged texts with the staffer but said they were consensual. The governor, he said, according to the Washington Post, was wrong to suggest he had had sexual contact with the woman. "Ladies and gentlemen," he said, "I will tell you and I will tell this governor, those are lies from the deepest pits of hell."
He maintained he did nothing illegal or unethical. "I made a mistake," he said. "I did not do anything that was unwelcome or unwanted. And I did not engage in sexual harassment."
He also promised to strike back against those in the legislature he believed had conspired against him. "I will fight with everything I have for as long as it takes to expose all of those people that were involved, regardless of who they are or the position they hold," Hoover said.
He also tearfully told his audience about the stress of the experience that, he said, caused him to lose 33 pounds in four weeks, according to the Post.
"I laid on my couch day after day after day in the fetal position," he said. "I got down on the floor when no one was at home, crying uncontrollably and screaming out to almighty god to help me through this situation and to help my family and my daughters. I went into depression. I went into isolation."
In December, another member of the state's legislature, Rep. Dan Johnson, died by suicide after the Kentucky Center for Investigative Reporting published an article alleging he sexually assaulted a teenage girl in the church where he was a pastor.
One more thing
You depend on Slate for sharp, distinctive coverage of the latest developments in politics and culture. Now we need to ask for your support.
Our work is more urgent than ever and is reaching more readers—but online advertising revenues don't fully cover our costs, and we don't have print subscribers to help keep us afloat. So we need your help. If you think Slate's work matters, become a Slate Plus member. You'll get exclusive members-only content and a suite of great benefits—and you'll help secure Slate's future.
Join Slate Plus
Join