Ben Shapiro was 5 feet 2 inches and extremely prepubescent when, in the mid-1990s, he enrolled as a sophomore at a private Jewish high school in Los Angeles. The scrawny new kid had skipped ahead two grades, was too smart, talked too much, and got brutally bullied. Things came to a head when, on an overnight school trip, a few of Shapiro's classmates handcuffed him to a bed and beat him with their belts.
"I hate bullies," the conservative commentator, now 5 feet 9 inches and a workout enthusiast, told me over lunch. "I think bullies are evil. From the time I was pretty young I had to grow a thick skin. You can either feel like you're victimized or you can decide that success is the best revenge."
Shapiro first hit my and many other left-wing radar screens in March 2016, when he called out the bullies at Breitbart News. A Breitbart reporter named Michelle Fields had been physically assaulted after a Donald Trump press conference by Corey Lewandowski, who was then Trump's campaign manager. When Fields complained, Lewandowski said Fields was "delusional" and denied the incident had occurred. Trump spokeswoman Hope Hicks suggested Fields was just angling to get attention. Despite a Washington Post writer's eyewitness account corroborating Fields (and, later, video evidence), the editors at Breitbart opted to accept the Trump team's brazenly false version of events over the word of their own reporter.
Which made Shapiro furious. Shapiro had known Breitbart's founder, Andrew Breitbart, ever since he emailed to compliment a column Shapiro wrote for the Daily Bruin as a 16-year-old undergrad at UCLA. Breitbart eventually hired Shapiro, years later, but died a month after Shapiro came aboard. Under a new boss, Steve Bannon, Breitbart News cozied up to the Trump campaign and to the burgeoning alt-right movement. Shapiro was disgusted by both. The treatment of Fields was his breaking point.
"In my opinion, Steve Bannon is a bully," he said in a statement at the time, explaining his resignation from Breitbart, "and has sold out Andrew's mission in order to back another bully, Donald Trump; he has shaped the company into Trump's personal Pravda."
If you remember this dark chapter of the election cycle, you'll recall that, among his cohort, Shapiro's stubborn acknowledgment of plain fact at the risk of offending the Trump campaign qualified as a brave and self-destructive act. "In March 2016 I wrote a piece that went viral on the right," conservative pundit Jonah Goldberg told me when I called to talk about Shapiro, "likening the change in the GOP to Invasion of the Body Snatchers. Some psychological trigger was flipping. It was disturbing. When everything seemed really crazy, Ben and I would talk and compare notes. There was this underground mentality. You made new friends in foxholes."
Fields got little support from other right-wingers. "When the whole ordeal happened, Breitbart immediately threw me under a bus," she told me. "Close colleagues abandoned me. Fox took me off the air. People didn't want to alienate Trump. I was in this storm and Ben reached out to me and said he wanted to jump into the storm with me. He knew it would hurt him with his base, with people that liked him."
Shapiro's stand put him in the crosshairs of more bullies, attracting a hail of anti-Semitic harassment from Trump's hordes of deplorables. Shapiro would open his inbox each day to see images of himself photoshopped into gas chambers, yellow Jewish stars pinned to his chest. There were death threats and threats to his family. "The reason they came after me," Shapiro says, "was because I was anti-Trump, I was openly Orthodox, and I had worked for Breitbart. That combination was absolutely toxic."
A report by the Anti-Defamation League, covering August 2015–July 2016, found that Shapiro was the direct target of at least 7,400 anti-Semitic tweets. This made him easily the most targeted journalist in the study. And the abuse hasn't stopped. The morning I visited his office, roughly a year after the election, Shapiro discovered that alt-righters had gotten around to doxing his sister, who is an opera singer, and were spamming her YouTube clips with anti-Semitic messages.
"During the campaign, a bunch of talk-radio people were treating the alt-right as just another legitimate member of the Republican coalition," says Goldberg, who was the sixth–most targeted journalist on that ADL list. "A lot of the GOP establishment and the cable news establishment said, 'These guys are a social media force. Aren't they interesting.' But people like Ben knew that anyone forming an alliance of convenience with those guys wasn't someone you wanted anything to do with."
It's tempting to view all this through the lens of Shapiro's high school nightmare. To create a psychoanalytic narrative in which the indignation of that bound and beaten kid animates Shapiro's better impulses. In his noblest moments, after all, he has bucked his party and stood up to some of the most despicable bullies of our era. Perhaps it was because he'd been bullied before, and worse than most, that he held his ground when it would have been far easier, personally and professionally, to accede to the Trump avalanche.
But there's an addendum to that high school story. Shapiro's father came to the school to confront the students who'd bullied Shapiro. "My dad came into the room where the kids who'd done this to me were," Shapiro told me, "and the rabbi started talking, and my dad said, 'Shut up.' And then he said to the kids, 'I have a ball-peen hammer in the back of my car and I will take it to you if you ever touch my son again.' He did not actually have a ball-peen hammer in his car. That's a pretty indicative story of who my dad is. Those kids didn't bother me from then on." (Ben's dad, David Shapiro, confirmed the bullying incident and his response to it but told me he would not have said "shut up" to a rabbi.)
Here we find a different formative lesson: Posturing with bared teeth will cow your foes into submission. In Shapiro's lowest moments as a pundit, he is victim turned aggressor. Quick to mock, devoid of empathy, obnoxiously cocky. Shapiro may despise Trump, but he chooses to focus most of his ire on the president's favorite punching bags: the mainstream media, the Hollywood elite, and the carcass of Hillary Clinton. After Trump's Charlottesville comments, Shapiro called the president "responsible for mainstreaming the alt-right" and declared that "granting them a smidgen of respectability is morally disgusting." But Shapiro has also claimed "There is no evidence of systemic discrimination against minorities" by police departments and maintains that President Obama purposefully "divided Americans by race."
Which leaves me with an ancient dilemma: Is the enemy of my enemy my friend? Shapiro is among a dwindling cadre of Trump-averse conservatives at a time when the mainstream GOP and its media apparatus are following (and sometimes leading) our cretinous president straight into the muck. Shapiro is ascendant, with a growing media empire and a large audience who adores him. Should there arise a constitutional crisis in which this president attempts to roll his tanks (metaphorical or otherwise) over the ramparts of American democracy, I will be relying on influential right-wing figures like Ben Shapiro to help America hold the line. The question I keep asking myself is: Will he?
On a Thursday morning in October, as he does nearly every weekday, Shapiro drove 15 minutes from his home in North Hollywood, California, to his office in nearby Sherman Oaks, arriving shortly before 9 a.m. He had his hair and makeup done, then hustled across the hall into a small recording studio adorned with nothing but a desk and a wall-mounted flat-screen monitor. There, live, extemporaneously, without a single pause or retake, he delivered an hour-plus monologue to a gargantuan online audience.
On this particular morning, Shapiro was weighing in on George H.W. Bush's nonconsensual butt-cupping habit. (He declared Poppy's behavior indefensible unless the 93-year-old was "deep in the throes of dementia.") At one point, he took a detour to recommend War and Peace, a book he said he'd devoured on his most recent vacation, and remarked that Tolstoy "is a conservative guy in many ways." His myriad rants on a wide-ranging number of topics were issued off the cuff—he happily showed me his laptop screen to prove he uses no notes.
At a certain point in each of his shows, Shapiro crows, in his pinched, adenoidal tenor, that his is the "largest and fastest-growing conservative podcast in the country." He's almost certainly correct. The Ben Shapiro Show, which launched in September 2015, now generally gets between 250,000–350,000 downloads per day on SoundCloud. A video version of the show—just a couple of cameras pointed at Shapiro's face as he monologues—attracts an additional 250,000–350,000 views per day on YouTube.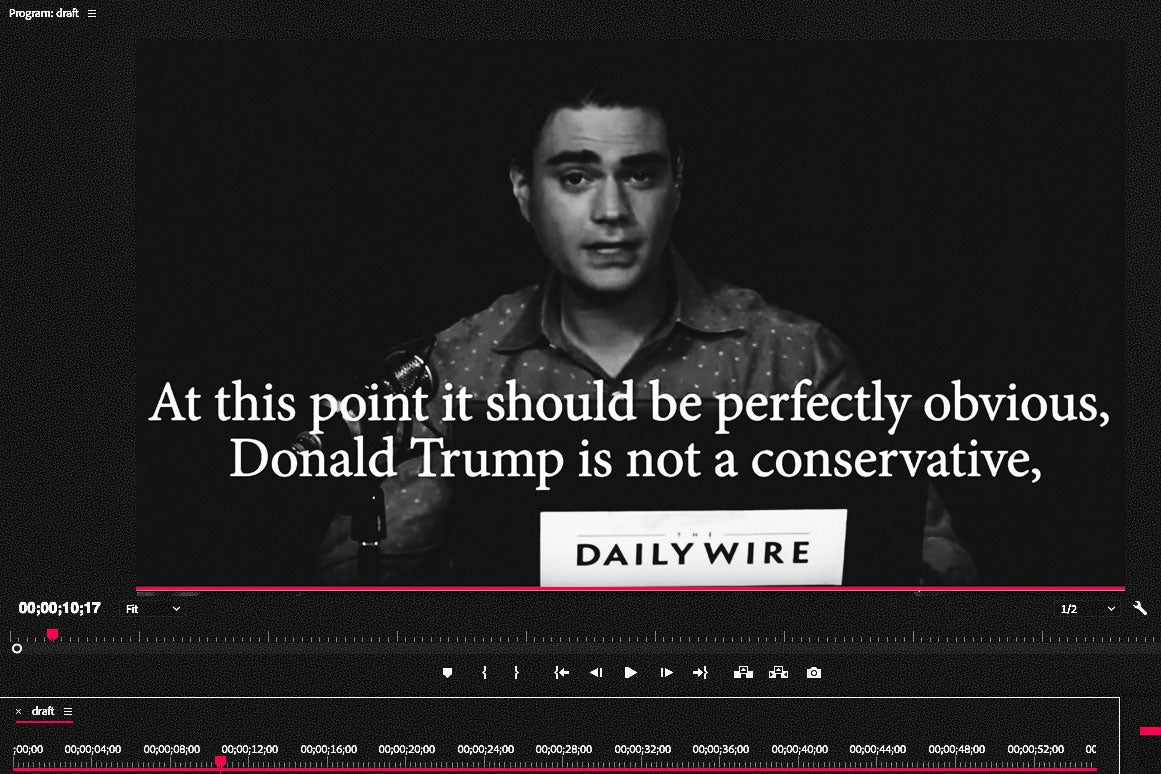 And then there's Shapiro's massive Facebook presence. Each day's video is posted on Facebook Live, where it will regularly get another half-million views, sometimes even 1 million. According to CrowdTangle, the analytics tool we use at Slate, Shapiro had more Facebook engagements (likes, shares, and comments) in December than any other conservative site or personality except for Fox News and Breitbart. Shapiro's Facebook page spurred 2.5 times more engagement than the Daily Caller's, 6 times more than Sean Hannity's, and 11.5 times more than Laura Ingraham's. On Dec. 1, 2016, Shapiro's page had 444,378 likes. Now it has 3.2 million.
If podcasts are the new talk radio, there's a case to be made that Shapiro is the new Rush Limbaugh. "We have as many people listening to our show as any of the major radio shows," he told me with confidence. Yet he doesn't consider talk radio his competition. "I think they're almost two completely separate audiences. I think talk radio is largely 60 and over. My podcast is almost entirely 40 and younger. Something like 55 percent of our audience is under the age of 30," he said, citing internal numbers I can't confirm.
Shapiro's climb into the right-wing media pantheon is partly thanks to his deftness at poking holes in the left-wing dogma of the day. He's starred in several popular YouTube videos in which he "owns" (meaning browbeats into mumbling doubt) lefty college kids who dare to ask him questions during his campus speaking gigs. He takes evident joy in flogging the boogeymen and women his audience loves to hate—the aforementioned Hollywood/media/Clinton vortex. But perhaps the greatest source of Shapiro's appeal is that, at 34 years old, he speaks a different sort of conservative language. He's handy with Twitter memes and pop culture references. He connects with a younger online audience in a way that a baby boomer host like Limbaugh, or Sean Hannity, can't. He can be as rabid as the old-school radio guys, but his vibe—his humor, his mode of attack, the character he plays on air—feels new.
When the New York Times called Shapiro "the cool kid's philosopher," cool kids on the left rolled their eyes, but it's true that for millennial conservatives, Shapiro presents a more evolved species of pundit. He often strives to acknowledge and address the strongest arguments of those he disagrees with. (Here he is earnestly and respectfully debating a conservative transgender woman.) He recommends highbrow books (recently, Jan Swafford's biography of Johannes Brahms). He listens to Pod Save America. He is the anti-Limbaugh in his personal life: physically fit, happily married, a devoted father.
He's also willing to condemn hypocrisies on his own side, which is a quality rare in pundits of any stripe. In a podcast segment about Trump's feud with NFL players who knelt in protest during the national anthem, Shapiro beseeched his audience to "take off your partisan hats." He then asked them to imagine a player kneeling to protest Roe v. Wade—and to imagine their horror if President Obama petulantly demanded the player be fired.
Moments like this have made him a favored conservative listen among some of his audio counterparts on the left. In September, This American Life host Ira Glass tweeted, "I really like listening to @BenShapiro. He's interesting. I've learned things." Mike Pesca, host of Slate's The Gist, had Shapiro on his show in 2016. "There's no real reason why political talk—even heavily opinion-inflected political talk—has to sound like propaganda," Pesca told me. "Hannity, Rush, and Laura Ingraham, who I've listened to a lot, are a closed loop. They don't consider contrary evidence. Ben does. I can focus on the fact that I disagree with how Ben weighs the evidence, but I get the sense that he is at least acknowledging the evidence."
"On an anecdotal basis," says Shapiro, "I would guess that probably 20–25 percent of my audience are people on the left, because they feel like it's an honest voice from the other side."
Over a sidewalk lunch near his office (interrupted by a passer-by who recognized Shapiro and effused, "I'm such a huge fan!"), Shapiro recounted his middle-class childhood in Burbank and North Hollywood. He has three younger sisters—one the opera singer, one an artist, one married to a rabbi. His father was a musician who never hit the big time and mostly stayed at home to raise the four kids. Shapiro's mother worked her way up from secretary to successful entertainment executive. His parents grew increasingly religious during this time, becoming Orthodox when Shapiro was 11.
After surviving those ugly high school years, Shapiro enrolled in college at 16, choosing UCLA to stay near his family. A few days into his first semester, he became incensed enough by what he deemed to be an anti-Israel editorial in the student paper that he asked to write a rebuttal. He soon became a regular columnist for the Daily Bruin. By 17, he'd joined the stable of the right-leaning Creators Syndicate and was appearing in newspapers across the country. By the time he left school, he'd published a book about academia titled Brainwashed: How Universities Indoctrinate America's Youth.
He went straight to Harvard Law, thinking he'd make lots of money as a lawyer, and graduated cum laude—writing another two books along the way, including one about the dangers of pornography. When he began applying for law-firm jobs, he says, his side gig as a political writer torpedoed his chances. "I walked into one interview with a guy at Gibson, Dunn & Crutcher who, before I sat down, he didn't even say hello, he goes, 'It's always been my contention that conservatives and religious people in general have a Freudian fear of sex.' That's how he opened the conversation. I was like, fuck, I'm not getting this job."
Shapiro secured a position in real estate law at a large Los Angeles firm but quit after 10 months. "It was meaningless work," he says. "Drudgery. My entire mode is speed, and the mode of a corporate law firm is to be slow and bill more hours. When I told a partner I was quitting, he goes, 'You know, you're giving up the most money you will ever make in your life. You will never have a job like this again, that has the kind of potential earnings that you'll have here.' "
"Was he right?" I asked.
"He was dramatically wrong."
Shapiro now writes four pieces a day for the Daily Wire, a conservative news and commentary site he launched in 2015 with investment from the Texas fracking billionaire Wilks brothers. He also writes a weekly column for National Review and another weekly column for national syndication. He writes every other week for the Jewish Journal. He's written eight books of his own (including How to Debate Leftists and Destroy Them and, perhaps ironically, Bullies: How the Left's Culture of Fear and Intimidation Silences Americans) and ghostwritten another 12. This is in addition to his daily podcast, the three or four books he says he reads each week, and his busy public speaking and retweeting schedule. (At one point when I was spending time with Shapiro, he asked for privacy for 10 minutes so he could say his prayers. I opened up Twitter to kill time and soon noticed Shapiro actively retweeting things.)
When I marveled at his productivity, Shapiro replied, "I remember what my fourth grade teacher said to me. 'Don't let potential be written on your tombstone.' I always felt like, OK, that's good advice. When there's an opportunity, I try to grab it."
"That's some heavy advice for a fourth-grader," I remarked.
"I was a heavy kid."
He was also a pretty blinkered kid. He rushed ahead in school, skipping the third and ninth grades, while being raised in a strict religious environment. (At one point, he thought he wanted to become a rabbi.) He went through college much younger than his classmates and experienced almost no social life. "I'm not a 'friends' person by nature," he said, explaining that he spent, and still spends, almost all of his free time with his family. "I went to a couple of parties in college and I thought they were boring."
He says he graduated college a virgin and, in accordance with Orthodox tradition, remained a virgin until his marriage at 24. He met his Orthodox wife through one of his sisters. On their first date, he told me, they had a four-hour conversation about "free will and determinism." They were engaged three months later.
He has never tried marijuana or any other drug. When I asked if he wasn't a little curious, he mounted a quintessentially conservative miniargument against curiosity. "I'm not someone who feels the need to try every experience," he said. "I was a virgin until I was married, but I don't think I missed out. I feel like my sex life is fantastic."
If you didn't hear about Shapiro when he quit Breitbart in 2016, perhaps you heard about the speech he gave at the University of California, Berkeley, in September 2017, where students attempted to bar him from appearing. There were nearly 1,000 demonstrators and nine arrests. Police in riot gear set up a security perimeter.
The students seemed to equate Shapiro with his erstwhile Breitbart colleague, Milo Yiannopoulos—a vile, alt-right provocateur who, among other disgraceful acts, once led a racist online attack against comedian Leslie Jones so egregious that Yiannopoulos was permanently banned from Twitter. (Shapiro has been adamant about his distaste for Yiannopoulos.) During protests at other campuses where Shapiro has spoken, students and sometimes even professors have labeled Shapiro a neo-Nazi, which is an extremely misguided critique at the very least.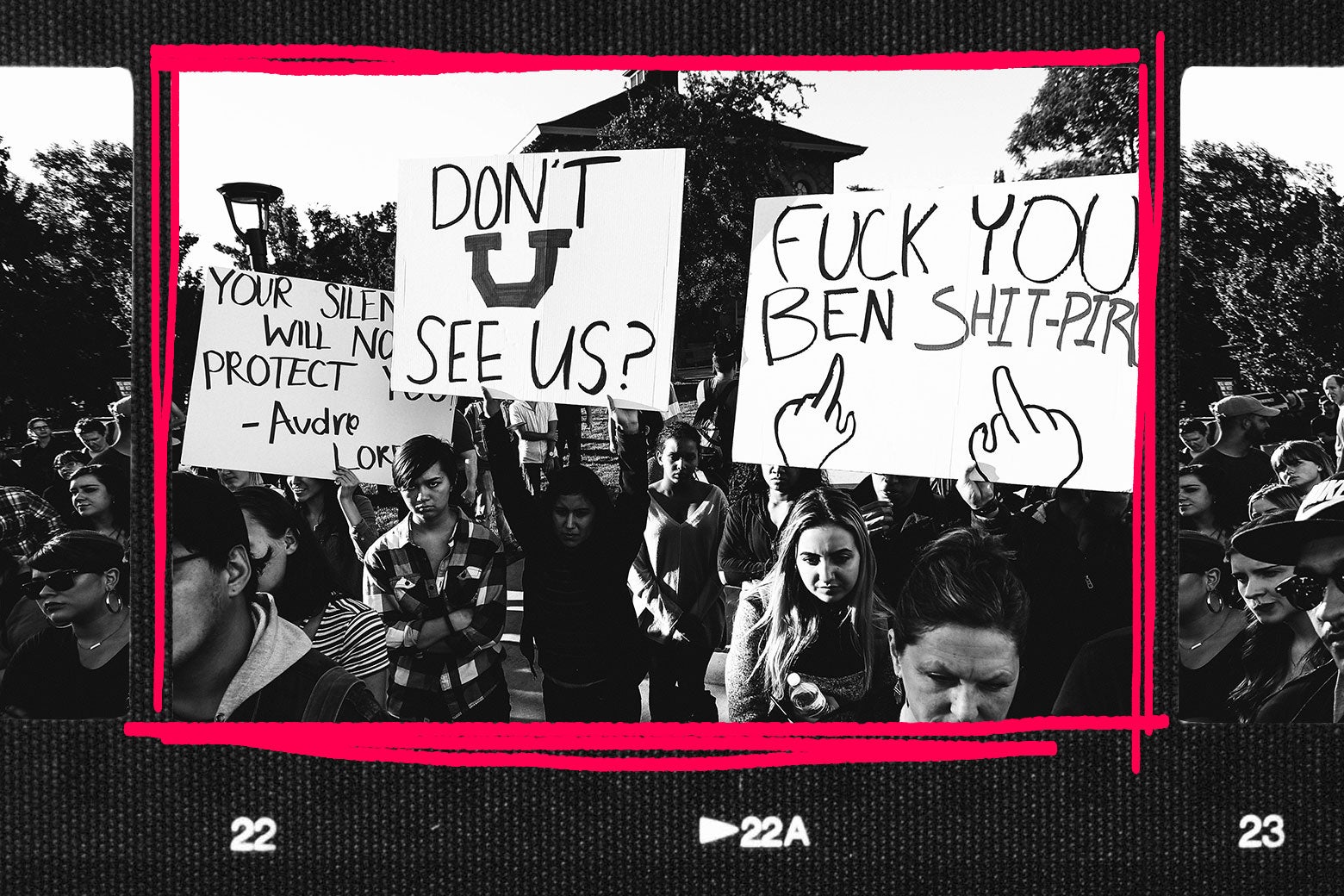 But here is where I should mention that a lot of smart people detest Ben Shapiro, and not without reason. For example: Shapiro didn't resign from Breitbart, despite ample evidence of its monstrous racism, until the victim of Breitbart's thuggishness was a white female colleague in peril. And while Shapiro is no Milo, he has also said some vile things. There was, for instance, an October interview with ABC's Nightline, in which Shapiro said transgender people suffer from "mental illness." Or this 2010 tweet in support of Israeli settlements:
On Oct. 9, 2017, known as either Columbus Day or Indigenous Peoples Day depending on which way you swing, the Daily Wire posted an animated video mocking the Native Americans who Christopher Columbus encountered when he landed in the West. The video portrayed Native Americans as savage cannibals and then displayed a ledger comparing their putative contributions to the culture of the Western Hemisphere with those of post-Columbus Europeans. The Native American column listed only three contributions: "dreamcatchers," "tomahawks," and "cannibalism." On the Western culture side of the ledger were contributions such as "science," "underwear," and "not-scalping."
The outrage on the left was swift and loud. When I asked Shapiro about the video a few weeks after it had published on his site, he absolved himself of responsibility. "I don't know how it happened," he told me. "Somebody greenlit it. I was on vacation. I had no idea they were going to do it. The first time I saw it was on the Monday morning it went up. My initial response was we should take it down immediately."
He ended up leaving the video on the site overnight. "I didn't want to quash satire even if it was bad satire," he said. "I think it's misfired satire rather than this was supposed to be some sort of objective telling of what happened on Columbus Day. But the more I thought about it the more I hated it. It missed the part where all of the Native Americans died." He took it down the next morning.
I asked him if he thought the video was racist. "The only reason I'm hesitant to use the word racist," he said, "is because the question is how much of it was culturally oriented as opposed to racially oriented. How much of it was saying Native Americans are inherently inferior, and how much of it was that Native American culture was inferior to Western culture, which is a contention with which I generally agree. I am somebody who says Western civilization is the best civilization by nature. I tweeted on Columbus Day that the purpose of Columbus Day is to say that the Western civilization arriving in the Americas was a great good for civilization, even though awful things happened to the Native Americans. I'm not going to pretend awful things didn't happen to the Native Americans. That's why I took the video down. I didn't like it. I took it down. I don't know what else I can do."
The fact that Shapiro uses the term feminist as a pejorative tells you a fair amount about where he's coming from. He calls himself a libertarian on gay marriage and thinks the government shouldn't be involved in marriage at all—yet he also told me that among his "great fears" is that California will order its schools (including the kinds of religious schools where Shapiro might personally send his kids) to teach the "sanctity" of gay marriage, which he could not abide. "I think homosexual activity is a sin," he said. "I'm sure there's a genetic component to homosexual orientation. But the view of all religious people I know has always been that sexual behavior is something that is up to you." He then offered me an analogy that he felt elucidated the choice gay people have: "For example, I may have a desire to sleep with many women, but I do not."
When I asked about abortion, Shapiro said he thinks it should be illegal and that doctors who perform abortions should be prosecuted. He also told me he believes that women should be forced to carry a fetus to term even if it is the result of rape or incest. "The question doesn't change," he said, when I pressed him on this. "The question is whether that baby is a human life or is not a human life. If it's a human life, well, if you are raped, then you don't get to kill the person sitting next to you." The one generous exception he'll make in this scenario is if the despondent woman becomes suicidal. Anything short of actual, imminent suicide won't do.
That's the problem with the enemy of your enemy. Generally, there's a reason he's not already your friend.
I don't need my conservative commentators to agree with me about everything, or even most things. What would be the point of auditing different viewpoints if they never differed?
I've listened to dozens upon dozens of episodes of the Ben Shapiro Show in reporting this piece. I almost always disagree with his rants, yet I find them fascinating. He often constructs well-crafted arguments that flow from first principles I deem wackadoo. This helps me understand conservative thinking even if it rarely changes my mind. Increasingly, though, I find I'm listening most closely to Shapiro to determine one thing: When it really hits the fan, will he go Trump? In a time of crisis, where will this shepherd of millennial conservatives lead his flock?
A recent Esquire story limned the despair of the Never Trumpers, conservatives who've discovered that "the rise of Trump changed the old refrain 'It can happen here' into something more dire and pressing: 'It's happening now and must be stopped.' " These are the Republicans, or erstwhile Republicans—many of them older dudes of waning influence, like Bill Kristol and George Will—with whom I've found unexpected common cause in this strange era. We can set aside our bitter fights about deregulation and tax policy and focus on the looming hazards at hand: threats to the rule of law, attacks on democratic institutions, unchecked kleptocracy. I had hoped Shapiro would be among this tribe, given his rejection of Trump during the campaign, and hoped he'd take his large and youthful fan base with him. But I'm not sure.
Shapiro insists that if autocracy encroaches, he'll be manning the barricades. But he distinguishes Trump's bluster from his actions. "Trump is a hammer. Sometimes he hits a nail and sometimes he hits a baby," he told me. "The big problem I see on the right is the unwillingness to say when he hit a baby. We just pretend the baby was a nail. When he said he wanted to start looking at removing the licenses from NBC, I said, 'This is insane. This is nuts.' if Trump were to start shutting down press outlets, I would stand outside NBC. But aside from saying that the comment is nuts and that we have to oppose it, I'm not sure what I'm supposed to do. Because he hasn't actually proposed a policy."
With regard to the ongoing Mueller investigation, Shapiro prefers to take a wait-and-see attitude. "If there's an actual crime there, then I think the Republicans are going to be in serious trouble. They're going to be in a really difficult position. Right now it's a lot of talk."
These days, on podcast segments about the latest horrifying rhetoric wafting from the White House, Shapiro tends to briefly acknowledge that Trump is saying "silly" things but then shifts his focus to over-the-top responses emanating from the dippiest emissaries of the extreme left. Alpha Never Trumper David Frum has described this stratagem, popular among Trump-phobic conservatives desperately trying to thread the needle with their pro-Trump comrades, as: "Hope for the best. Make excuses where you can. When you can't make an excuse, keep as quiet as you can. Attack Trump's critics in the media and Hollywood when all else fails."
When I sat down with Shapiro, he defended this middle-way approach. "After Charlottesville," he said, "I did an entire episode just ripping Trump up and down." (This is true. That episode of his podcast was the most viscerally angry I've heard him sound.) "[But] it is my honest opinion that every human being has good things and bad things. I don't have to make an overall call on Trump as a quote-unquote human being. I may have my feelings about him as a human being. I may think that he's a bloviating gasbag who's unqualified for the office. But that doesn't change the fact that he's the president of the United States. Now, the question is, is he going to do things that I like, or is he going to do things that I don't like?"
Lately, Trump has been doing things Shapiro likes very much. In the last weeks of 2017, as Trump began to get traction on some policy goals Shapiro favors (tax cuts and, especially, moving the American Embassy in Israel to Jerusalem), Shapiro's criticisms of the president seemed to soften. Trump's split with Steve Bannon delighted Shapiro—it marginalized both the alt-right and, Shapiro hopes, Bannon's populist policy ideas. While Frum frets that "Trump is changing conservatism into something different," one of Shapiro's recent columns for the National Review argued that Trump is merely the "salt" in conservatism's "stew." Too much salt ruins a stew, Shapiro concedes, but "the occasional dash adds necessary flavor."
On Jan. 5, in the 447th episode of his podcast, Shapiro began the new year by reaching what seems to be a final accommodation. "He is what he is in my view," Shapiro said of Trump. "I don't think he's the world's most stable guy. I don't think he has the character of a president that I would prefer. But I will enjoy the policy wins that he's brought. And I can live with that cognitive dissonance. Everyone else should learn to, too."