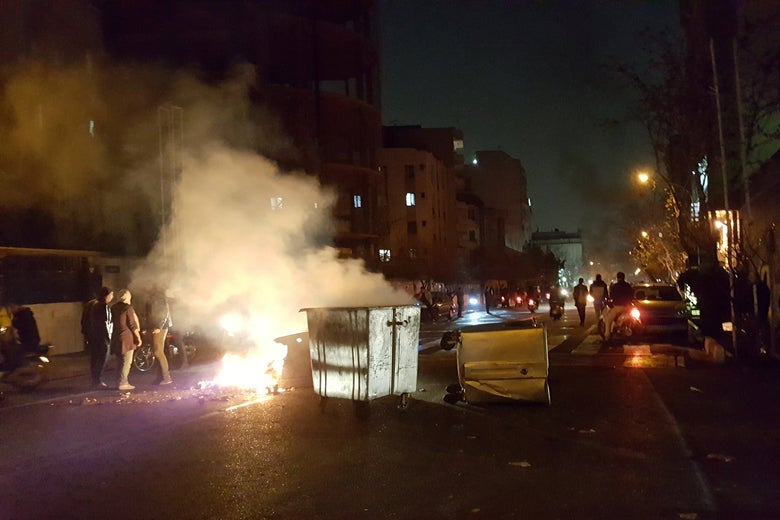 Iran's anti-establishment protests that began sweeping the country on Thursday had its deadliest night Sunday as 10 people were killed when "armed protesters" tried to overrun police stations and military bases, state television reported on Monday. That brought the number of people who have been killed in the demonstrations that are the biggest challenge to authority since 2009 to at least 12. The report about the clashes on Sunday didn't come accompanied by any evidence to back up the claims and the numbers were impossible to confirm by independent media.
President Hassan Rouhani once again tried to ease tensions by defending the right of Iranians to protest as long as they aren't violent. "Recent protests seem to be a threat, but they are actually an opportunity to see what the problem is," Rouhani said on Monday. He also seemed to backtrack from claims by others in his administration who have been blaming foreign powers for the recent outbreak of protests, saying that wasn't the full story. "All the protesters are not guided by foreign elements; a number of them are the people who came to the streets because of their (economic) problems."
Video on social media showed that protests continued across the country for a fifth night Monday and demonstrators often called for the ouster of Supreme Leader Ayatollah Ali Khamenei. On Monday, a group of around 100 demonstrators close to Tehran were met by hundreds of police officers in riot gear. "Security forces, support us! Death to the dictator!" the mostly young demonstrators chanted.
As many as 400 people have reportedly been arrested since the protests began, 200 of them in Tehran on Saturday night. Meanwhile, authorities continue to sporadically block access to social media, particularly messaging app Telegram and Instagram, where many of the calls to protest appear to originate.
It seems clear that Iranian leaders are trying to avoid a massive crackdown of the surprisingly large protests for now, worried that any huge repression could lead to a crisis similar to what took place in 2009. Reuters explains:
Iranian moderates are appealing for caution even though some hardliners are calling for an iron fist to crush one of the gravest threats to Iran's clerical leaders, who came to power in the 1979 Islamic revolution.
Those divisions are making it hard for the authorities to defuse spontaneous demonstration, especially as there are no apparent protest leaders who can be identified and rounded up.
Trump took to Twitter again Monday morning to encourage the protesters and say that "Iran is failing at every level."  The commander in chief added that it was "TIME FOR CHANGE!" Rouhani harshly criticized Trump on Sunday, calling him an "enemy of the Iranian nation from the top of his head to his very toes."
One more thing
You depend on Slate for sharp, distinctive coverage of the latest developments in politics and culture. Now we need to ask for your support.
Our work is more urgent than ever and is reaching more readers—but online advertising revenues don't fully cover our costs, and we don't have print subscribers to help keep us afloat. So we need your help. If you think Slate's work matters, become a Slate Plus member. You'll get exclusive members-only content and a suite of great benefits—and you'll help secure Slate's future.
Join