Not long after the 2016 Republican National Convention, I got a tip from a friend of mine. An old acquaintance of his in California was close to a woman in the adult-film industry who claimed to have had an affair with Donald Trump.
I reached my friend's friend, who put me in touch with the actress, who is known as Stormy Daniels.
Daniels, whose given name is Stephanie Clifford, did indeed have a story about Trump, which she related to me in a series of phone conversations and text exchanges that took place between August and October of 2016.
Daniels told me she'd gone to Trump's hotel room after meeting him at a celebrity golf tournament in Nevada in 2006. There they'd begun a sexual relationship, which continued for nearly a year. They'd met in New York and more than once in Los Angeles. In early 2007, Trump had invited her to a party to promote Trump Vodka, where she was photographed. He'd also invited her to his Miss USA pageant that year.
In our conversations, Daniels said she was holding back on the juiciest details, such as her ability to describe things about Trump that only someone who had seen him naked would know. She intimated that her view of his sexual skill was at odds with the remark attributed to Marla Maples.
She didn't allege any kind of abuse, insisting she was not a victim. The worst Trump had done, she said, was break promises she'd never believed he would fulfill. She claimed he'd offered to buy her a condo in Tampa, Florida, and that he'd said he wanted to feature her as a contestant in an upcoming season of Celebrity Apprentice. Daniels, who is far from naïve, says she did not take him seriously, but Trump had insisted his NBC contract let him do whatever he wanted on the show. Eventually, she said, he'd told her the network wouldn't allow her on the air because of the objections of an executive's wife.
Daniels said she had some corroborating evidence, including the phone numbers of Trump's longtime personal assistant Rhona Graff and his bodyguard Keith Schiller, with whom she said she would arrange rendezvous. While she did not share those numbers with me, I did speak to three of Daniels' friends, all of whom said they knew about the affair at the time, and all of whom confirmed the outlines of her story.
Given what was going on in the final weeks of the campaign, during which Trump was facing a torrent of accusations of sexual abuse, I didn't think an extramarital affair would be a highly significant story. What interested me more was Daniels' allegation that Trump had negotiated to buy her silence. Daniels said that, through intermediaries, she and Trump had worked out an agreement for the presidential candidate to pay her a six-figure sum to keep quiet. More specifically, she said her lawyer Keith Davidson, a Beverly Hills–based attorney who specializes in claims against celebrities, had worked out the terms with Trump's lawyer Michael Cohen.
Daniels told me that agreement involved a complicated arrangement to shield the real names of the parties. She texted me an unsigned two-page document spelling out this arrangement, the title of which was "Exhibit 'A' to the Confidential Settlement Agreement and Release: Assignment of Copyright and Non-Disparagement Agreement."*
The document she texted me indicated that in the main agreement—a document I never saw—"Stephanie Gregory Clifford aka Stormy Daniels is referred to by the pseudonym 'Peggy Peterson,' and ___________ is referred to by the pseudonym 'David Dennison.' " The document Daniels sent me included two additional pseudonyms, "David Delucia" and "RCI," but did not indicate which person and/or entity those pseudonyms referred to. Another provision in the document I saw stated that only Daniels' lawyer Keith Davidson and a lawyer for the other party would be allowed to retain copies of the side-letter agreement identifying the parties by their actual names.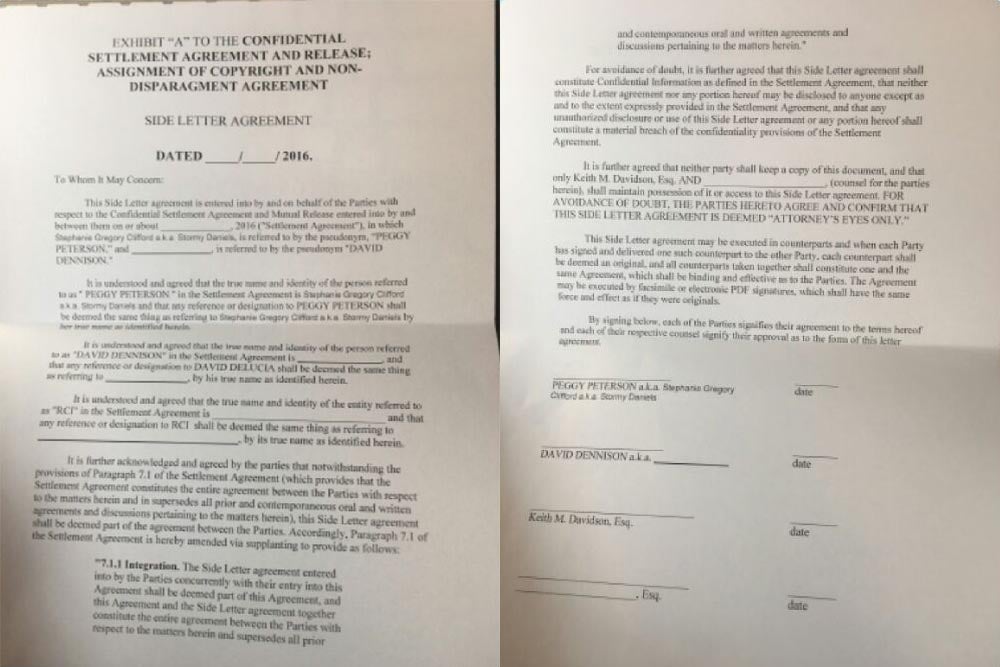 Daniels said she was talking to me and sharing these details because Trump was stalling on finalizing the confidentiality agreement and paying her. Given her experience with Trump, she suspected he would stall her until after the election, and then refuse to sign or pay up.
As an alternative to being paid for her silence, Daniels wanted to be paid for her story. She thought it might come out anyway, as one version did on the website the Smoking Gun in October 2016. (The site reported the allegation that Trump and Daniels had an affair, not that they had negotiated a settlement.) Daniels said she wanted, in her words, something to show for her experience. Another motivation to go public, she said, was her anger about Trump's newfound opposition to abortion and gay marriage.
I told Daniels that Slate did not pay sources but encouraged her to come forward without compensation. I proposed interviewing her on Trumpcast and writing her story. She never said yes and never said no. Late in the discussion, I asked a Slate colleague to help me verify her account. We both spoke to Daniels and to Gina Rodriguez, a former porn actress turned agent, who Daniels was using to negotiate with media organizations. I gathered that Daniels was also discussing going public on Good Morning America. At one point she considered holding a press conference in Dallas, where she lives.
And then, about a week before the election, Daniels stopped responding to calls and text messages. A friend of hers told me Daniels had said she'd taken the money from Trump after all. I considered publishing the story without her cooperation. After all, she had never said anything was off the record. But if I did so, she would presumably disavow what she had told me, and the only people I had corroborating her story were sources Daniels herself had pointed me to. For the most important aspect of the story—the contract for her silence—I also lacked independent corroboration.
Around the time Daniels went silent, the Wall Street Journal ran a piece headlined "National Enquirer Shielded Donald Trump From Playboy Model's Affair Allegation." That story, which was published four days before Election Day, revealed that American Media—whose CEO is Trump's friend David Pecker—had seemingly paid Karen McDougal $150,000 for her silence. For any other politician, a scandal like this would be career-ending. But in the run-up to the election, the Journal story had little impact.
The story of Trump's supposed affair with Daniels came back to life last week. On Friday, the Journal reported that Michael Cohen—the Trump lawyer Daniels had told me negotiated the terms of her settlement—"arranged a $130,000 payment to [Daniels] a month before the 2016 election as part of an agreement that precluded her from publicly discussing an alleged sexual encounter with Mr. Trump." That allegation, sourced to "people familiar with the matter," has been denied by the White House and by Cohen. Cohen also released a statement from Daniels, dated Wednesday, denying any "sexual and/or romantic affair" with Trump or the receipt of any "hush money" from Trump.
Why is the story coming out now? An intensified, #MeToo-inspired effort to report on sexual abuse allegations against Trump and others is likely one factor, but beyond that I have no idea. The Journal's report about Trump paying for Daniels' silence came out of the blue, and the attribution to "people familiar with the matter" is extremely vague. I can't guess who the Journal's sources are or why they are speaking up 15 months later.
*Correction, Jan. 16, 2018: This story originally misstated the length of a document that allegedly spelled out an agreement between Donald Trump and Stormy Daniels. It was two pages, not three pages.