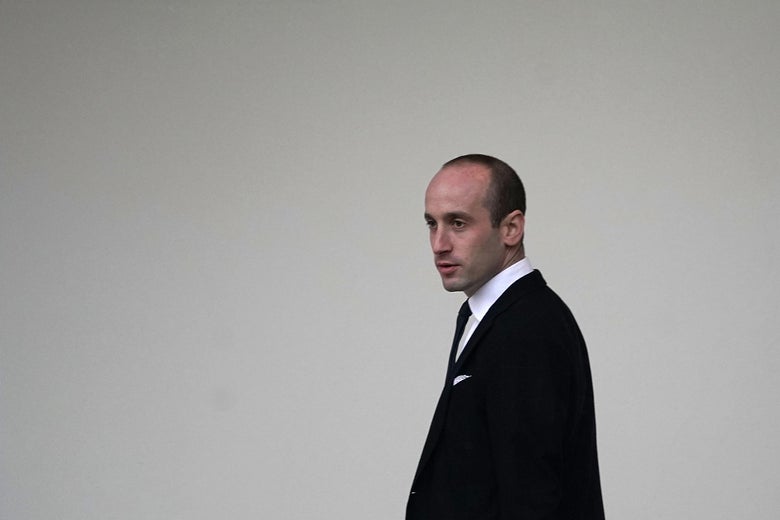 The interview was tense from the beginning. President Donald Trump's senior policy adviser, Stephen Miller, went to the CNN studio to defend his boss and, hey, while he was at it, blast the cable news network as well. Miller seemed to have a script in his head and largely ignored Tapper's questions until the CNN anchor had enough and abruptly ended the interview: "I think I've wasted enough of my viewers' time." Tapper then went on to introduce the next segment of State of the Union while Miller could still be heard spouting his talking points in the background.
Miller had gone to CNN to dismiss Michael Wolff's Fire and Fury as a work of fiction while criticizing former chief strategist Steve Bannon. "It reads like an angry, vindictive person spouting off to a highly discreditable author," Miller said of the explosive book that has shaken up Washington. "The author is a garbage author of a garbage book." Miller also dismissed Bannon's role in the White House, saying his influence in the administration had been "greatly exaggerated."
The Trump aide also praised the president and didn't hold back, calling Trump a "political genius." Echoing the tweets Trump sent the previous day, Miller charted the course of Trump's career noting that he is a "self-made billionaire, who revolutionized reality TV, and who has changed the course of our politics." But during the interview, Miller also accused Tapper of being "condescending" and said CNN broadcast "24 hours of negative, anti-Trump, hysterical coverage" that has led to "embarrassing false reporting."
That's when what was already a tense interview turned contentious as Tapper accused Miller of trying to impress his boss. "There's one viewer that you care about right now and you're being obsequious," Tapper said. Miller pressed the issue, saying all he wanted was three minutes to defend the president from "24 hours of negative anti-Trump, hysterical coverage on CNN." And that's when Tapper cut him off.
It seems, however, that Miller got what he wanted and impressed his boss. Trump quickly took to Twitter to praise Miller, saying that he "destroyed" Tapper. "Watch the hatred and unfairness of this CNN flunky!" Trump wrote.
Tapper also responded on Twitter, linking to the interview and calling on viewers to "judge for yourself."
One more thing
You depend on Slate for sharp, distinctive coverage of the latest developments in politics and culture. Now we need to ask for your support.
Our work is more urgent than ever and is reaching more readers—but online advertising revenues don't fully cover our costs, and we don't have print subscribers to help keep us afloat. So we need your help. If you think Slate's work matters, become a Slate Plus member. You'll get exclusive members-only content and a suite of great benefits—and you'll help secure Slate's future.
Join Slate Plus
Join