Sky City, the replica of Paris on the outskirts of Hangzhou, was supposed to be empty. The development had been built in 2006 to house 10,000 people in a community modeled after France's capital, complete with its own Eiffel Tower, Champs-Élysées, and white Haussmann-style apartments. Yet word was that hardly anyone had moved in: It was too far, too inconvenient, too weird. In 2013, a video surfaced showing Sky City's long boulevards empty of life and its Eiffel Tower choked with weeds, and news sites generated more than 60 copycat stories declaring Sky City a failure. They described the clip as a rare glimpse at China's "eerie," "abandoned," and "post-apocalyptic" City of Light. "Paris, now virtually a ghost town—streets empty, stores vacant," repeated a 2016 Nightline story, panning over bleak gray plazas populated only by fountains copied from Parisian gardens. (Full disclosure: I was a talking head for the segment.)
For many, Sky City's demise was an "I told you so" moment. I've spent the past decade tracing China's "duplitecture"—the replica White Houses, Versailles Palaces, and even foreign cities, from Venice to Jackson Hole, Wyoming, that have multiplied through the country—and from the start of my research, planners and architecture critics have assured me the movement was on its last legs. "It's really just a trend and it's not sustainable," an architect at Ben Wood Studio Shanghai told me in 2008; soon after, a different Shanghai-based planner asserted duplitecture was "already outdated even within China."
Sky City became the poster child for other themed developments that had allegedly met the same fate: intended to house Chinese families in surroundings inspired by Orange County or Barcelona, these communities were said to have languished as ghost towns. An op-ed in the Global Times asserted, "These 'fake cities' are just so ridiculously similar to their Western originals that rather than anyone taking them seriously, they turned into residential amusement parks"—empty backdrops for wedding photos and tourist selfies.
Then again, overseas reporting on Chinese culture has a tendency to turn into a game of telephone. (That 2013 video of Sky City was in fact filmed in 2008 by artist Caspar Stracke.) When a documentary filmmaker who'd read my book Original Copies invited me to join him to revisit these duplitecture developments, some of which I hadn't seen in years, I leapt at the chance to check in on them firsthand. Had they been abandoned? Remodeled? Razed to the ground? Liaoning's Holland Village—which installed windmills, canals, and a double of the Hague on an area three times the size of Brooklyn's Navy Yard—had been demolished 10 years after its construction. Sky City had just celebrated its 10th anniversary. This past May, I set out to see what I'd find.
Once in China, I did not have to go hunting for duplitecture. I caught my first glimpse while in line for customs: The flat-screen TV mounted overhead played footage of starched Chinese soldiers saluting a government building that appeared to be the lovechild of the U.S. Capitol and the White House. En route to Hangzhou, I spotted sprawling Italian palazzos the color of Easter eggs; a British hamlet; a red-domed structure that could have passed for the Duomo in Florence; another U.S. Capitol; and, in line for taxis at the Hangzhou train station, an airbrushed ad for the be-fountained villas of Cam-Town Riviera.
A taxi driver who had last traveled to Sky City two years ago—and never with a foreigner—took me out of the dense thicket of Hangzhou's skyscrapers into the gangly, mismatched landscape of its suburbs, past a ball-bearing factory, a pink house frosted by white balustrades, and, at last, to a four-lane boulevard, at the end of which sat Sky City's Eiffel Tower, rising 35 stories into the air.
Both sides of the road were flanked by row after row of high-rise apartments girded by scaffolding and waving cranes from their roofs. The walls bordering the buildings advertised homes in the shadow of the Eiffel Tower ("Don't wait!") and reminded passers-by to pursue the "Chinese dream." For a deserted ghost town, construction was booming.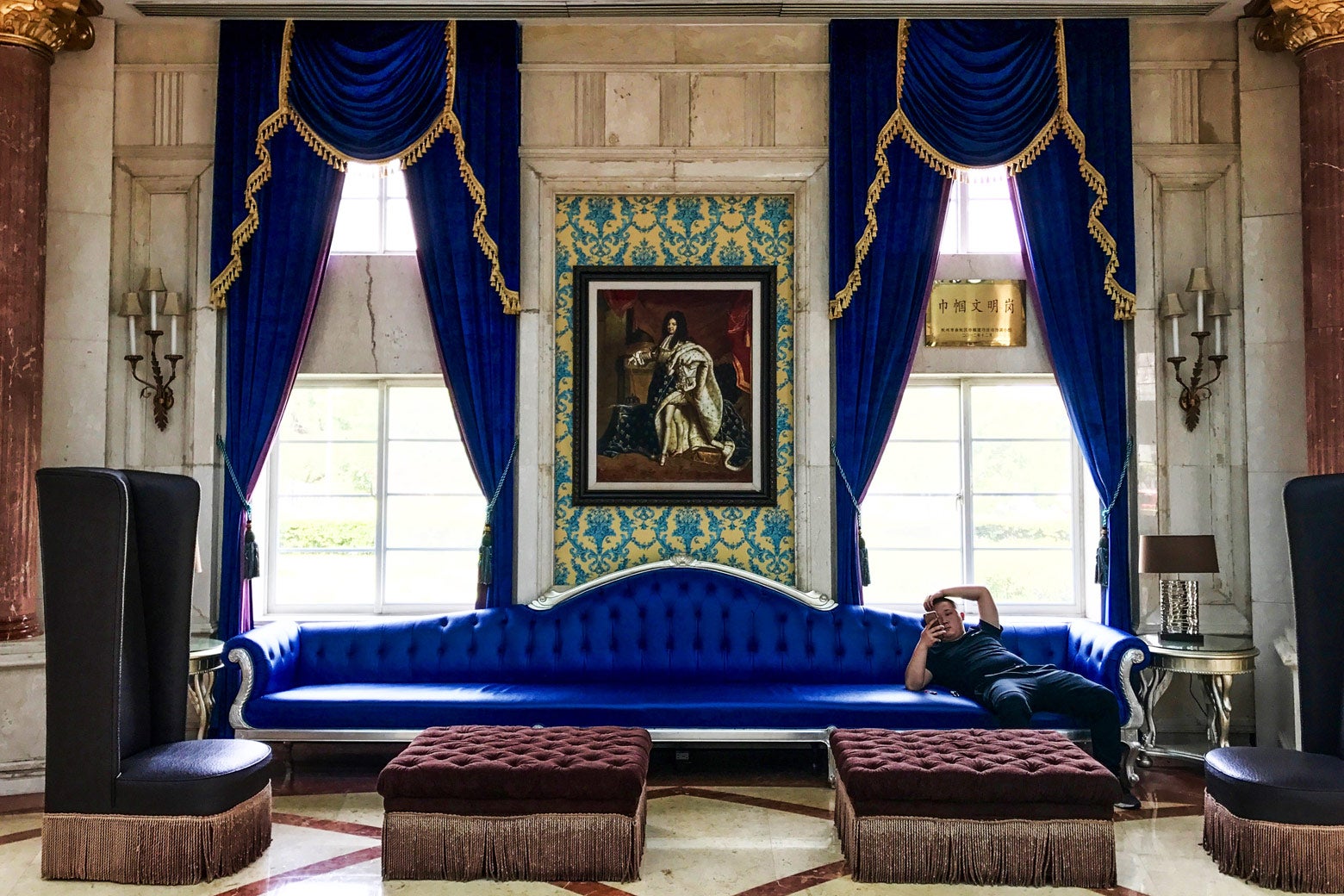 Expecting to find Sky City an empty shell, I'd stocked up on water and peanuts at the train station. Instead, the streets hummed with the mosquito-whine of scooters and bustled with pedestrians: Parents pushed strollers, young couples queued for Pocky, teenage boys lounged on shady benches, and elderly women shuffled under their neon umbrellas. I snuck into the back entrance of what I thought was an abandoned hotel, only to discover myself in the chandeliered consulting room of a plastic surgery clinic. It advertised a procedure of "exquisite carvings" that would give patients a "U.S.-nose."
Long populated by Juliet balconies and Art Nouveau streetlights, Sky City had added other sights common to French towns. I passed grocers, barber shops, day cares, cafés, a cosmetics store, a "Baby Bilingual Education Center," and a boutique with a mannequin dressed in chic black shorts and a Yves Saint Laurent purse. Just like France's Paris, Hangzhou's Paris was also filled with Chinese tourists snapping photos.
I learned it had been two years since a new management company had taken over the town. Where an earlier breed of "build-it-and-they'll-come" developer had judged success in concrete poured, this more enlightened manager had recognized the importance of luring services and stores that would attract residents. The company's chairman promised he would bring Sky City a Montessori school, "French research institutes," and spas offering the "world's most authentic and advanced beauty treatments"; a year later, he pegged the town's population at nearly 40,000 people—though a bored twentysomething at Madenjoy Real Estate told me that between 14,000 and 18,000 residents had moved in. Still, it appeared something was working: According to Hangzhou Daily, when 663 new units went on sale in August, they sold out in less than four minutes for an average of 14,000 yuan per square meter—about $200 per square foot, slightly more than the average price in Houston. (The average price-per-square-foot for apartments in downtown Hangzhou, two hours away by public transportation, is about triple that, which might explain the high proportion of young families—Paris as starter home.) The developers behind the Hangzhou Paris did not consider it an "eerily depressing ghost town." They described it as the foundation for a new satellite city.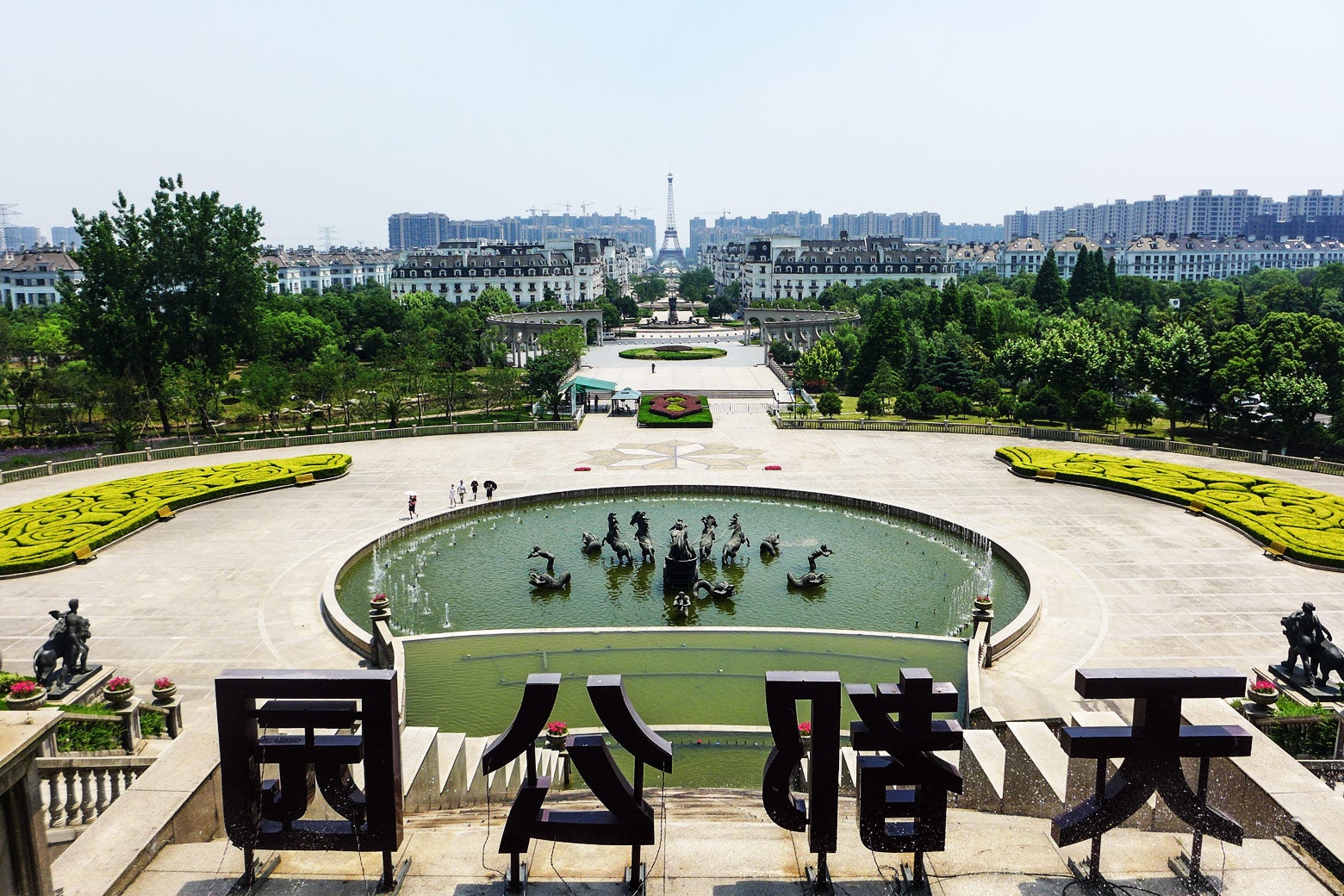 In its early years, Sky City had, like other themed communities, pushed a European lifestyle to match its European surroundings. British-style Thames Town courted English pubs, German-themed Anting Town served bratwurst, and Sky City hosted crash courses on Gallic customs, from the time of day French diners take their meals (according to the organizers' website: "Most French restaurants offer lunch between 12:00 and 14:00") to how they savor caviar ("use the tip of the tongue to slowly crush each individual grain one by one").
Since then, however, tastes had evolved. I stopped into a bakery just a few steps away from the Eiffel Tower, imagining I'd pick up a baguette or brioche to pair with my Parisian stroll. But not a single thing in its glass cases could reasonably have been described as "French"—not the rolls of taro-infused "Purple Cake," not the triangles of Barbie-doll pink cream, not the fluffy mounds of dough uniting mayonnaise and hot dog in a stunning number of permutations. These were hybrid pastries with a Chinese sensibility. Like Sky City itself, this pâtisserie had taken a European classic, then reconceived it to suit Chinese tastes.
Other duplitecture developments had undergone similar transformations. The ghost towns had both filled out—I hit traffic getting into Shanghai's Thames Town—and mellowed out, the Western surroundings giving way to local habits.
These communities had once emphasized their foreign themes by courting businesses with ties to Western culture, or adopting strict design covenants meant to preserve their foreign look and feel. Planting vegetable gardens, hanging laundry outside to dry, or enclosing balconies—all common sights in typical Chinese neighborhoods—were usually prohibited. Now, at Hangzhou's Venice Water Town, nearly every Moorish window had a view of glass-encased porches or underwear fluttering in the breeze. One middle-aged woman had planted yuzu, pomelo, peaches, mint, chives, and squash in a yard no bigger than a bus stop.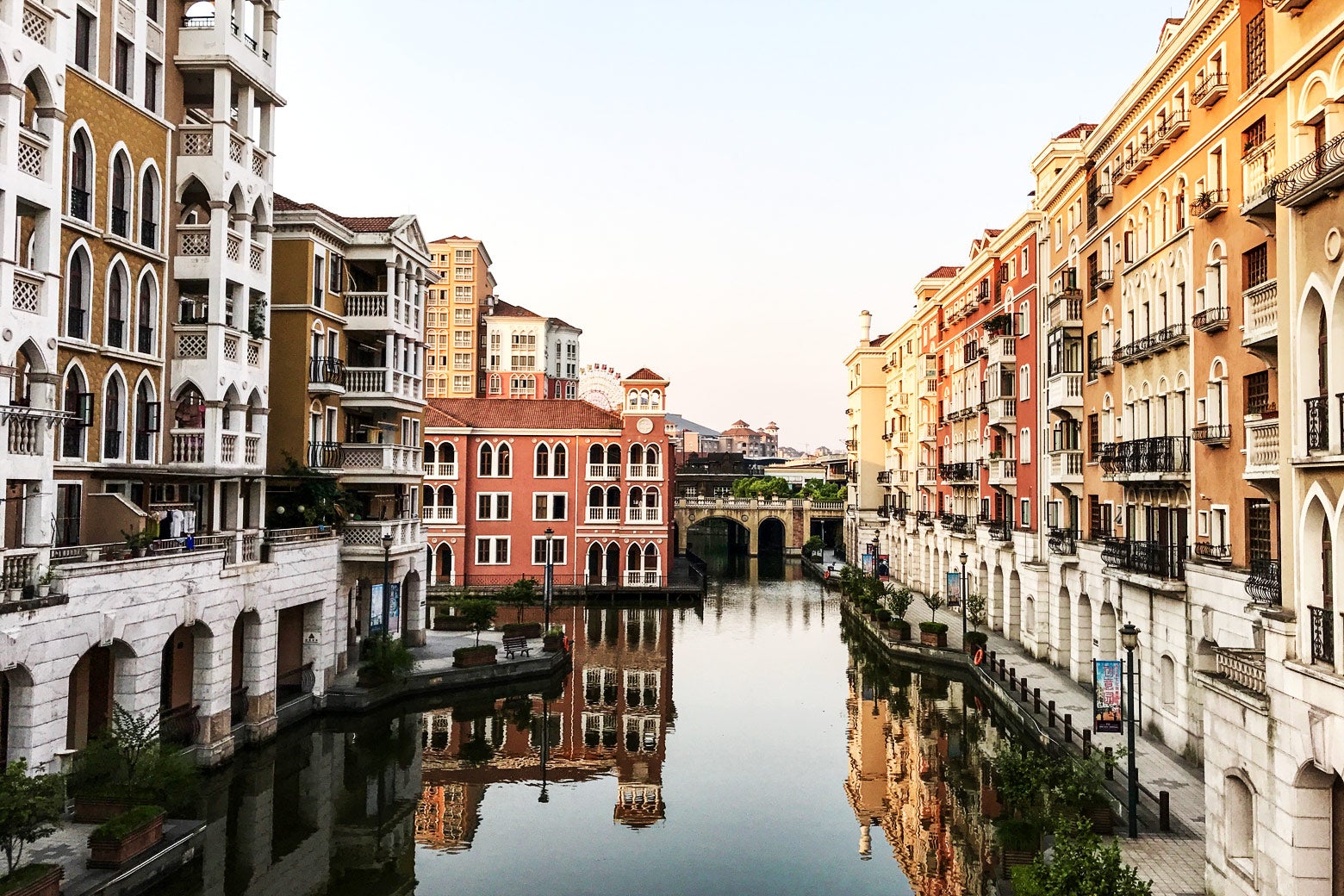 In Thames Town, where British pubs and wine stores had once far outnumbered Chinese restaurants, couples and families now perused pu'er tea shops, slurped down noodles, and lined up for bubble tea, or Baskin-Robbins. The 27-year-old owner of a boutique selling clothes by up-and-coming Chinese designers told me Thames Town had grown busier since 2014, thanks in part to the expansion of the subway system, and in part to the swelling population of Shanghai proper. (Between 2000 and 2016, the city had grown by the population of New York City, pushing the city limits closer to Thames Town.) When I asked whether Thames Town had tried to court British restaurants to match its English architecture, he choked, midbite, on his sticky rice. Why would anyone want that? "But the English don't have anything good to eat!" protested the owner's friend. "All they have is fried fish and french fries! British food is disgusting."
Not every former ghost town has come to life. In Shanghai's Holland Village (no relation to Liaoning's), most storefronts along the main street stood empty or deserted, their dusty concrete floors littered with desiccated bouquets or curled posters. Like something out of fairy tale fever dream, I met an elderly woman who lived inside the town's wooden windmill—the previous tenant, a wedding photography studio, had left it in her care after business went south. Several buildings, including replicas of Amsterdam's Maritime Museum and De Bijenkorf department store, were under construction—just as they had been during a previous visit in 2008. Since then, the developers had successfully completed a stone cathedral, which they'd outfitted with crucifixes, a crèche, and a wooden altarpiece, then rented to local businesses for use as offices.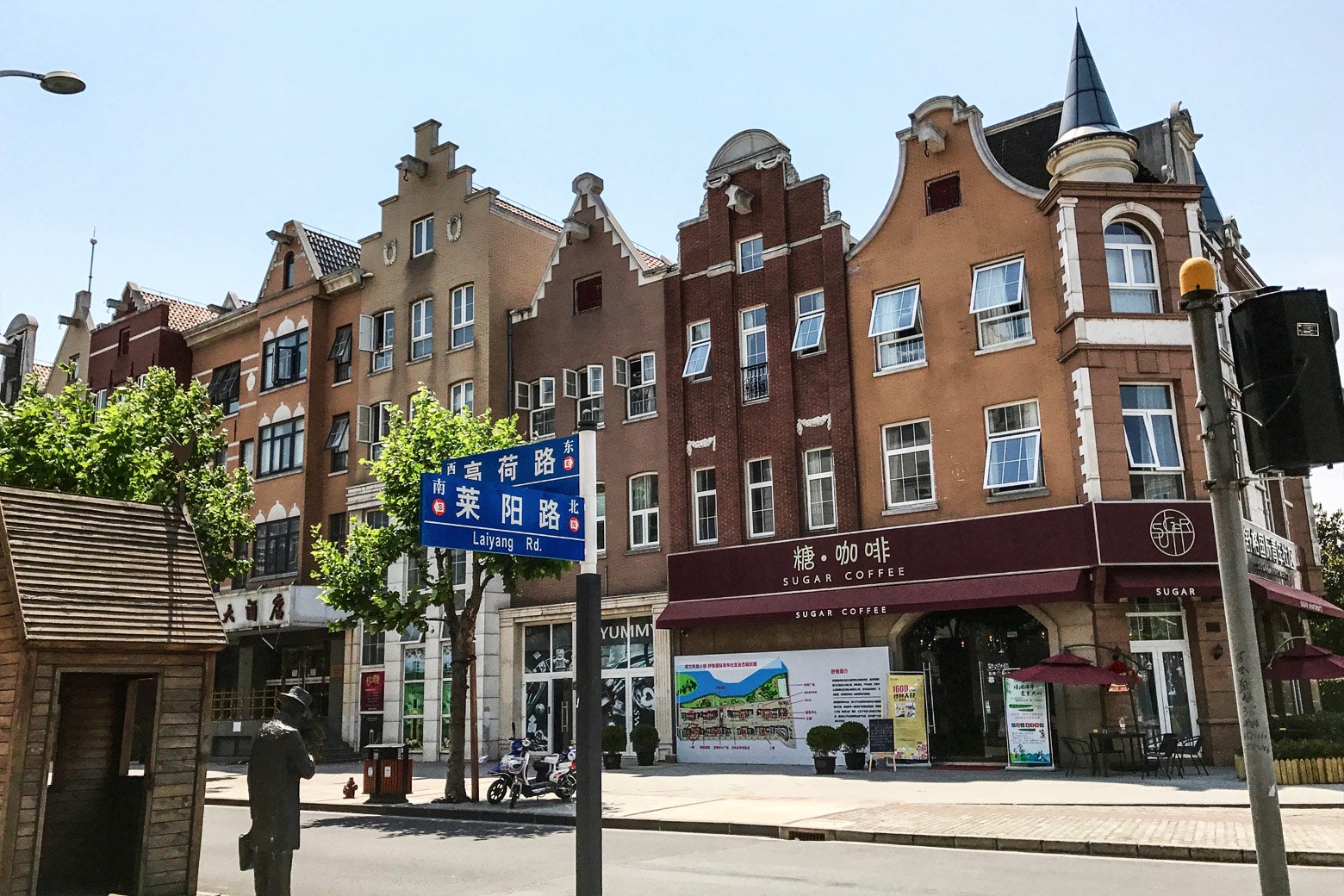 A 36-year-old entrepreneur, one of the few shop owners in Holland Village, had chosen the ground floor of a brick townhouse for the headquarters of her wine-importing firm. Since wine was European, she explained, it was appropriate to bring clients to drink in a European setting. And besides, she thought Holland Village was beautiful—a glimpse at a continent she'd never experienced firsthand. "I think there's a lot of foreign architecture in China because people who can't afford to see the world can see what it's like overseas," she said. "It's a great thing that we now have all these different styles of buildings in China. It's not just architecture. It's also a cultural exchange in a way."
Anthony Mackay, a British architect and urban planner who worked on Thames Town, is less enthusiastic about the "cultural exchange" duplitecture represents. I visited Thames Town with him one afternoon, and we followed the curving cobblestone streets past columned apartments drawn from London's Belgravia, past black-and-white Tudor-style inns, and past a replica of Bristol, England's Christ Church. (The original is a 20-minute drive from the offices of the firm, Atkins, that planned Thames Town, and it seems the designers conveniently opted to copy from their own backyard.)
"When I discovered that the architecture of Thames Town was a pure imitation of buildings around Bristol and England, I felt ashamed. I felt ashamed that we—I mean Atkins—had succumbed to the client and built such a place," said Mackay, stressing that he did not design Thames Town's buildings but consulted on the urban plan for Thames Town and the larger suburban district, Songjiang, to which it belongs.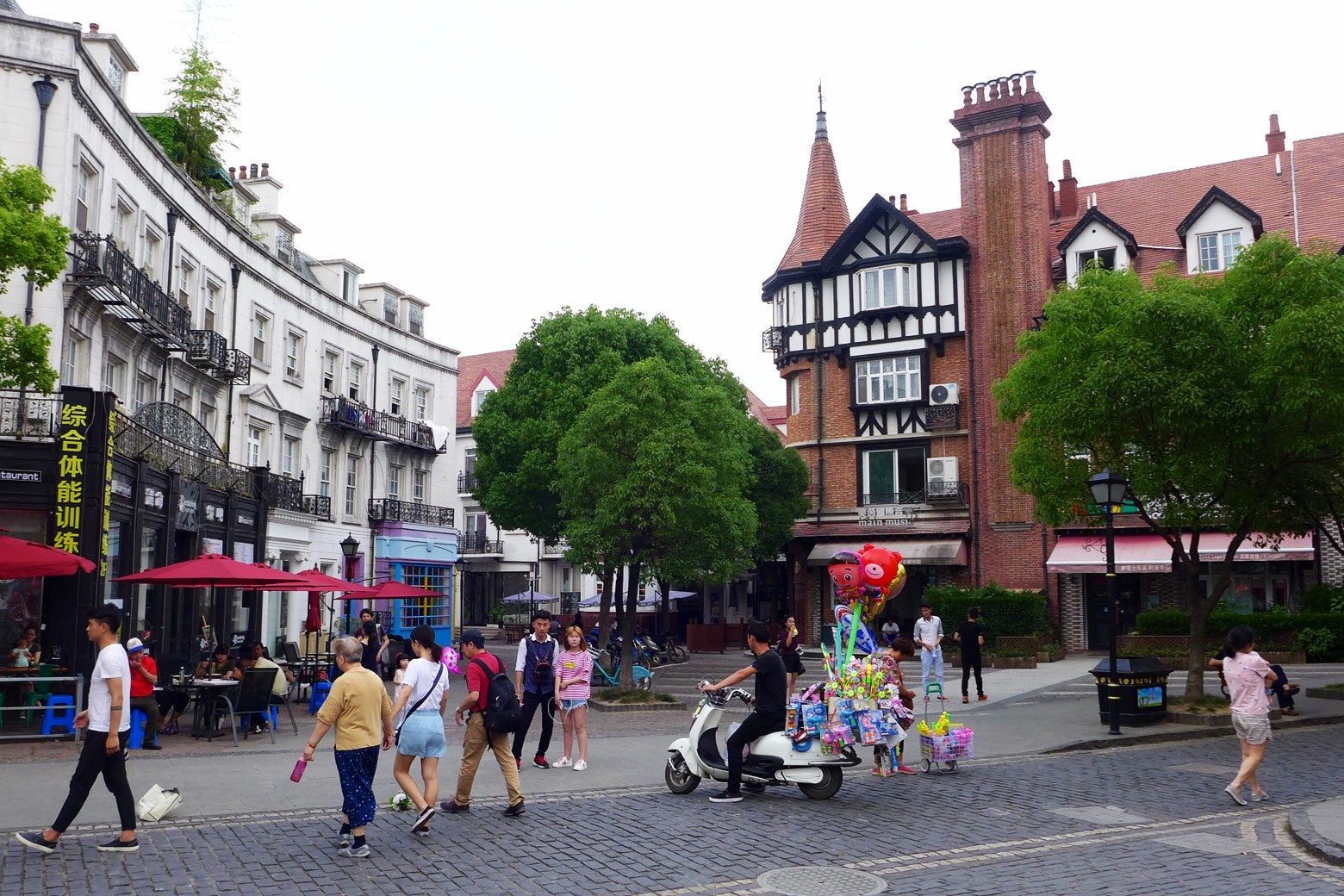 To Mackay, while the original, British buildings were authentic to the time and place from which they emerged, this Chinese interpretation was copy-and-paste architecture—a rootless imitation. "These buildings have no history. They are pure theater. They are pure replica," he said. "Tourists in Paris and Venice know that beyond the façade is a genuine history. They are trodding on the ground that Henry the Eighth trod on. Here, you're trodding on the ground that was a duck farm."
I considered this while treading the sidewalks of Thames Town. It's true the landscape houses more than its fair share of absurdities: the statues honoring British greats, like Princess Diana, Winston Churchill, and Harry Potter; the limestone façade of an English school that commands students to "Conquer English to Make China Stronger"; the dozens of brides dressed like princesses and oversize Tinkerbells, feigning surprise as photographers instruct grooms to proffer fake-flower bouquets. Like "uncanny-valley" robots that unsettle us by falling just short of being human, these buildings represent "uncanny architecture," arousing suspicion because they are nearly identical to the originals, yet a smidge too big, or too new.
But then we forget the originals were once off-putting and conspicuous themselves. We expect columns and crenellations to have the respectable patina of age. They didn't always. Remarking on the flashy newness of J. Paul Getty's Malibu villa, a copy of an ancient Roman country house, Joan Didion observed that the ornate surroundings sparkled a little too much with the shine of wealth and status—just as the original would have. "Ancient marbles once appeared just as they appear here: as strident, opulent evidence of imperial power and acquisition," she writes.
Over time, the glitter and strangeness of duplitecture will fade, until its inhabitants all but forget the replica ever belonged anywhere except its adopted milieu. Back in the U.S., on my drive home from the airport, I pass New York's own duplitecture—Joseph Pulitzer's copy of a Venetian palazzo on East 73rd, Gertrude Rhinelander Waldo's Loire Valley chateau on Madison Avenue. (Of course, there is a double standard, and while the creators of these buildings were "inspired by" European landmarks, China's developers have been "knocking off" the greats.) Europe's aristocrats might never have trod in these duplicated structures. But it doesn't matter: They've acquired a new history and transformed into Manhattan's treasures, rather than Europe's.
China's duplitecture will also grow old. Already, its Paris, its Holland, its Venice, and its England have become Chinese in spirit, if not in appearance.