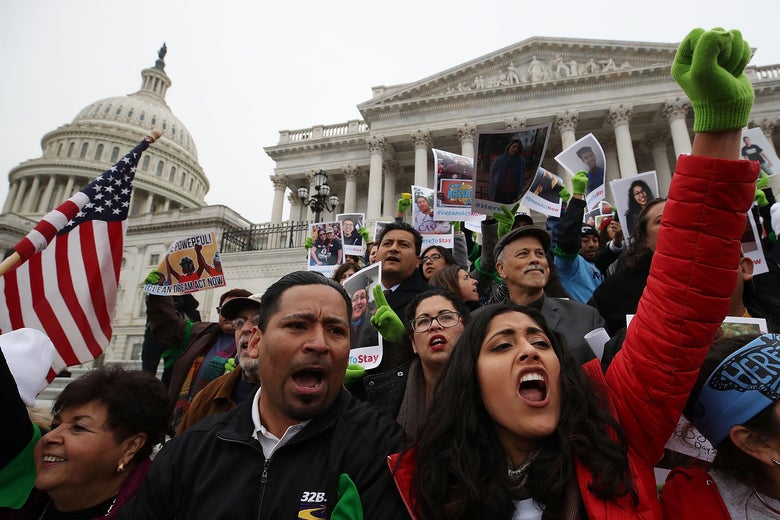 A federal judge in California issued a nationwide injunction Tuesday night blocking the Trump administration from dismantling the Deferred Action for Childhood Arrivals program, which protects immigrants brought to the U.S. at a young age from deportation.
The judge, William Alsup of the Federal District Court in San Francisco, ruled that the Trump administration must allow the nearly 690,000 Dreamers to continue to renew their protections while the legal challenge worked its way through court. The administration would not be required to accept new applications.
Under the administration's decision announced in September, the Department of Homeland Security would stop accepting applications after Oct. 5, and permits that expired after March 5 would not be renewed.
According to NBC News, Alsup chastised DHS for failing to present any analysis of the damage its order would do to the hundreds of thousands of Dreamers in the country, and he called the government's argument that the DHS does not and did not have the right to run the program "arbitrary" and "capricious."
A Justice Department spokesperson said Tuesday after the ruling that the agency still believes it has the power to end the program, which it considers illegal overreach by the previous administration, according to the Associated Press.
Alsup's ruling came as he considered five lawsuits filed in Northern California. One of the lawsuits was filed by four states, including California, and another was filed by the University of California system, according to the AP.
President Obama created DACA in 2012, and many Republicans have argued since then that the action was unconstitutional. Donald Trump has previously expressed public support for the program in tweets—tweets Alsip cited in his decision, according to the New York Times.
The ruling came the same day as a bipartisan meeting in which Trump and members of Congress sought to work out an immigration deal to decide the fate of the Dreamers. Republicans and Democrats remain divided on the issue, and very little was actually accomplished.
The administration could appeal the ruling, meaning it is possible for the program could still be phased out as scheduled.
One more thing
You depend on Slate for sharp, distinctive coverage of the latest developments in politics and culture. Now we need to ask for your support.
Our work is more urgent than ever and is reaching more readers—but online advertising revenues don't fully cover our costs, and we don't have print subscribers to help keep us afloat. So we need your help. If you think Slate's work matters, become a Slate Plus member. You'll get exclusive members-only content and a suite of great benefits—and you'll help secure Slate's future.
Join