Al Hamriya is not the sort of place you'll find on postcards from Dubai, a city synonymous with superlatives, skyscrapers, and excess. Situated near the mouth of Dubai Creek at the city's northern end, it's a neighborhood of immigrants, most of them from South Asia and the neighboring states of the Middle East. Grids of squat apartment blocks and sun-bleached villas line the bustling streets, paint peeling off their rusted entry gates. Children's bicycles lean against dusty gas cylinders; men in pathan suits—the traditional dress of Muslim South Asia—stop at barber shops for glasses of masala chai and long chats with their friends and neighbors. Laundry hangs off balconies, drying over aging air-conditioning units. Scattered between residential buildings are well-worn computer hardware and grocery stores, butcher shops and cafeterias, three-star hotels and barbershops. Dubai's well-heeled residents seldom come to this part of town except for custom tailoring, fast food, gold jewelry, or a steaming skewer of kebabs from Al Ustad Special Kebab.
Though I grew up in the neighboring emirate of Sharjah, I made my first visit to Ustadi, as the kebab house is affectionately known, just a few years ago for a quick lunch. "Table for one please," I asked, unconsciously formal, as I maneuvered my way in from the busy street outside. Majeed Ansari, the de facto master of ceremonies, balked from behind gold-rimmed glasses and a heavy Groucho Marx moustache. "Tum pagal hai?"—are you mad?—"This is Ustadi! Sit anywhere, my friend!"
Nearing 50, Majeed is the most visible of the four brothers who together run the Iranian restaurant that their father, Mohammad Ali Ansari, started in 1978. Majeed, Taleb, Abbas and the oldest brother, Ali, all have their parts to play in the restaurant's day-to-day operations, from seating and serving guests, to filling catering orders and processing staff visas. Affectionately known as Ustadi—derived from the Farsi and Urdu word ustad, meaning teacher, and connoting a near spiritual mastery in one's art—the restaurant has shifted venue three times and proudly states that it has "no other branches" on its doors and windows.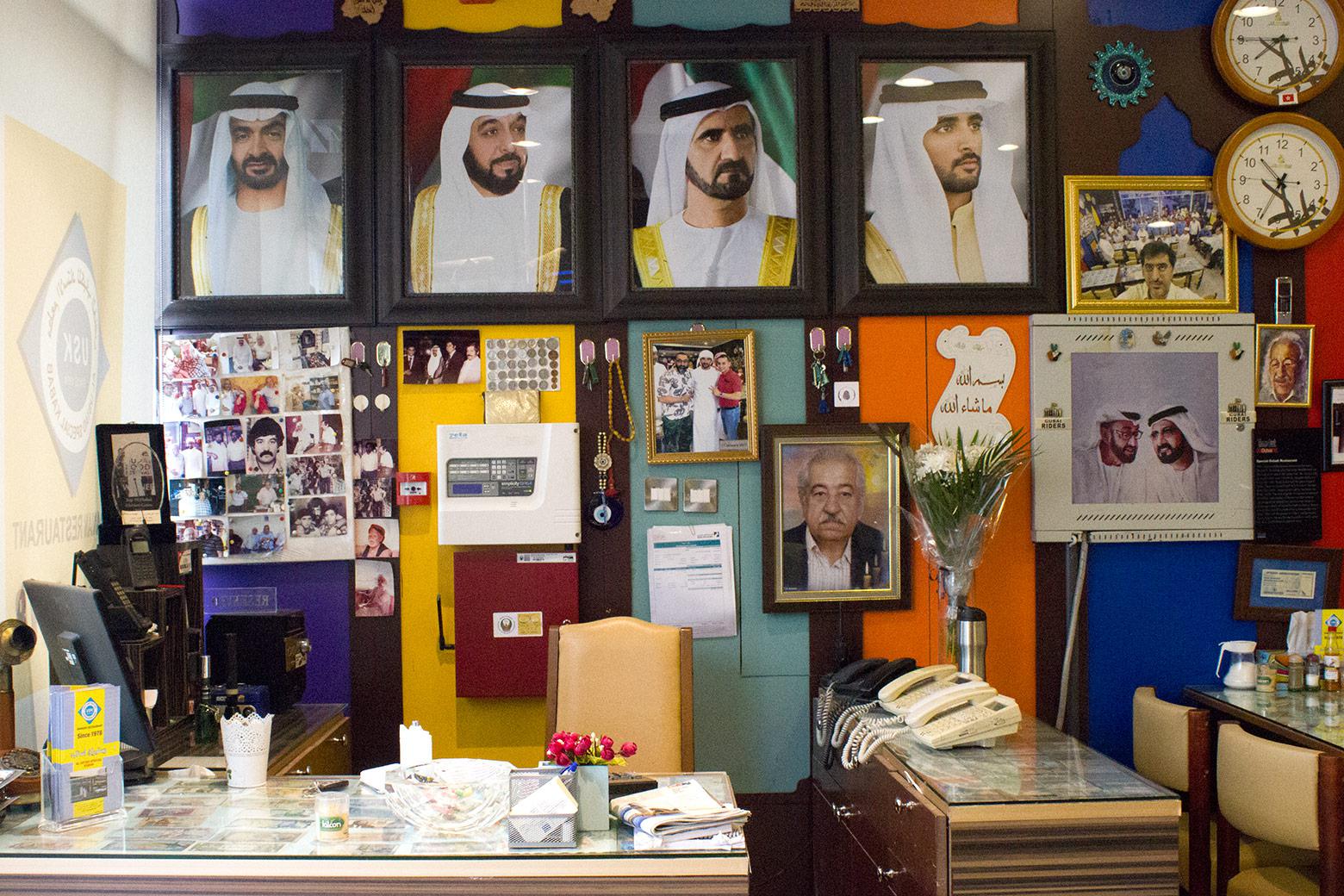 Decorated with currency notes, football jerseys, newspaper clippings, and some 4,000 photos (many of celebrity customers like Dubai's Crown Prince Hamdan and assorted Bollywood royalty; others of the restaurant's humble founder), Ustadi is a world away from the homogenized gentility of the city's wealthier quarters. In the kitchen, trays of uncooked Bahraini, cheloo, seekh, lemon, and saffron kebabs fill tall glass-fronted refrigerators and are dispatched to tables within moments of being grilled. They arrive, steaming and tender with charcoal-crisped edges, on a flatbread called khubz. Each kebab is unique—hints of lemon and saffron in the Bahraini, ginger and onion in the Cheloo—but it's the succulent tang of the kebab khas, or special kebab, that has earned Ustadi legendary status over the last four decades.
Made from chicken or goat marinated in a secret mix of spices and soured yogurt, khas kebabs line the kitchen's grill 100 skewers at a time. A table fan patched with insulation tape keeps the embers screaming under the meat, while rice and lentils boil in large soot-stained vats. Throughout that first lunch, I watched Majeed shout into a walkie-talkie connected to the kitchen, bark orders down a telephone, and shoo away loiterers peering into the restaurant past closing time, using English, Urdu, Farsi, or Arabic as each given situation required. He slipped between tables, shook hands, and joked with the customers, twirling his moustache as he posed for photographs. Seated at the register, Abbas explained Majeed's affectionate bluster by calling him a kabootar baaz, or pigeon-fancier, as volatile as the flocks of birds he keeps and cares for—a millennia-old tradition in the region. Above the din of tourists and locals, I could hear the chirrups and trills of caged canaries, a reminder of bird-sellers in the bazaars of Iran, where the family patriarch, Mohammad Ali Ansari, was born in 1933.
"Baba came from Gerash"—a city in southern Iran—"on a boat at the age of 8 or 9," Abbas told me one afternoon as I accompanied him to the new wholesale market in Port Rashid, the city's main cargo port, where he shops for the restaurant's daily supplies. "New arrivals of Persian descent were called Ajams. There was no food, little water, and no electricity where the arrivals camped." Like so many immigrants, "Baba"—as even customers continue refer to the late founder—had to be entrepreneurial to survive. As a boy, he sold sweet date halwa door-to-door and in the markets with his uncle. In the course of the next 35 years, he tried his hand at selling bread, perfume, kerosene, and matchboxes. When even a money exchange business didn't improve his luck, Ansari decided to start a restaurant. It was 1978. "If this didn't work, he said he would go back to Iran," says Abbas. Within a decade, Kebab Khas, as the restaurant was then called, turned a profit. Mohammad Ali never looked back. Now, his sons serve dates and yogurt with each meal, a nod to their father's hardscrabble early days.
In the market, as in the neighborhood surrounding Ustadi, Abbas was stopped repeatedly by passersby to hug, shake hands, and make small talk. "I've not been able to bring myself to the restaurant since Baba died," said one well-wisher. "It's just not the same without him." Indian, Pakistani, and Bangladeshi workers enquired fondly after his family and health. "People would stop before to have tea with us," said one South Indian tradesman who sells fruit and vegetables imported from Iran and Oman. "But now, everyone looks the other way. To stop to have tea means someone wants something from you."
That was the Dubai that my grandparents and parents came to in the 1970s when they moved from Bombay. In those sleepier days, busy markets filled with the buzz of immigrant languages and the wafting aromas of modest foods were a common feature of a more humble urban landscape. Through the 1980s of my childhood, we would stop for languid talks over hot cups of masala tea at Irani, Pakistani, and Indian shops throughout the old city. By the turn of the century, as wealth flooded the city, massive developments blossomed, and a new wave of expatriates swept in, changing the rhythm and color of Dubai forever. Modernization brought five-lane highways and malls and made the everyday market trips and breaks for tea a rarer phenomenon.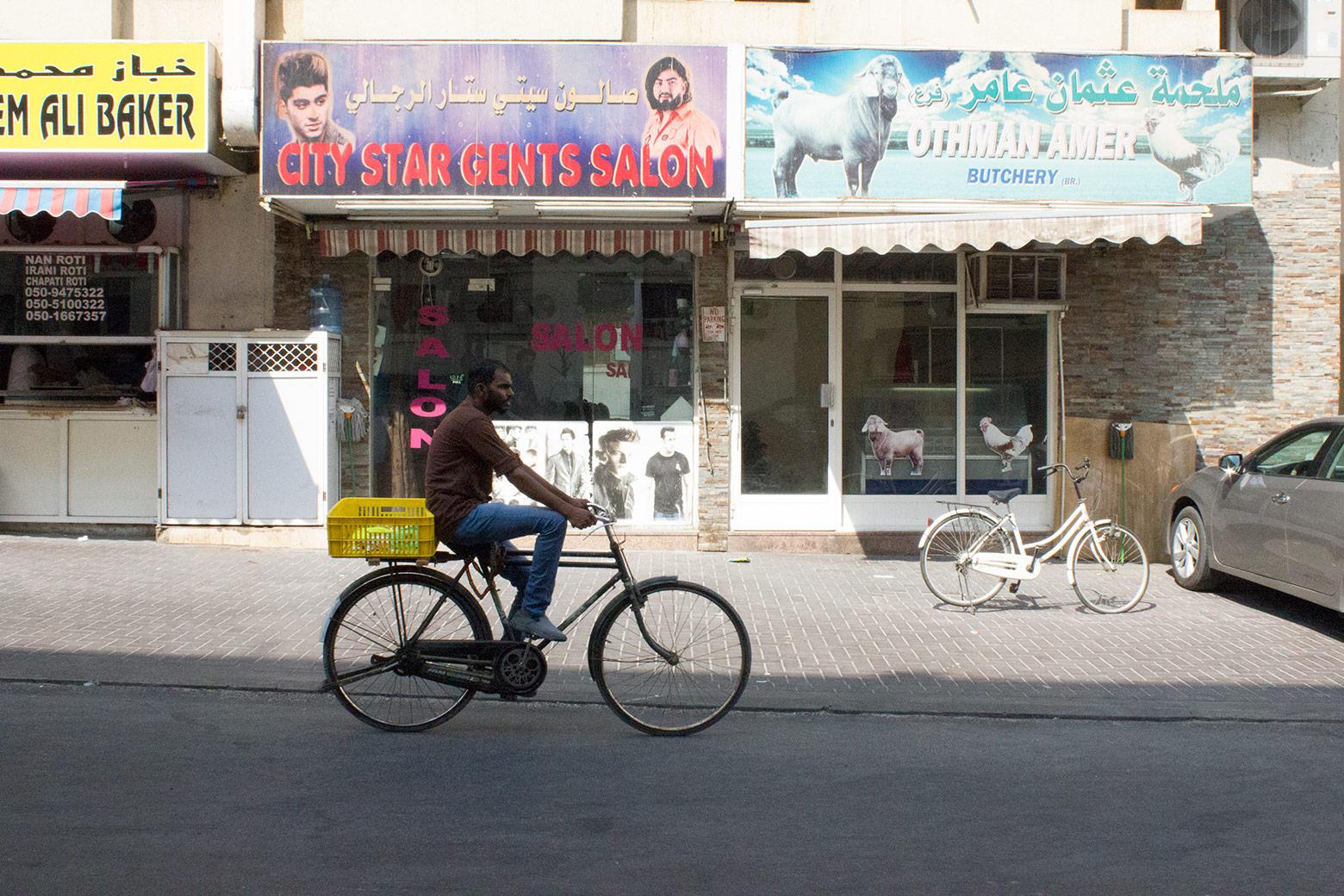 But vestiges of the old Dubai still persist in quarters near the creek, dredged just 60 years back to allow cargo ships and trade to enter what was then a quiet town. Wander the neighborhoods of Deira and Bur Dubai and you might just spot a group of men smoking shisha, drinking Arabic coffee, and playing backgammon—glimpses of the daily commingling of Arab and South Asian peoples that for the last century defined Dubai's syncretic culture. While the city's center may have shifted from the banks of the Creek to the cookie-cutter mansions and luxury car showrooms lining the 12-lane Sheikh Zayed Road, its heart still beats in these streets.
Speaking with Majeed and Abbas, conversation drifted back and forth between English and Urdu. In our exclamations, we invoked our own and each others' gods. They put this down to running with Indians in their childhood, playing cricket in these very gullies. "It was because they always knew how to enjoy themselves. Once Baba asked me not to attend a family get-together because I came home covered in Holi colors!" Abbas told me one day, recalling the raucous Hindu spring festival.
"It's a change of black and white from those days," Majeed added. "When they built the [Dubai World] Trade Centre, we could see the tower from [the neighboring emirate of] Al Ain because there were no other [towers]." Al Ain and Dubai are about 150 kilometers apart; today, you would struggle to see the Dubai World Trade Centre building from a kilometer away, lost as it is in the dense forest of glass and steel that crowds the skyline.
Growing up, as I did, in a rapidly changing gulf, the third generation of Ansaris may or may not choose to join the business where their fathers maintain an otherwise-fading tradition of an older Dubai. "They want to work but they are surprised by how we take orders, carry plates, and serve food," Majeed says of his son and nephews. "But they will come. There is money. Not millions, but Alhamdulillah, there is money."
In the meantime, the Ansari brothers, and especially Majeed, view their staff as equally valid torchbearers of their father's culinary legacy. At the main kitchen, a few doors down the road from the restaurant, 10 kitchen staff arrive at 8 a.m. every day to marinate and prepare the meats and stews. Iranian restaurants are no rarity in Dubai, and several have tried to poach Ustadi's staff in the hopes of getting their khas recipe. I asked Majeed if he instructs them to keep the recipe secret. "No, no brother," he replied, contorting his face in disgust at the idea. "I tell my staff to go home to their countries and open their own restaurants.
"Three generations of families in the UAE have eaten here," he went on. "When you give good food and respect to people, they will always come back. We are all living under one umbrella," he said, then added in Urdu, "Hum sabh, ek hai." We are all one.