Kris Fortner was enjoying a few additional minutes of snooze time.
The 45-year-old had just arrived to the Westin Nanea in Maui from the San Francisco Bay Area on Friday night, and his wife, Cathy Fortner, decided to let him sleep a bit more, so she took their two daughters for breakfast. Suddenly, Fortner was jolted out of the bed by a terrifying sound coming from his iPhone. The message shook him to the core: "BALLISTIC MISSILE THREAT INBOUND TO HAWAII. SEEK IMMEDIATE SHELTER. THIS IS NOT A DRILL."
"I jumped up and got dressed but I kept looking at my phone, wondering, 'Is this real?' I wanted to keep thinking this has to be a test, but the message clearly said it wasn't," Fortner said. "I realized I had to find my family."
Just as he was about to leave, Cathy Fortner arrived back in the room with their daughters, Julia, 6, and Maebe, 4. "She showed up in tears," Fortner recalls, with a tone of incredulity in his voice as if he couldn't yet reconcile the events of the previous few hours. "The hotel staff had received the same alert and told everyone to go back into their rooms and shelter in place." People were running around outside, many in a veritable state of panic. Amid all the commotion, Fortner tried to keep his daughters occupied so they wouldn't realize what was going on.
"I don't know what I'm supposed to do when something like this happens," Fortner said. So the communications specialist did what came naturally: He looked for answers on Twitter. Once he started seeing a few tweets that it was all a false alarm, he wanted to celebrate but was wary of doing so prematurely. He didn't know who to trust. "I didn't get why it took so long for information to get out," he said. It wasn't until the all-clear message came into his iPhone at 8:47 a.m.—40 minutes after the first warning—that he was able to relax.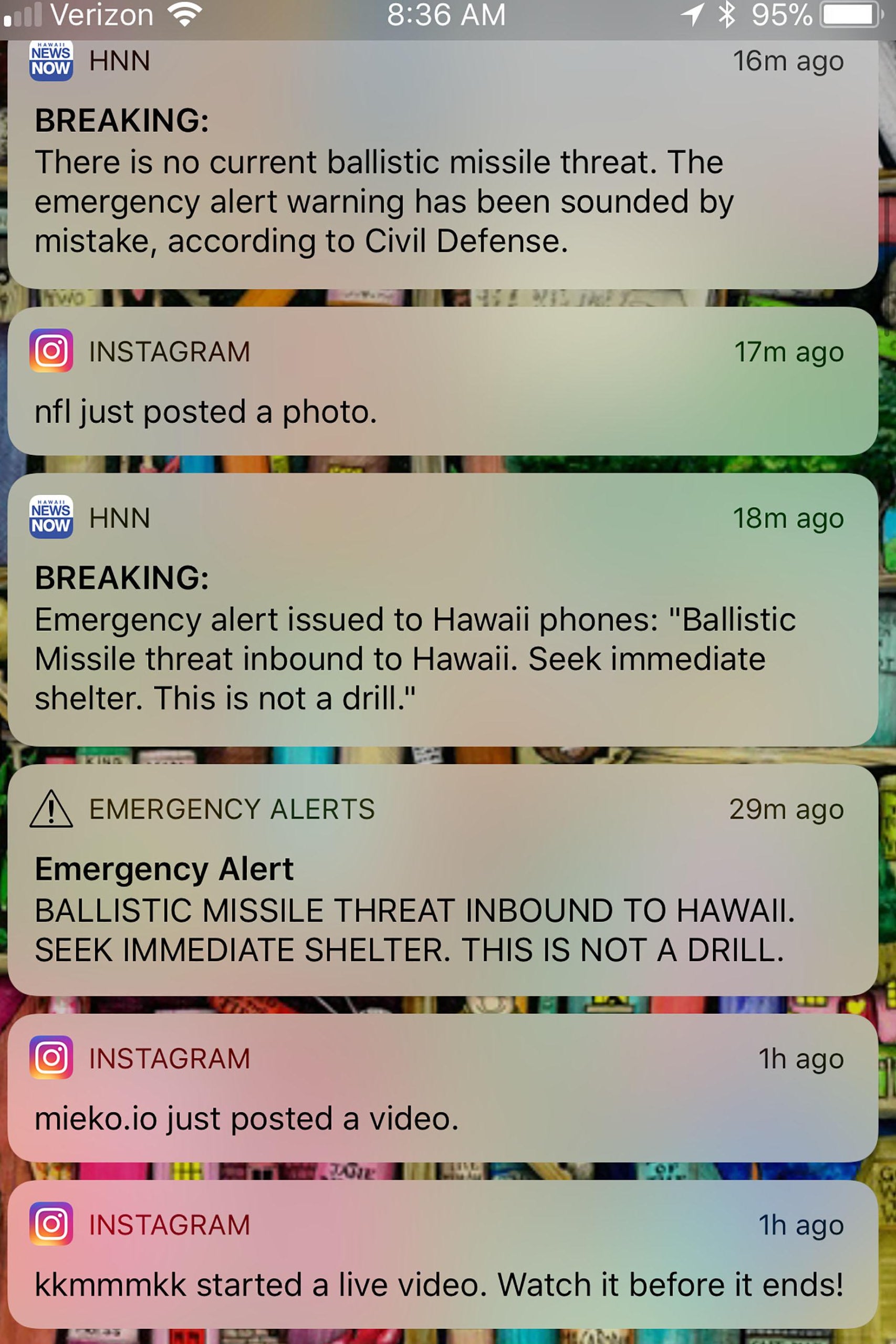 Jefferson Bethke, 28, shared Fortner's sense of surprise that the lag time between the first alert and the confirmation that it was a false alarm was so long. "It was all so surreal," Bethke, the author of numerous relationship books, said from his Maui home. "I was in my office, was about to get the kids for breakfast and I receive this message saying we're going to blow up any minute or something." Bethke says it took him about five minutes to realize what was going on before he came to the conclusion there was nothing for him to do besides look to the Internet for answers. "We were already inside so I just sat down and started processing the information," he said. "The language of the alert was ultra-scary, in all caps. We do a lot of drills in Hawaii but this one felt different."
Julie Hollenbeck got the message while packing to leave the Sheraton Maui. "I wish I could say I reacted appropriately, but I froze," she said. The fateful five words were the scariest. "'This is not a drill' freaked me the eff out," Hollenbeck said, steering clear of profanity even though just a few hours earlier she thought she was going to die. "I was terrified, my husband was terrified, and I instantly went cold."
Hollenbeck headed to the lobby, but what she saw there did not calm her nerves. "There were just groups of people in their swimsuits and their little cover-ups, holding drinks, not knowing what to do, terrified," the PhD researcher from Seattle said. "The staff had disappeared from many of their posts, and the ones we did see were tweeting or crying or shaking."
One person seemed to take the news lightly, at least. "Well, if I'm going to die, I'm going to do it on the beach and have a Mai Tai," Hollenbeck heard a man say as he laughed and walked toward the beach. Hollenbeck then proceeded to huddle with some members of staff in a cafeteria. "I started to shake, I got really sick to my stomach. All the staff were crying and holding each other," she said. "And then at that point, I texted my family, all my family … I said, 'I love you. I don't know if this is it, or if I'll get to see you again, but I just wanted you to know, if this was the last time we talked, I love you all.' And of course my family panicked and freaked out, but you have to say those things, right?"
Nichole Cruz also immediately thought of her family when she heard the news. "You know a million thoughts started going through my head. I'm a mom, I have three kids, and I started thinking maybe I'm never going to see them again," the 45-year-old airline employee said, as she got ready to leave the Maui Coast Hotel for her home in Los Angeles. "I thought to myself, 'This is how you're going to die—in a place that's a paradise.'"
R. Kevin Garcia Doyle, 50, thought of one thing when his work meeting at the Mid-Pacific Institute, a private K-12 school in Honolulu, was suddenly interrupted by buzzing phones: his sleeping wife. "My first thought was what is she going to do," he said. "We're so good at being prepared for hurricanes, tsuanmis and everyone knows the plan for those things." A missile threat, however, was different. He told his wife to head to the school, but she hesitated. "Her first concern was what are we going to do about our cats," he said.
Many of his co-workers were crying as they went to the lowest room in their building to take cover. Luckily, Doyle's wife never had to abandon the cats, because they heard it was a false alarm as she was getting ready to leave the house.
Kristen Wilson, 43, who just moved to Hawaii last month, happened to be looking at her phone early Saturday morning when it suddenly started blaring. "I read the message, took it in and suddenly got a huge surge of adrenaline and my heart was pounding," she recalls. "What are we supposed to do?" she wondered. "We don't have a basement." But Wilson found it strange she wasn't hearing people panicking on the street so she decided to try to figure out what was going on. "After that initial panic that I had after getting the first alert, our emotional reaction was just to do research—I guess we're eggheaded intellectuals," she said with a laugh.
Even hours later, several people found it hard to reconcile how close they thought they were to dying. "I actually joked, I said, 'Well, I've had a good run. I've lived a really good life. I hope I touched some lives positively.' And we just held hands," recalled Hollenbeck. "We really did think that this was going to be it."
*Slate's Matthew Dessem contributed reporting to this story.