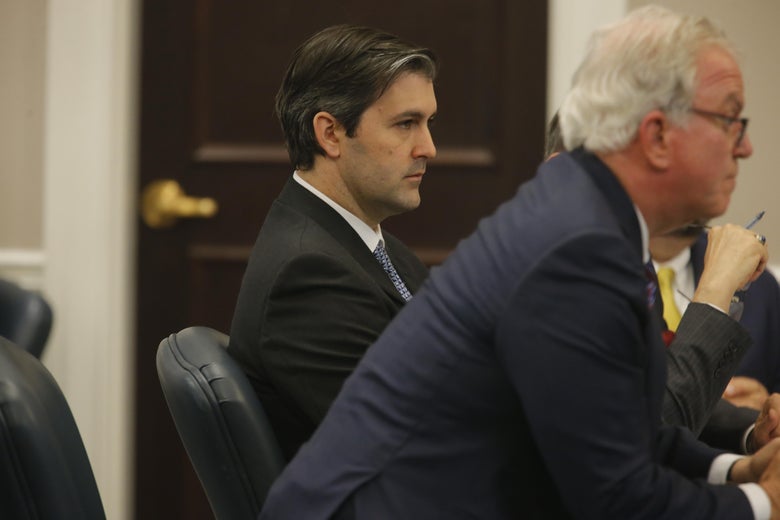 The white former South Carolina police officer who was caught on video shooting eight times at an unarmed black motorist as he fled in the opposite direction, and who then appeared to plant a taser on the victim's lifeless body, was convicted on Thursday of murder and obstruction of justice. The federal conviction of Michael Slager in the killing of Walter Scott comes almost one year to the day after a state jury was unable to reach a similar verdict in what was thought to be one of the most open and shut cases of demonstrable wrongdoing by a police officer in recent memory.
U.S. District Judge David Norton sentenced Slager to 20 years in prison after considering guidelines that recommended between 19 and 24 years.
The Associated Press reported that Scott's youngest son, a high school student, described what the loss of his father had meant to him and asked the judge for the harshest possible sentence:
Clutching a photograph of his father, Miles Scott said he has had trouble sleeping ever since his father's death. He said he misses watching football games with his dad and can't fathom not being able to watch with him the game they both loved.
"I miss my father every day," Miles Scott said through tears. "I would like you to sentence the defendant to the strongest sentence the laws allows because he murdered my one and only father."
Last December, Slager was handed a mistrial after a series of jury notes indicated that one juror in the group of one black man, six white men, and five white women was holding out on voting to convict. What made the initial non-verdict such a further travesty was the availability of the horrific video, taken by a bystander, that showed Slager essentially assassinating Scott as he ran away following a routine traffic stop, shooting at the motorist eight times and hitting him five times in the back. The video also showed Slager dropping a taser by the body before picking it up during the April 4, 2015 murder in North Charleston. Slager claimed in his police report that Scott had attacked him and stolen his taser. "I don't know why I dropped it on the ground," Slager said during his state trial. "My mind was like spaghetti."
During his federal trial, a psychologist also testified that Slager had told him he had had a "scuffle" with Scott but that the ex-cop couldn't remember any specific details. This defense did not apparently fly with Judge Norton, who had in his possession the entire state case file for review.
Scott's family was emotional during a reading of victim impact statements and some of his family members offered a note of forgiveness. "I'm not angry at you, Michael. Michael, I forgive you, and Michael, I do pray for you now and for your family, because we've gone through a traumatic time," Scott's brother Anthony reportedly said.
One more thing
You depend on Slate for sharp, distinctive coverage of the latest developments in politics and culture. Now we need to ask for your support.
Our work is more urgent than ever and is reaching more readers—but online advertising revenues don't fully cover our costs, and we don't have print subscribers to help keep us afloat. So we need your help. If you think Slate's work matters, become a Slate Plus member. You'll get exclusive members-only content and a suite of great benefits—and you'll help secure Slate's future.
Join Slate Plus
Join