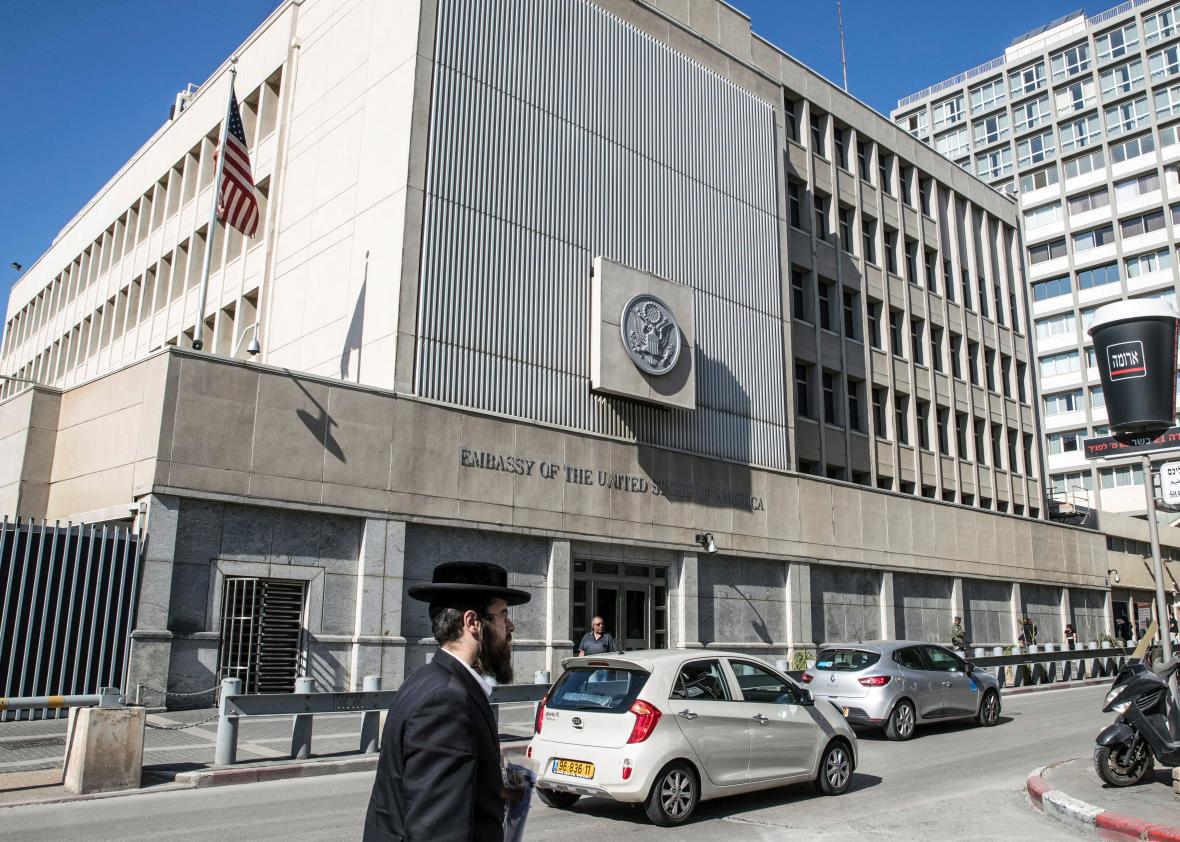 Axios reports today that President Trump plans to recognize Jerusalem as the capital of Israel in a speech on Wednesday. It's not clear yet if this also means he's ordering the U.S. Embassy to be moved to the city, though the Israeli media has reported that he's planning to do so, and Vice President Mike Pence said this week that he's "actively considering" doing so. According to the Wall Street Journal, "U.S. officials this week said the administration is mulling a long-term plan to move the embassy that could play out in Mr. Trump's second term," though that seems a bit optimistic considering the rest of today's news.
The move would be deeply controversial. Israel claims Jerusalem as its capital, and most of its governments—including the current one—have opposed dividing the city. Palestinians, meanwhile, want east Jerusalem to be the capital of a future independent state. The long-standing U.S. position has been to stay neutral on Jerusalem's permanent status until it is resolved through negotiations, so the American Embassy—along with the embassies of almost every other country—is in Tel Aviv.
Congress passed a law in 1995 declaring that Jerusalem should be recognized as the Israeli capital, and the embassy moved, but it allows the president to delay the move for six months due to national security concerns, which four presidents have done every six months since then.
Trump, like Bill Clinton and George W. Bush before him, vowed on the campaign trail to move the embassy, but he too signed the waiver in June to keep the embassy in Tel Aviv. Trump had placed a great deal of faith in his son-in-law, Jared Kushner, and his former lawyer Jason Greenblatt to reach the "ultimate deal"  for Mideast peace, and the embassy move could derail that effort. The administration was also reportedly lobbied by Jordan's King Abdullah as well as some Israeli officials. While Prime Minister Benjamin Netanyahu publicly maintains that the embassy should be moved, there have been quite a few reports that he's said otherwise in private. Whether or not that's true, it doesn't seem to be a major priority for him. But there has been growing pressure on Trump to fulfill his campaign promise since then, particularly from pro-Israel Christian evangelical groups. If Trump does indeed make this announcement next week, it can be taken as another sign of the Christian right's growing influence over U.S.–Israel policy.
So what would happen if the embassy was moved? Fears that the move would provoke a new intifada are probably overblown. But there would be protests, perhaps in Israel or the Palestinian territories or at U.S. embassies elsewhere, and some of those protests would likely turn violent. As Michael Koplow has written, is this an entirely symbolic gesture from which the U.S. and Israel would gain nothing material "worth even one American, Israeli, or Palestinian life? Is it worth even one dollar of property damage?"
Palestinian officials have vowed diplomatic retaliation for any move, and Arab leaders would probably sour on cooperating with whatever it is Kushner is up to. (In some interesting timing, Kushner is due to give a rare public speech about his peace efforts in Washington on Sunday.)
Thus far, the Trump administration's approach to Israeli-Palestinian issues, while far from exemplary, haven't been as disastrous as we might have feared after the campaign. This is in large part because Trump himself has been uncharacteristically quiet on the subject and has avoided any overtly provocative moves.
That may be about to end. When I wrote a preview of the Trump administration's Mideast policy last December, Aaron David Miller, a former State Department Middle East negotiator who served in multiple Democratic and Republican administrations, told me that moving the embassy "would send a powerful signal that the Israel-Palestinian peace process, at least for the Trump administration, is closed for the season."
So much for the ultimate deal.
---