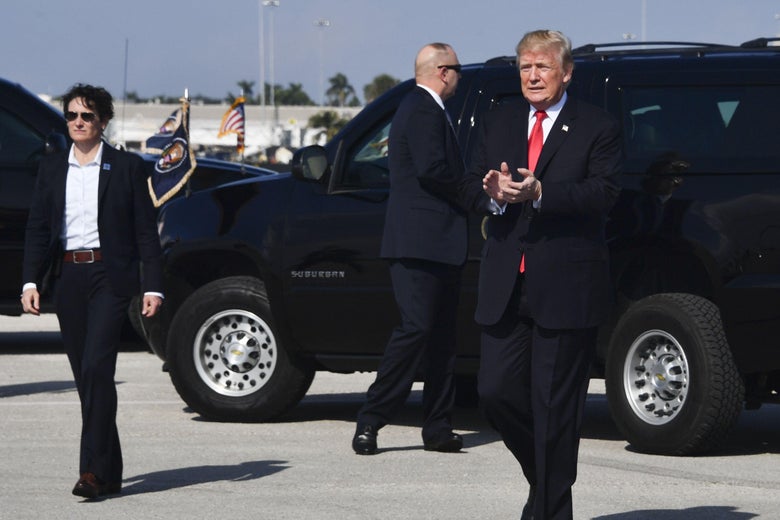 President Donald Trump has been quite consistent during his Christmas holiday, spending pretty much every day of his Mar-a-Lago vacation slamming the FBI. It seemed maybe the president was still recovering from Christmas on Tuesday though because he confused the Twitter account of his favorite show on television, Fox & Friends.
The commander in chief devoted his Tuesday morning screed to the now-infamous dossier that details Trump's alleged connections to Russia, calling it a "pile of garbage" created by "Crooked Hillary" and paid for by the Democratic National Committee.
"WOW, @foxandfrlends 'Dossier is bogus. Clinton Campaign, DNC funded Dossier. FBI CANNOT (after all of this time) VERIFY CLAIMS IN DOSSIER OF RUSSIA/TRUMP COLLUSION. FBI TAINTED.' And they used this Crooked Hillary pile of garbage as the basis for going after the Trump Campaign!," Trump wrote on Twitter.
In his tweet, Trump tweeted to an account that has fewer than 1,000 followers and appears to promote the Fox News morning show along with other right-leaning accounts. It's an odd mistake considering that the president regularly tweets at Fox & Friends.
Unsurprisingly, the president commented on the issue after his favorite show gave it lots of coverage Tuesday morning, focusing on the unverified aspects of the dossier. A day earlier, the Washington Times published a piece noting that the FBI refused to repudiate the dossier even as it acknowledged that the "major core charges of election collusion remain unsubstantiated."
What isn't new is Trump's offensive against the FBI, which he spent all holiday weekend characterizing as a corrupt institution that was doing the bidding of his rival in the 2016 presidential race, Hillary Clinton. Trump's former campaign manager Michael Caputo said Trump's anti-FBI tweets should be seen as an "insurance policy for the American people to make sure that its leading law enforcement organization remains unbiased."
Others, however, have said the tweets could violate witness-protection laws. "Normally, someone being investigated for obstruction of justice who intimidates and threatens three key witnesses against him (here Comey, McCabe and Baker) risks additional witness tampering charges," Norm Eisen, a senior fellow at the Brookings Institution who was an ethics official in Barack Obama's administration, wrote on Twitter. Richard Painter, who served as an ethics official in George W. Bush's administration, agreed writing that Trump's use of Twitter "to intimidate a witness" makes "Mr. Mueller's job easier."
One more thing
You depend on Slate for sharp, distinctive coverage of the latest developments in politics and culture. Now we need to ask for your support.
Our work is more urgent than ever and is reaching more readers—but online advertising revenues don't fully cover our costs, and we don't have print subscribers to help keep us afloat. So we need your help. If you think Slate's work matters, become a Slate Plus member. You'll get exclusive members-only content and a suite of great benefits—and you'll help secure Slate's future.
Join