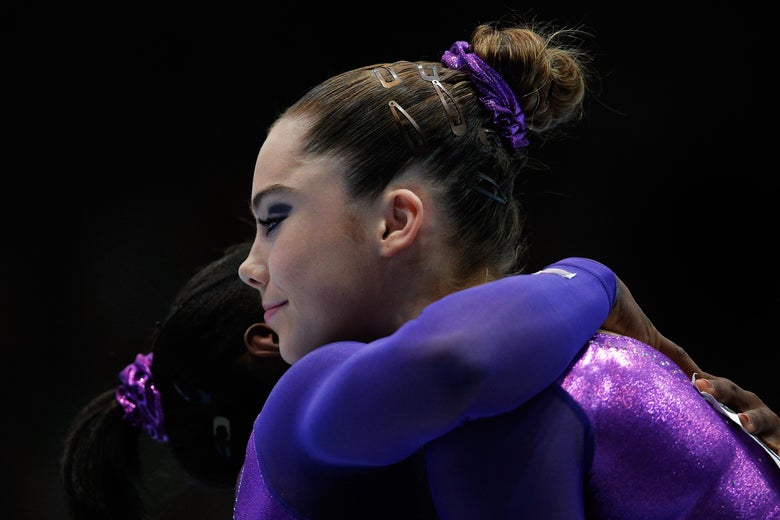 On Wednesday, Olympic gold medalist McKayla Maroney filed a lawsuit describing some of the sexual abuse she faced at the hands of team doctor Larry Nassar and accusing USA Gymnastics of trying to buy her silence using a potentially unlawful confidentiality settlement.
While the detailed and horrific account of Nassar's sexual assault against one of the biggest stars of the sport garnered the biggest headlines—along with the reported $1.25 million pricetag of the secret settlement—the lawsuit's claims are even more wider ranging than that. Maroney's lawsuit accuses USA Gymnastics, the U.S. Olympics Committee, and Michigan State University of taking part in a wide-ranging conspiracy to cover up Nassar's abuse.
Given that Nassar has already confessed to many of his crimes, the biggest outstanding questions in this case have to do with the institutions that were responsible for protecting these athletes. What did USAG, USOC, and Michigan State know, and when did they know it?
Maroney's lawsuit seeks to go directly at these questions.
The suit alleges:
• That USOC "concealed" their knowledge of Nassar's abuse of children in misleading Senate testimony.
• That USOC knew that "Nassar [had] abused young girls" while he maintained employment and was allowed to continue to abuse young girls and women at Michigan State following his removal from his position on the U.S. team.
• That Michigan State and USOC "knew that [Nassar] had complaints pertaining to … purported medical treatments" in the time period of Nassar's serial abuse of Maroney between 2009 and 2013.
• That Nassar, whose conviction for child pornography resulted in a 60-year prison sentence, "was repeatedly informally censured, disciplined and/or reprimanded by USAG for taking an inordinate number of photographs of young girls, who were gymnasts" and that this information was kept from families of gymnasts like Maroney.
• That the USOC, USAG, and Michigan State "willfully" concealed information about Nassar's potential propensity for abuse from Maroney.
• That the defendants took part in a conspiracy to "make [Nassar's] conduct harder to detect."
• That they did all this "to maintain a façade of normalcy, in order to maintain its funding and provide further financial growth of USAG and USOC, on the international level."
• That after his abuse of athletes was uncovered, "USAG had a plan to keep the sexual abuse of [Nassar] quiet, and allow [him] to quietly leave USAG; further silencing his victims."
• That Michigan State and USCOC "engaged in a common scheme, arrangement or plan to actively conceal allegations against sexual abusers."
If the suit is allowed to go forward—that is if the confidentiality agreement in apparent violation of California law is ultimately nullified—it could be one way to determine how it was possible for these institutions to have allowed a single predator to allegedly assault at least 140 young girls and women over the course of decades.
"What USAG wants us to believe is that for 30 years nobody knew [Nassar] was doing [the] intervaginal 'treatment'" that he was using as a pretext for his abuse, Maroney's lawyer John Manly told me on Thursday.
As the lawsuit notes, we know that Michigan State was first informed of accusations against Nassar as early as 1998 (and again in 2014). Given this fact and others, why was Nassar trusted by the university, as well as top U.S. gymnastics and U.S. Olympic officials, for so long?
One more thing
You depend on Slate for sharp, distinctive coverage of the latest developments in politics and culture. Now we need to ask for your support.
Our work is more urgent than ever and is reaching more readers—but online advertising revenues don't fully cover our costs, and we don't have print subscribers to help keep us afloat. So we need your help. If you think Slate's work matters, become a Slate Plus member. You'll get exclusive members-only content and a suite of great benefits—and you'll help secure Slate's future.
Join Slate Plus
Join