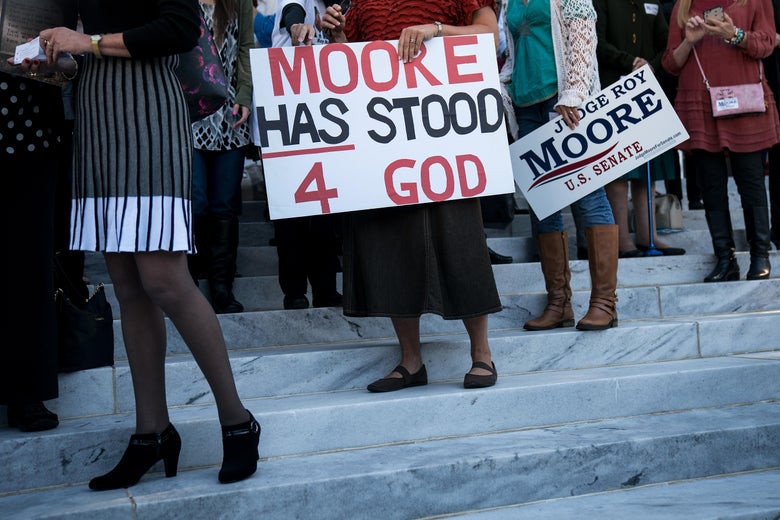 A Roy Moore spokeswoman shocked many CNN viewers Tuesday when she told pregnant host Poppy Harlow that Doug Jones, the Democratic candidate for the special election for a Senate seat representing Alabama, supported killing "babies like yours in the womb."
At the beginning of the segment, Janet Porter interrupted Harlow as the host was introducing her guest:
Thank you. It's great to be with you. And by the way, congratulations on your unborn child. That's the reason why I came down as a volunteer to speak for Judge Roy Moore, because he'll stand for the rights of babies like yours in the womb, where his opponent will support killing them until the moment of birth.
Many on the internet applauded Harlow's composure in the moments that followed as she politely steered the interview back on track. (Jones does not, in fact, support killing Harlow's baby. He has consistently supported abortion rights but has said he would not change laws limiting late-term procedures except in cases of medical necessity, contrary to the bizarre assertion propagated by the Moore campaign that Jones is "for full-term abortions.")
Harlow then pressed Porter on accusations that Moore pursued, molested, or assaulted women when they were teenagers. Harlow responded by attacking the credibility of Moore's accusers with one eyebrow-raising objection.
"We need to make it clear there's a group of nonaccusers that have not accused the judge of any sexual misconduct or anything illegal," she said.
According to Porter, Moore was, as he himself has argued repeatedly, a victim—he had been harassed by the "lynch-mob media," she argued. His accusers are "like criminals who are seeking revenge."
If Porter's statements defending Moore seem shockingly aggressive, they're not out of character.
She is currently the president of an organization called Faith2Action, which promises to "win the culture war for life, liberty, and family," and which the Southern Poverty Law Center labeled an anti-LGBT hate group. Faith2Action, an Ohio-based organization, seems largely focused on championing "heartbeat bills," which would make abortion illegal as soon as "fetal pole cardiac activity" can be detected, as early as six weeks' gestation and often before many women know they're pregnant.
In 2010, her Faith2Action radio show was cancelled by the Christian broadcaster VCY America over concerns she had began advocating "dominionism," a theology that promotes a return to biblical law and Christian control over the government, according to the Daily Beast.
From the late '80s through the '90s, Porter worked for the Ohio Right to Life Society, where, according to her bio, "she successfully lobbied for passage of the nation's first partial-birth abortion ban" and helped to pass laws highly restricting legal abortions. She also wrote books with titles such as The Criminalization of Christianity and What's a Girl to Do?: While Waiting for Mr. Right.
In 1998, a reporter for the New York Times profiled Porter, who was then known as Janet Folger. The story called Porter the "architect" of a campaign to fight the growing support for gay rights by running advertisements in major papers with firsthand testimony from "former homosexuals" of the effectiveness of Christian "ex-gay ministries." The woman described was highly effective at pushing through abortion bans and restrictions. But even then, she came off as extreme:
Ms. Folger was so relentless that several legislators barred her from their offices, newspaper reports say. State Representative John G. Garcia, a Republican from Toledo who said he usually votes against abortion and was not among those who evicted her from his office, recalled that "she got me so frustrated that I was ready to vote for abortion and get it out of the way."
Her power and influence among evangelical advocates didn't seem to wane. In 2011, Mother Jones reported on the "two Janets" former Arkansas Gov. Mike Huckabee said he "answers to"—his wife, and Porter, who was once co-chair of Huckabee's Faith and Values Coalition.
And Porter, the former governor has said, is his "prophetic voice." But that voice has said some weird things over the years: Porter has maintained that Obama represents an

"inhumane, sick, and sinister evil

," and she has warned that Democrats want to throw Christians

in jail

merely for practicing their faith. She's attributed Haiti's high poverty rate to the fact that the country is "

dedicated to Satan

," and she suggested that gay marriage caused

Noah's Flood

. And there's this: In a

2009 column

for conservative news site WorldNetDaily, Porter asserted that President Barack Obama is a Soviet secret agent, groomed since birth to destroy the United States from within.
In

WorldNetDaily

, she lavished praise on Huckabee. At one point, she composed a medieval ballad in which Huckabee, referred to as "Sir Mike-A-Lot who we all Like a lot," slayed Hillary Clinton (represented by the "the evil queen and her dragon of slaughter").
But beyond her other beliefs, according to Mother Jones, it was a belief in an "impending prohibition on Christianity" that truly motivated her. It's a persecution-themed worldview that won't be completely foreign to many of Moore's supporters.
Moore has risen to national prominence more recently for his alleged predatory behavior, but the majority of Alabama Republicans believe him to be a victim, not an abuser of power. Moore may have violated his vow to uphold the law as a twice-elected chief justice of the Alabama Supreme Court when he refused to take down a giant Ten Commandments monument in the state judicial building and, years later, to issue gay marriage licenses, but he was able to spin his expulsions as persecution. Some of his most passionate supporters, much like Porter, believe his innocence because they believe in a world where Christians are social outcasts and natural martyrs. Moore, and Porter as his representative, seem happy to play into this myth.
One more thing
You depend on Slate for sharp, distinctive coverage of the latest developments in politics and culture. Now we need to ask for your support.
Our work is more urgent than ever and is reaching more readers—but online advertising revenues don't fully cover our costs, and we don't have print subscribers to help keep us afloat. So we need your help. If you think Slate's work matters, become a Slate Plus member. You'll get exclusive members-only content and a suite of great benefits—and you'll help secure Slate's future.
Join Slate Plus
Join