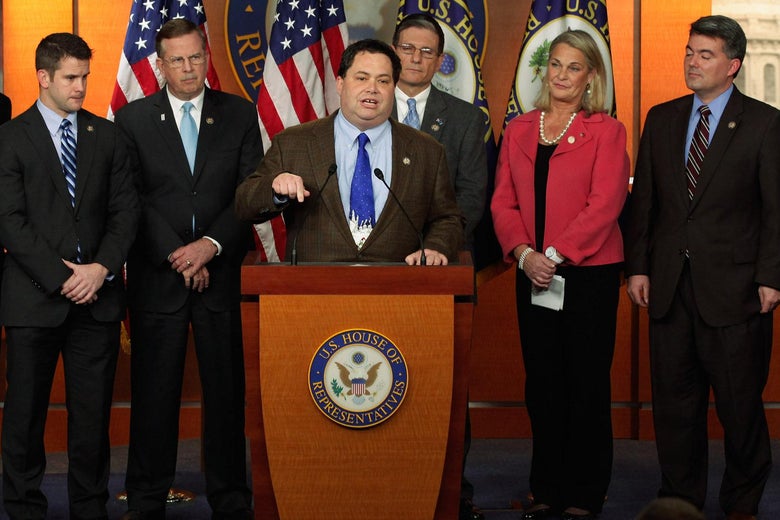 Texas Republican Rep. Blake Farenthold, who was revealed earlier this month to have spent $84,000 in taxpayer dollars to settle a sexual harassment dispute, announced Thursday he will not seek re-election in 2018. Farenthold shared the news in a five-minute Facebook video after reports revealed how his inappropriate behavior had fostered a toxic work environment. Farenthold continued to deny the allegations of sexual harassment made by former communications director Lauren Greene in a lawsuit filed in 2014, but he took responsibility for a "decidedly unprofessional" workplace culture and apologized.
Sexually charged comments and furious outbursts were rampant in Farenthold's office, according to aides. Greene's complaint, which Farenthold settled with money from an Office of Compliance account, detailed hostile behavior by the congressman's chief of staff and untoward sexual remarks made by the congressman himself. (Farenthold has since promised to reimburse the government for the costs.) Greene was not the only staffer to air concerns about the office climate; Farenthold spokeswoman Stacey Daniels told the New York Times that two other aides complained in 2016, after which Farenthold hired an independent law firm to look into the situation. In the same Dec. 11 article, the Times described "an atmosphere in which the congressman set the tone for off-color jokes and inappropriate ­banter, which flourished among his underlings." This work environment included frequent talk among both male and female aides about subjects like strip clubs and Fox News anchors' breast implants.
On Wednesday night, CNN added the allegations of Michael Rekola, Farenthold's 2015 communications director, to the list of complaints against the congressman. Rekola detailed a "hostile work environment" and "sexual harassment" that caused him physical and psychological distress, including lewd speculation about Rekola's fiancé, comments on women's figures, screaming, slamming desks, and a habit of calling aides "fucktards." While another former employee, Elizabeth Peace, confirmed that she'd overheard her boss's explicit comments about Rekola's fiancé, Farenthold denied both these comments as well as what CNN terms "regular verbal abuse." However, he did admit to the profane sobriquet for his aides, though he tried to laugh it off as being used "in jest, not in anger."
In the wake of the new reports and his conversations with Speaker of the House Paul Ryan, who called the allegations "very disconcerting" at his weekly press conference, Farenthold posted a video to the Elect Blake Farenthold Facebook page. After a meandering opening about his family and the "broken system in Washington that, in many ways, has left me in the position I'm in," Farenthold attributed the toxic environment of his office to inexperience and not being a "professional politician." "I'd served in Congress before," he said. "I had no idea how to run a congressional office, and as a result, I allowed a workplace culture to take place in my office that was too permissive and decidedly unprofessional." While Farenthold professed to be "profoundly sorry" for "off-color jokes," he simultaneously downplayed the egregiousness of his office environment, saying it wasn't a criminal offense. And again, he denied Greene's accusations, pointing to a 2015 investigation by the House Ethics Committee, which had cleared Farenthold after struggling to obtain testimony from key witnesses. (That same committee recently announced renewed investigation of Farenthold.)
Farenthold will remain in Congress until the end of his term and promised to make "meaningful changes" in his office culture. Toward the end of the video, Farenthold delivers a message to his staff, the same people he's confirmed he refers to as "fucktards": "Y'all are the lifeblood of the office."
One more thing
You depend on Slate for sharp, distinctive coverage of the latest developments in politics and culture. Now we need to ask for your support.
Our work is more urgent than ever and is reaching more readers—but online advertising revenues don't fully cover our costs, and we don't have print subscribers to help keep us afloat. So we need your help. If you think Slate's work matters, become a Slate Plus member. You'll get exclusive members-only content and a suite of great benefits—and you'll help secure Slate's future.
Join