Each week, Roads & Kingdoms and Slate publish a new dispatch from around the globe. For more foreign correspondence mixed with food, war, travel, and photography, visit its online magazine or follow @roadskingdoms on Twitter.
As I push my way out of the metro station in southwestern Istanbul where Sami—not his real name—and I have agreed to meet, the first thing my senses register is the scent of lightly roasted corn on the cob. These pushcart vendors seem to be all over the city. Later, when I have to find my way back to the station from the secret location where Sami works, they are surprisingly useful as an olfactory map.
I recognize Sami's smiling face immediately when he strides toward me 10 minutes later. "It's not far from here," he says, directing me down an overhead bridge through a number of serpentine streets. The crowd in this neighborhood seems to have a casual attitude toward motorists, and a symphony of impatient honks blares around us as we climb uphill. Around a corner, we see a brightly lit shop selling cellphones and other electronic equipment, and Sami tells me to go through a door to the left.
"You work in an apartment block?" I ask somewhat incredulously, and he laughs. We ascend the stairs, passing a bridal shop on our right, and eventually arrive at the entrance of what seems like an ordinary residence.
The hive of activity inside forms the Istanbul operations of Radio Alwan, (Alwan means "colors" in Arabic) an independent Syrian news station broadcasting into that devastated country every day. Alwan provides much-needed news updates to information-starved Syrians and also runs popular entertainment programs and controversial discussions. After being forced to move its operations to Turkey, the voice of Radio Alwan still provides comfort to thousands of Syrians, at great risk to the individuals within Syria who help create the station's programs.
Radio Alwan's Istanbul base is an apartment that might otherwise house a family with children, but the three bedrooms have been converted into a meeting room, a recording studio, and an office.
All of Alwan's staff, including Sami, the deputy CEO and head of special projects, have left their homes in Syria and taught themselves the intricacies of radio broadcasting so they could work in Turkey, in relative safety from the Assad regime and various terrorist groups. The Istanbul team uses pseudonyms for its members out of concern that their families might be targeted for their work.
Most of the staff had no prior training in radio journalism before joining Alwan. Sami describes himself as having "come from a regular, boring HR job in Dubai" before he found his calling at Alwan in the early years of the Syrian civil war in 2013. He moved to Istanbul to work at Alwan full time after working for the station remotely.
"The point of Alwan," he had told me in a prior conversation over FaceTime, "is not just to report the news. Radio is also a form of activism, and through our programs, we try to do our part by encouraging people to engage with civic organizations within Syria, and to inform them on what's really happening both around the country and outside of it."
Sami tells me that there are no official statistics on how many people the station reaches inside Syria, and the war means that people are constantly moving, but the number of calls from listeners on a daily basis has been deeply heartening for the team. The station's operations are modest and funded entirely by donations. A law student named Ahmad al-Qadour started Radio Alwan in 2014 in the northern Syrian city of Idlib. In its early days, al-Qadour did all the broadcasting via an FM transmitter fixed to the top of a truck that traveled around the city covering updates on the war. Al-Qadour now works in the U.S. for Al Arabiya TV but still runs the radio station remotely.
"The Assad regime was targeting demonstrators at the time and there were very few clear reports on what was going on," Sami explains. "Of course, foreign journalists were given very little access to what was happening there. I helped Ahmad out online from Dubai, but after three months I decided to quit my job and work full time for the station." Later on, Alwan opened another office in Aleppo.
They decided to relocate Alwan's central office to Istanbul after a series of threats from Islamic radical groups such as the al-Nusra Front, which had been part of the Syrian wing of al-Qaida before splitting from the group in 2016. In Idlib, Alwan's transmitter had been temporarily confiscated by al-Nusra after the station came out in support of another activist station called Radio Fresh.
"Al-Nusra condemned us," Sami shrugs wryly, "because we had women working for us, and we had reported a story on children singing in Idlib. Can you imagine—they had a problem with children singing!"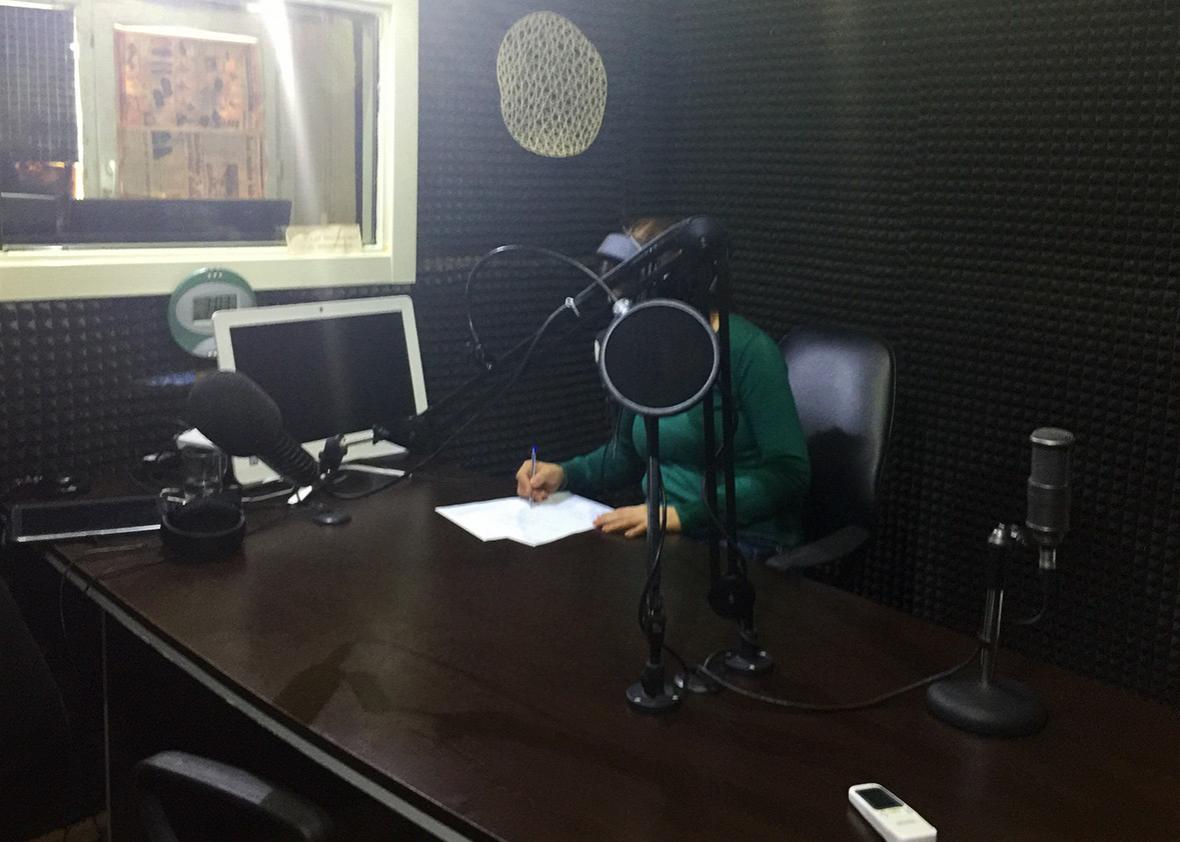 A major confrontation in Idlib was averted thanks to the resulting public outcry. Alwan's listeners were indignant about the station's temporary shutdown, and al-Nusra reluctantly came to a truce that involved Alwan producers not directly naming them in news segments. That lasted until March 2016, when a group of masked men—no one knows who they were or who sent them—stormed the Aleppo office, beat up some of the staff members and took away their equipment. Since then, Alwan has not been able to re-establish operations there.
I enter the recording studio, a modest room covered in black soundproofing foam that happens to be located next to the apartment's toilet. It is a little surreal: Next door, two staff members on break cook in the kitchen and have what sounds like a mirthful conversation in Arabic. A presenter is in the middle of preparing for her news program so I continue chatting with Sami, who briefs me on the station's schedule.
A typical day at Alwan begins at 6 a.m. in the Istanbul office, where the team of about 15 staff members assembles for a variety of Syrian and international news segments, followed by talk shows and short radio skits, some educational, others comedic.
The team convenes once a week to discuss the development of their programs, and are in touch with their correspondents in Syria on a daily basis on Viber and Skype. At the time of my visit, Alwan had correspondents in several areas not under the Assad regime's control, including Idlib and the rural parts of Hama, Damascus, Aleppo and Dara'a, but it was no longer possible to communicate with people in Raqqa, the last ISIS stronghold, so the team has to make do with reports from areas that are relatively free from religious and political oppression. Just a few weeks after I met Sami and the rest of his team, the U.S.-backed Syrian Democratic Forces captured Raqqa from ISIS—but the station has still not been able to resume contact with anyone in the city.
What Alwan does is a form of guerrilla radio. Sami says that after years of war, there is no longer a regulatory authority within Syria for radio broadcasting, so their programs can be received anywhere in the country there is an FM signal. Alwan also shares information with a network of other Syrian radio stations working both within the country and in exile, notably Arta FM, which broadcasts into Kurdish Syria, an area recently liberated from ISIS.
Sami is especially proud of Oh, Grandma, a program presented by a woman from Idlib who is identified by her initial, N. She has a day job as a teacher, but in her role at Alwan, she visits the houses of women in the city and interviews them about their lives, their daily struggles, and discusses salient issues with them, such as the legal age for marriage for Syrian women. Currently, the age is 17 in Syria, although Sami and his team say that rampant conflict in the country has seen a rise in the number of families marrying their daughters at an even younger age.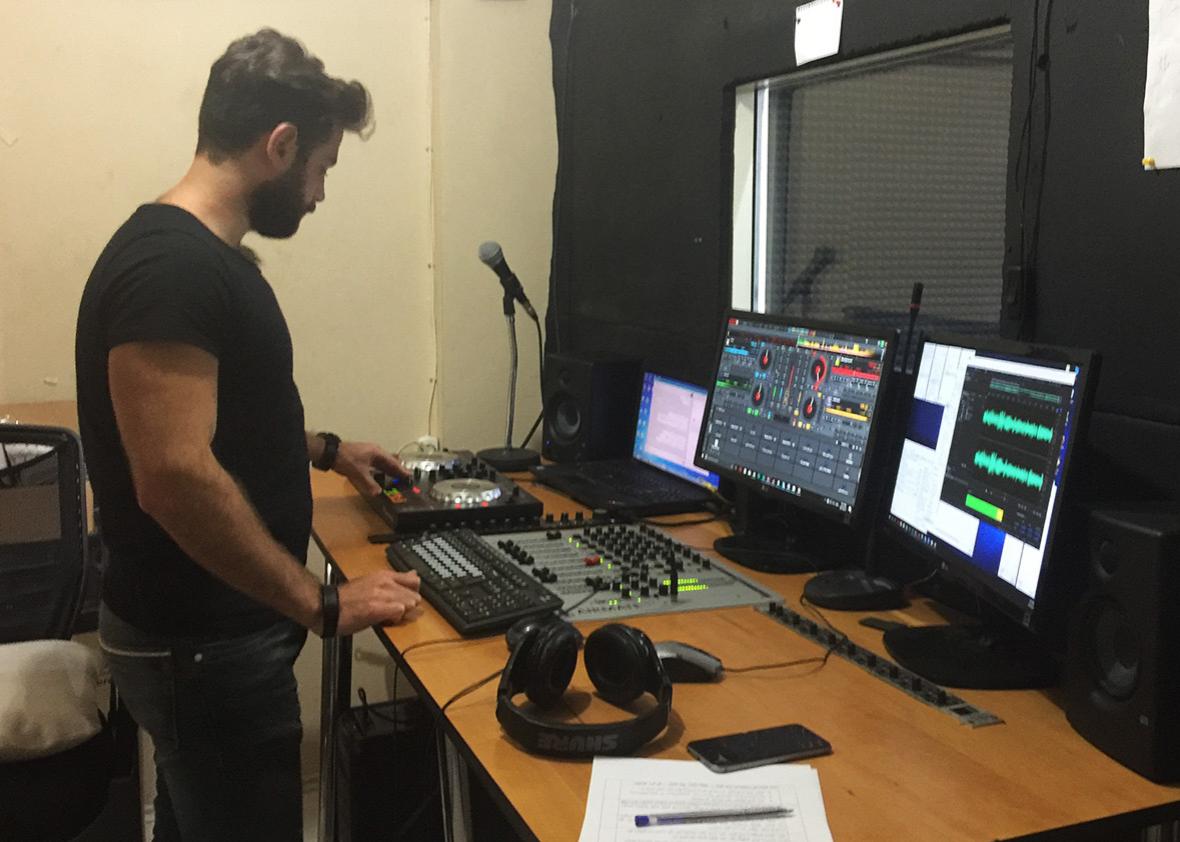 "It's a very daring move on our side," he says. "It is dangerous for her. She records using her phone and transmits back to us from Idlib. I think it's good that her program is so popular within the country, even in areas that are under the control of radical Islamic factions. It's so difficult to have a woman presenter, let alone one who explores topics that are so controversial."
Alwan has also managed to create a cult following around its soap opera, Sad Northern Lights, which revolves around the tale of a single mother and her son. "There are both funny and sad moments in that program," Sami explains. "Even in war," he adds with a sad smile, "people laugh sometimes."
What used to be the living room has been converted to a busy office area where the staff assiduously edits and shares their programs online while liaising with interlocutors inside Syria. Maram, a 24-year-old in a slouchy sweater and jeans, comes to talk to me. She graduated from a media school in Damascus and decided to come to Turkey to seek better job opportunities, before stumbling upon an open position at Alwan.
"I started by editing segments for the morning show before being asked to front Alwan's youth program. It was difficult at first to answer dial-ins from listeners about different topics from football to entertainment, but it's also an adventure," she says.
The Istanbul team has occasional access to valuable training sessions—a luxury unavailable to their Syrian-based counterparts. Maram says that she came to Istanbul with her mother before Turkey began tightening its visa restrictions and that she initially found it hard to cope with the move.
"The language barrier made it hard to make local friends, and every time you buy something here, you feel like a foreigner." Still, she is confident about the future, and hopes to be able to take charge of a program where she can discuss "big topics like politics and even Islam."
I ask her what she likes most about Alwan, and she doesn't hesitate: "I learn a lot every single day, but most of all, it's taught me so much about how to deal with uncertainty. Even if we get shut tomorrow, I won't sit around and think 'what should I do?' There's always important work to be done, news to be reported."
Dima, who has a sparkling laugh, is a bit more ambivalent about her work at Alwan. She started five years ago "at the beginning of the revolution" and first began helping with Alwan's online news segment from Adana in southern Turkey, before moving to Istanbul in 2016. "It's psychologically very difficult," she confesses. "If I'm honest, I'm afraid all the time. I'm scared for my teammates in Syria, who risk their lives on a daily basis."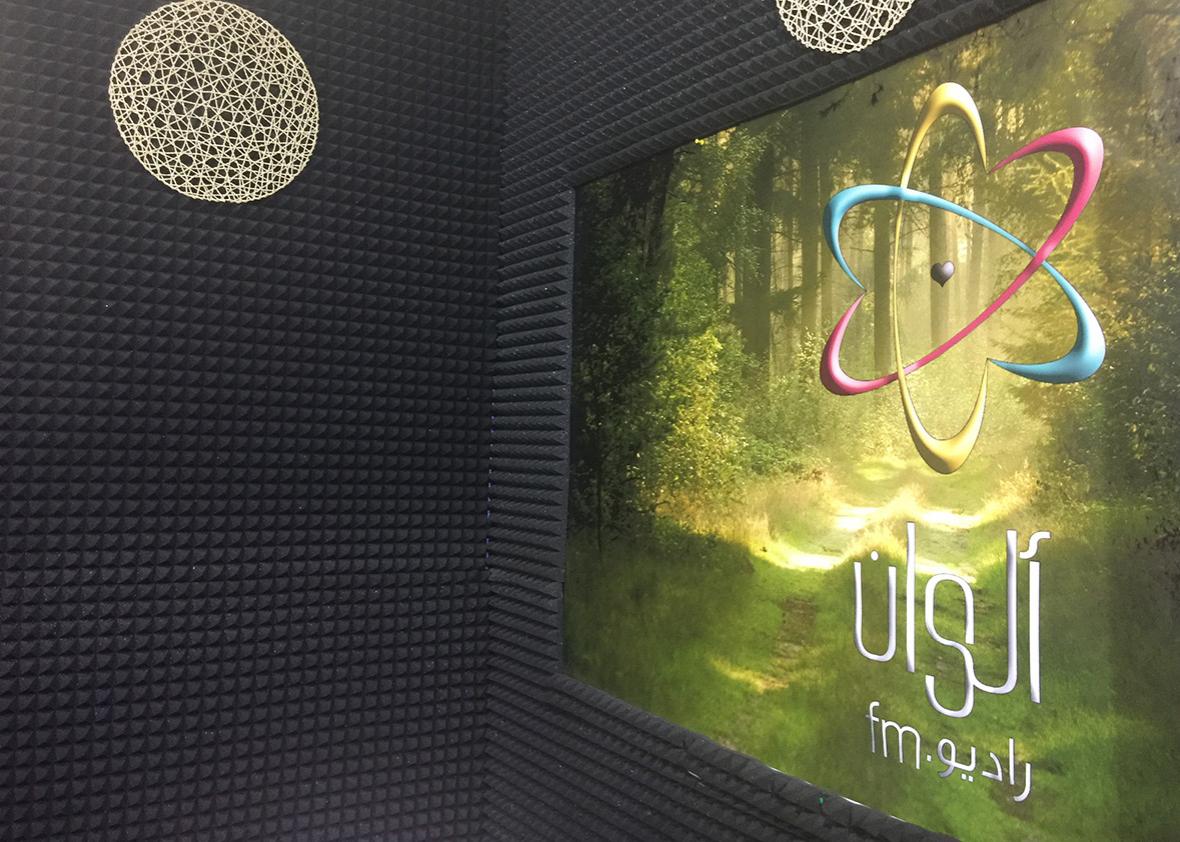 She hosts a program that consists of updates on the work of the Local Councils in Syria, civilian-led organizations that have been elected in areas where the Assad regime has been ousted. "They do a lot. They support makeshift hospitals, educational institutions, handle the water and electricity supplies for their communities. It's very basic, but you have to remember that Syria is at war." Dima says that the Local Councils suffer from lack of funding, and people are growing impatient with them. She serves almost as a mediator between the Local Councils and listeners who dial in to complain about them, another example of how Alwan takes its ethos of radio activism very seriously.
She lost a co-worker in an airstrike in Aleppo last year. He had been working with her on a Facebook page for citizen journalists. "There's rarely any happy news coming out of Syria," she says, and her voice quivers a little. "It's been a massacre … for years. I don't want to say this—how can you say it? But you get used to it, 100 people die somewhere and you just have to go up to the microphone and report it. Sometimes I feel so much guilt. How can I sit there calmly and talk about people dying? There were so many days when I wanted to quit. I didn't know how I could go on." On some evenings when she returns home, she sits in the room and stares into space for hours on end. She says she will never forget the day the team reported on chemical attacks in the rebel-held town of Khan Sheikhoun, just 30 miles south of Alwan's office in Idlib. "We were all crying on air. All of us."
If there's one thing the entire team agrees on, however, it's that their work has given them strength, and an unshakable faith that what they do changes lives. Sami, who has vowed not to return to his hometown of Damascus "until things get better," has fully embraced his new life in Istanbul, and takes on a philosophical approach to the objective of radio itself.
"We have a program called Acute Angle," he says, "that encourages people to accept the idea that there is no such thing as true fact. In each segment, we talk about different personalities like Michael Jackson, Ataturk, and even Walt Disney, and how these people have been represented both positively and negatively. I want our listeners to know that there are no taboos, and also no perspective on any one issue or narrative that should be taken for granted."
But it is Dima who has perhaps the most poetic vision of her work at Alwan. "What I've learned is that the people who listen to us aren't just suffering day in and out. They want to live, love, dance, laugh. Sometimes we draw courage from them, other times they are comforted by us, hundreds of miles away," she says. "That's the beauty of radio: It has soul."