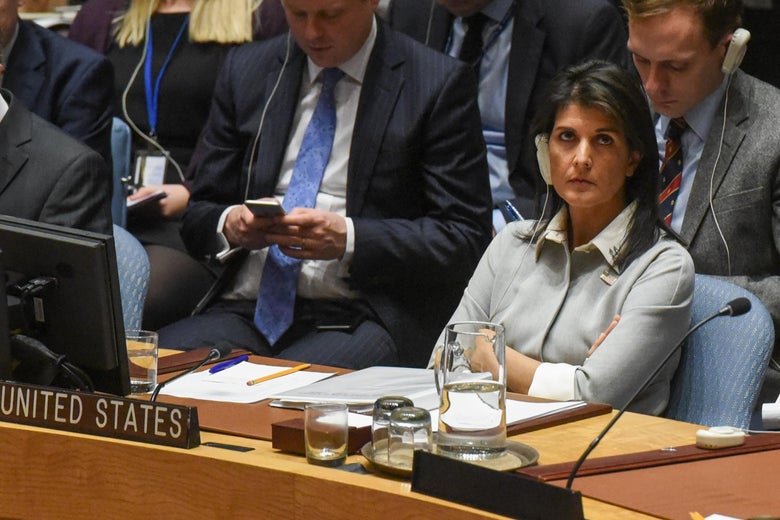 The U.S. ambassador to the United Nations, Nikki Haley, did not seem to hesitate to say that any woman who felt somehow mistreated or violated by a man has a right to be heard, even if she's accusing the president of the United States. When CBS News' John Dickerson asked Haley what she thought about the "cultural shift going on in America right now," including the three lawmakers who were kicked out of Congress, she made it clear it was a positive development in her mind.
"I am incredibly proud of the women who have come forward. I'm proud of their strength. I'm proud of their courage," Haley said. "And I think that the idea that this is happening, I think it will start to bring a conscience to the situation, not just in politics, but in, you know, we've seen in Hollywood and in every industry. And I think the time has come."
Dickerson then asked how "people should assess the accusers of the president," and Haley made clear that her view is the same, regardless of who the women accuse. "Women who accuse anyone should be heard," she said. "They should be heard and they should be dealt with. And I think we heard from them prior to the election. And I think any woman who has felt violated or felt mistreated in any way, they have every right to speak up."
Haley's words are a stark contrast to what the White house has said when asked about the more than a dozen women who have accused Trump of misconduct. White House press secretary Sarah Huckabee Sanders said in October that the administration's official position on the issue is that the women are lying and the American public settled the issue by electing Trump to be their president.
Haley, however, said she didn't quite see it that way when Dickerson asked her whether she considered the allegations a "settled issue" because of the election. "You know, that's for the people to decide," Haley said. "I know that he was elected. But, you know, women should always feel comfortable coming forward. And we should all be willing to listen to them."
One more thing
You depend on Slate for sharp, distinctive coverage of the latest developments in politics and culture. Now we need to ask for your support.
Our work is more urgent than ever and is reaching more readers—but online advertising revenues don't fully cover our costs, and we don't have print subscribers to help keep us afloat. So we need your help. If you think Slate's work matters, become a Slate Plus member. You'll get exclusive members-only content and a suite of great benefits—and you'll help secure Slate's future.
Join