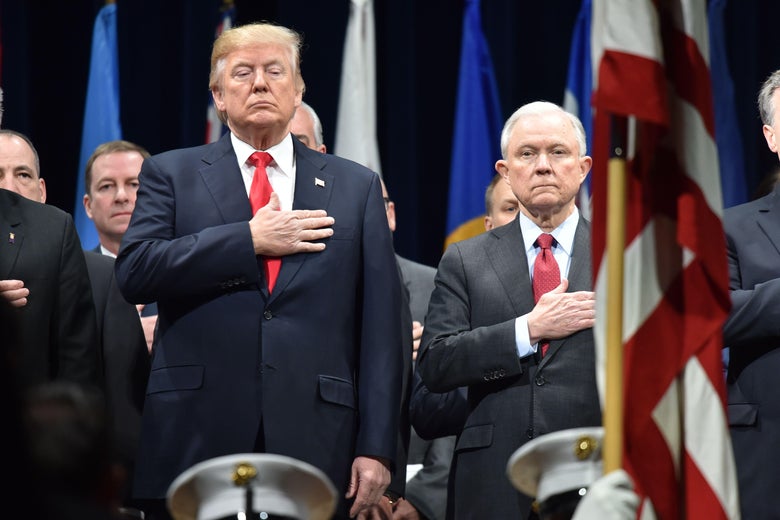 NBC News reported on Thursday that the Justice Department, on orders of Attorney General Jeff Sessions, is revisiting its prior investigation of the Fox News-hyped Uranium One scandal.
The network reported:
Justice Department prosecutors have begun asking FBI agents to explain the evidence they found in a now dormant criminal investigation into a controversial uranium deal that critics have linked to Bill and Hillary Clinton, multiple law enforcement officials told NBC News.
The interviews with FBI agents are part of the Justice Department's effort to fulfill a promise an assistant attorney general made to Congress last month to examine whether a special counsel was warranted to look into what has become known as the Uranium One deal, a senior Justice Department official said.
The Justice Department investigated elements of the sale of Canadian firm Uranium One to Russia's state atomic energy company starting in 2010, ultimately leading to a guilty plea by Russian nuclear industry official Vadim Mikerin for money laundering and charges against executives from an American uranium trucking firm and a Russian financier, according to The Hill. That scandal has become an obsession, though, for Fox News and ultimately of the president, who has tweeted repeatedly about his desire for a criminal investigation of his former political rival Hillary Clinton.
Shortly after the NBC News reported the news, Fox News host Sean Hannity tweeted it along with the suggestion that it was being ignored by NBC News:
NBC News reported that the FBI is being asked if anyone—presumably someone in the Obama Department of Justice—improperly influenced the original investigation:
In recent weeks, FBI agents who investigated the case have been asked by Justice Department prosecutors to describe the results of their probe. The agents also have been asked if there was any improper effort to squash a prosecution, the law enforcement sources say.
The questions surrounding allegations of influence peddling by the Clintons in the Uranium One deal have been largely debunked.
But a new investigation could potentially serve as an effective political distraction from the special counsel probe of potential cooperation between the Trump campaign and Russians interfering in the 2016 election. It might also put pressure on some of the key figures in that investigation. The Hill reported that the original Uranium One investigation was supervised by Rod Rosenstein, the deputy attorney general and Trump appointee currently in charge of the investigation into Russia and the Trump campaign, as well as current deputy FBI director Andrew McCabe. Both men have come under fire from Trump.
Clinton did not sit on the nine-member Committee on Foreign Investment in the United States that ultimately approved the uranium deal unanimously, but she was in charge of the State Department at the time and that department had a seat on the committee. NBC News reported there was reason to be skeptical of claims that she would have had a hand in the sale of the company:
Stewart Baker, a former top lawyer in the George W. Bush administration and an expert in the CFIUS process, said he doubted that the Uranium One decision ever reached Clinton's desk.
About the donations, he said, "Is it possible that the Russians thought they needed to do this and that it would help them? Yeah, but that doesn't mean that it actually did."
Baker said it was disquieting that the Sessions Justice Department was re-examining a case that career officials already concluded warranted no charges.
"You'd like to think that that wouldn't happen often in a mature democracy," he said.
During Congressional testimony last month, Sessions elided questions about whether or not Trump had sought to influence DOJ investigations of political adversaries and whether Sessions thought it would even be appropriate or not for a chief executive to do that in a functioning democracy.
One more thing
You depend on Slate for sharp, distinctive coverage of the latest developments in politics and culture. Now we need to ask for your support.
Our work is more urgent than ever and is reaching more readers—but online advertising revenues don't fully cover our costs, and we don't have print subscribers to help keep us afloat. So we need your help. If you think Slate's work matters, become a Slate Plus member. You'll get exclusive members-only content and a suite of great benefits—and you'll help secure Slate's future.
Join Slate Plus
Join