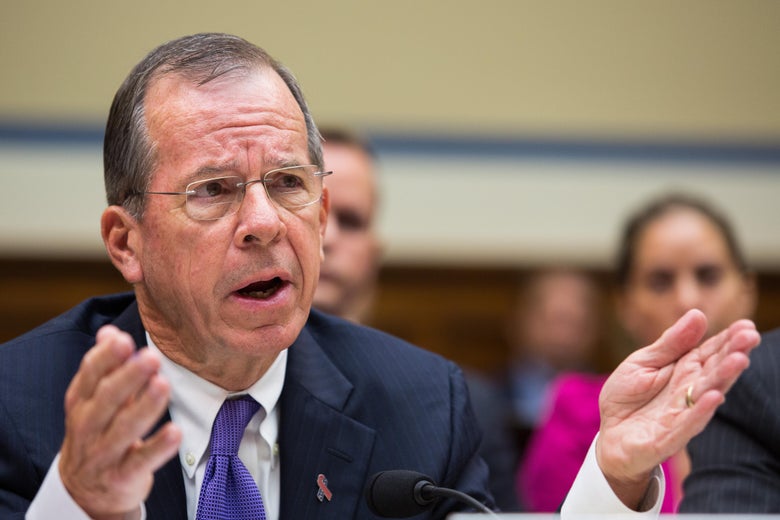 Retired Adm. Mike Mullen, who was head of the Joint Chiefs of Staff under both President George W. Bush and President Barack Obama, laid out a stark warning on Sunday, saying that the United States has never been closer to a nuclear war with North Korea. "We're actually closer in my view, to a nuclear war with North Korea and in that region than we have ever been," Mullen said on ABC News' This Week. "I don't see the opportunities to solve this diplomatically at this particular point."
Mullen said that the current dynamic with North Korea is an example of how President Donald Trump's leadership has been "incredibly disruptive," bringing about an era of unpredictability that the country's adversaries are able to use to their advantage. "Those who have been our friends for many years ask questions about our commitments to them," he said, "and our enemies, those that would do us ill, seem to be able to take advantage of the uncertainty."
The former head of the Joint Chiefs of Staff did praise Trump for being able to make "China move more than they have in the past" with regards to North Korea. "Whether they continue to do that to help resolve this is the open question," he said. "A real measure of how this all comes out is whether China is going to commit to a peaceful resolution here." But North Korea isn't the only concern, Mullen warned, noting that there could soon be a nuclear threat from Iran if Trump ends the Iran nuclear agreement.
North Korea made clear over the weekend it will continue down the nuclear road in 2018, according to a report by state-run news agency KCNA. "Do not expect any change in its policy," notes the report.
One more thing
You depend on Slate for sharp, distinctive coverage of the latest developments in politics and culture. Now we need to ask for your support.
Our work is more urgent than ever and is reaching more readers—but online advertising revenues don't fully cover our costs, and we don't have print subscribers to help keep us afloat. So we need your help. If you think Slate's work matters, become a Slate Plus member. You'll get exclusive members-only content and a suite of great benefits—and you'll help secure Slate's future.
Join Slate Plus
Join