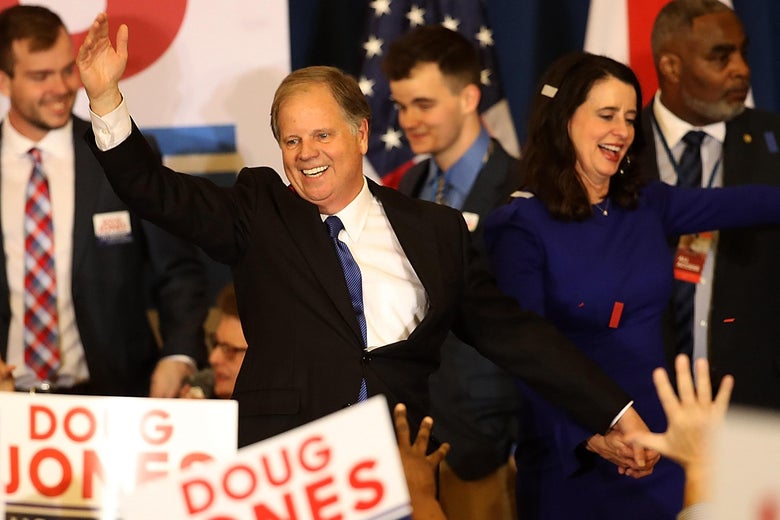 Multiple media outlets are projecting that Democrat Doug Jones has defeated Roy Moore to win the Alabama Senate race. Jones will be the first Democrat to represent the deep red state in the Senate in 25 years. There's no way to describe Jones' win other than a simply stunning result given the politics of the state. To give some sense of scope to how momentous this win is, in 2016 Republican Sen. Richard Shelby won his seat with 64 percent of the vote and former Sen. Jeff Sessions ran unopposed for this very seat in 2014.
It remains to be seen the exact breakdown of the vote tally, but preliminary returns indicate high turnout in the state's few urban centers and predominantly black districts along with improved performance in traditional rural Republican strongholds was enough to eke out a win against a badly damaged candidate in Roy Moore, who didn't even get the vote of Republican Sen. Shelby who voted for a write-in candidate.
Making the win even more extraordinary is the fact that a Jones win seemed near impossible just six weeks ago. Polls were pointing Moore's way in the state that is still largely supportive of President Trump. From the outset, the political dynamics were such that the race to fill what was Jeff Sessions' seat always seemed destined to be an intraparty contest for the Republicans with a willing Democratic punching bag trotted out to keep things honest. Despite a virtual monopoly on statewide offices and a one-party rule in the state house that often led to inept governance at best, and outright corruption at worst, the Democrats struggled to make any headway.
When he got in the race, Jones had sufficient chops for a Senate candidate, as a homegrown and educated former federal prosecutor who prosecuted two Klan members for the 1963 16th Street Baptist Church bombing, but didn't appear to have the right chops for a Senate candidate in the state of Alabama. Throughout much of the race, Jones ran a dutiful campaign, but one that appeared to see the writing on the wall. No matter what backlash appeared to be brewing against Republicans nationally, Alabama was still firmly in Trump's corner. That is, until Nov. 9th, when the Washington Post detonated the race with its story recounting how Roy Moore, as a young lawyer in his thirties, initiated a sexual encounter with a 14 year old girl. The troubling tale led to more women coming forward about their experiences, ranging from creepy to potentially criminal, painting Moore as serial pursuer of teenagers.
Like Donald Trump's election last fall, the Alabama race split the GOP along establishment and insurgent lines. The former state Supreme Court judge harnessed the anti-establishment underpinning of Alabama Republicans with help from the usual band of Republican outsider misfit toys, like Steve Bannon and former Gov. Sarah Palin, but he wasn't able to overcome the accusations that he had numerous inappropriate relationships with teenagers. Over the past month, Jones shot up in the polls, but even a week out, a Democrat winning in Alabama still seemed unlikely. On Tuesday, Jones proved political miracles do happen—even in Alabama.
One more thing
You depend on Slate for sharp, distinctive coverage of the latest developments in politics and culture. Now we need to ask for your support.
Our work is more urgent than ever and is reaching more readers—but online advertising revenues don't fully cover our costs, and we don't have print subscribers to help keep us afloat. So we need your help. If you think Slate's work matters, become a Slate Plus member. You'll get exclusive members-only content and a suite of great benefits—and you'll help secure Slate's future.
Join