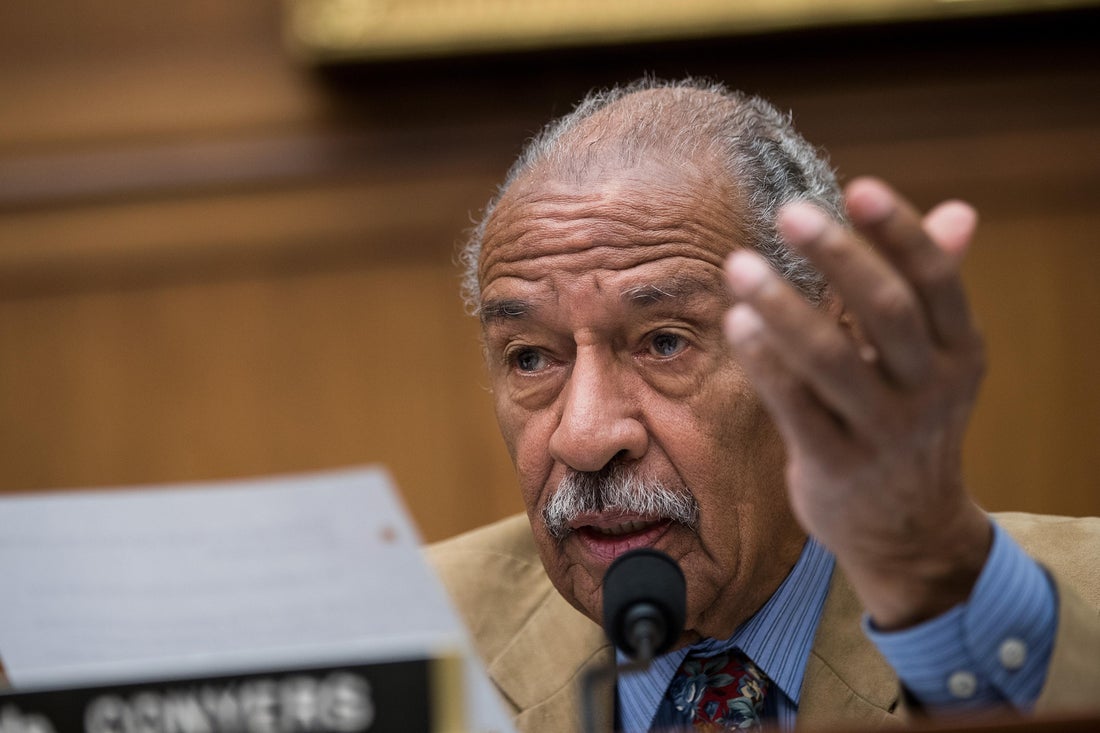 On Tuesday, longtime Detroit-area congressman John Conyers, Jr. resigned from office as the mounting pressure from a sexual harassment settlement with a former employee and new allegations of harassment finally forced the longest-serving member of the House of Representatives from office. The 88-year-old quickly endorsed his 27-year-old son John Conyers III to succeed him. On Wednesday, however, the NBC News reported the younger Conyers was arrested in Los Angeles earlier this year after his girlfriend accused him of stabbing her during a domestic dispute. The L.A. County district attorney ended up dropping the charges citing lack of evidence, but Conyers is still subject to a restraining order.
On the night in question, early in the morning hours after Valentine's Day, Conyers III and his girlfriend both called the police on one another. Their stories differed dramatically. From NBC News:
The girlfriend said that Conyers III suspected her of cheating after he went through her computer. She told police that he "body slammed her on the bed and then on the floor where he pinned her down and spit on her," the report says. She said when she tried to call police, he took her phone and then chased her into the kitchen, where she grabbed a knife and told him to leave. By her account, he took the knife and swung it at her, cutting her arm… Conyers III said the girlfriend had been using booze and pot, tried to throw him out the residence, and then got into a pushing and shoving match with him…
"She says I stabbed her, which makes no sense," Conyers III told the New York Times. "I didn't do this. She and I had a verbal altercation and that escalated. She pulled the knife on me. She was chasing me. I tried to take it from her. There was a struggle. I pinned her to the wall. She kept swinging and she cut herself."
News of the altercation surfaced shortly after Rep. Conyers' resignation from office for his alleged mistreatment of women. "I have a great family here and especially in my oldest boy, John Conyers III, who, incidentally, I endorse to replace me in my seat in Congress," Rep. Conyers said during an interview announcing his retirement on Detroit radio station WPZR. Conyers III appeared surprised by the endorsement, which rankled Conyers Jr.'s great-nephew Ian Conyers, a state senator from Michigan who said his great-uncle had encouraged him to run in the special election for his vacant seat. Conyers III released a statement Tuesday, thanking his father, but hedging on whether he would actually run for his seat.
"I didn't ask my dad to say that I was going to run because I don't know if I am going to run," Conyers told the Times Wednesday. "I was extremely caught off guard by his endorsement. This is what he wants. Who am I to tell him what he wants?"
One more thing
You depend on Slate for sharp, distinctive coverage of the latest developments in politics and culture. Now we need to ask for your support.
Our work is more urgent than ever and is reaching more readers—but online advertising revenues don't fully cover our costs, and we don't have print subscribers to help keep us afloat. So we need your help. If you think Slate's work matters, become a Slate Plus member. You'll get exclusive members-only content and a suite of great benefits—and you'll help secure Slate's future.
Join Slate Plus
Join