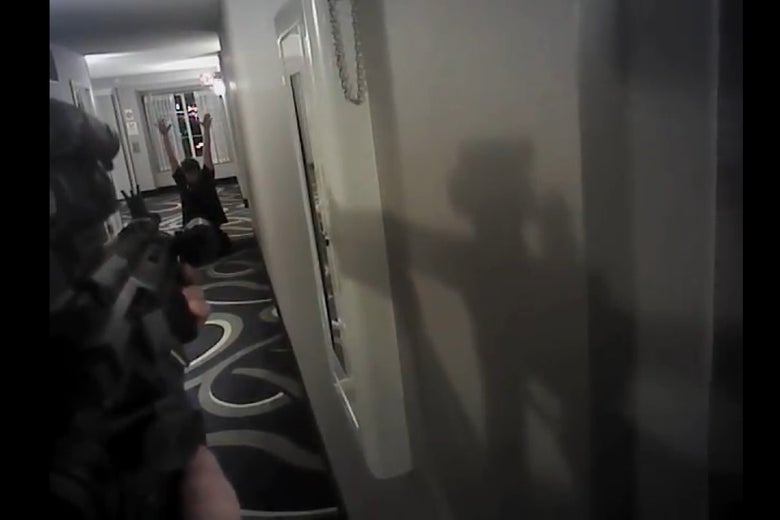 A jury found former police officer Philip Brailsford not guilty of second-degree murder and reckless manslaughter for the killing of an unarmed man in Mesa, Arizona, in January 2016. The verdict caused a harrowing video of the encounter to go viral.
From Arizona's ABC 15:
The acquittal on Thursday clears 27-year-old Philip Brailsford of criminal liability in the January 2016 shooting death of Daniel Shaver of Granbury, Texas.
Shaver was shot at a hotel in the community of Mesa as officers responded to a call that someone was pointing a gun out a window.
The shooting happened after Shaver was ordered to lay face-down in a hallway.
Brailsford says he fired when Shaver reached toward his back, as if he was pulling out a handgun.
The incident was captured by Brailsford's body camera. In the video, which has been shared widely on social media since it was made public Thursday, Sgt. Charles Langley can be heard barking instructions to Shaver and a companion. At one point Shaver, sobbing and confused, begs not to be shot.
Warning: The video below is graphic.
Brailsford, who was fired two months after the incident for violations of department policy, testified that he would have handled the situation in the same way if given the chance.
Shaver, 26 and a father of two, used a pellet gun to kill birds as a pest control worker. He had invited a man and a woman he'd met in the hotel that night up to his room to see the gun. Both testified that he'd been playing with it near a window. Police later found the gun in Shaver's room. "Laney Sweet, Shaver's widow, said she had no comment to make about the verdict as, crying, she exited an elevator with family," the Arizona Republic's Uriel Garcia wrote Thursday.
The gun Brailsford shot Shaver with was etched with an inscription: "You're fucked."
One more thing
You depend on Slate for sharp, distinctive coverage of the latest developments in politics and culture. Now we need to ask for your support.
Our work is more urgent than ever and is reaching more readers—but online advertising revenues don't fully cover our costs, and we don't have print subscribers to help keep us afloat. So we need your help. If you think Slate's work matters, become a Slate Plus member. You'll get exclusive members-only content and a suite of great benefits—and you'll help secure Slate's future.
Join