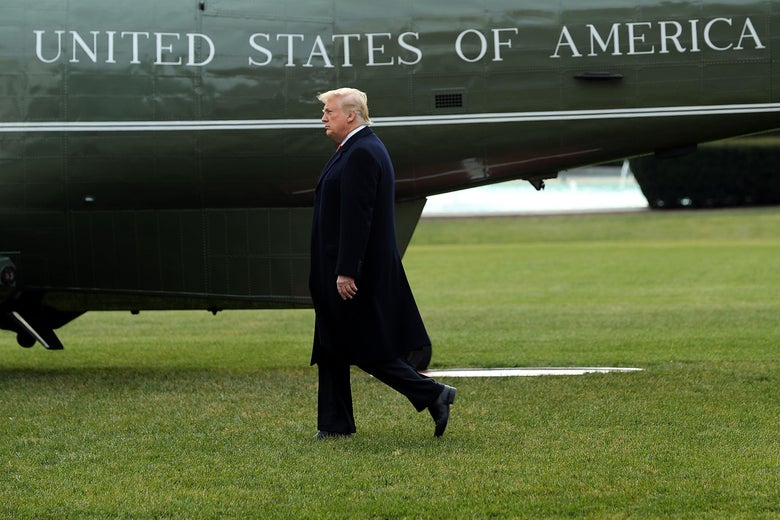 Around six months after President Donald Trump took office, he was furious at an Oval Office meeting with top aides. The president had swept into office with a promise to strengthen the country's borders. Instead, foreigners had been flooding into the country and that was making him look like a fool, according to a New York Times deep dive into the president's attitudes toward immigration. The paper goes on to detail the shocking anecdote that stands out from the rest of the long piece:
Mr. Trump then began reading aloud from the document, which his domestic policy adviser, Stephen Miller, had given him just before the meeting. The document listed how many immigrants had received visas to enter the United States in 2017.
More than 2,500 were from Afghanistan, a terrorist haven, the president complained.
Haiti had sent 15,000 people. They "all have AIDS," he grumbled, according to one person who attended the meeting and another person who was briefed about it by a different person who was there.
Forty thousand had come from Nigeria, Mr. Trump added. Once they had seen the United States, they would never "go back to their huts" in Africa, recalled the two officials, who asked for anonymity to discuss a sensitive conversation in the Oval Office.
The White House vehemently denies that the president uttered the shocking statements. In a statement, Press Secretary Sarah Huckabee Sanders said that "General Kelly, General McMaster, Secretary Tillerson, Secretary Nielsen and all other senior staff actually in the meeting deny these outrageous claims. It's both sad and telling the New York Times would print the lies of their anonymous 'sources' anyway." But the Times says the two anonymous sources who relayed the information were so surprised by the words that they "related them to others at the time."
Even if they are shocking, the words don't necessarily surprise those who have been battling against Trump's immigration policies claiming that racism is the main driving force. "He's basically saying, 'You people of color coming to America seeking the American dream are a threat to the white people,'" said Frank Sharry, the executive director of America's Voice, a pro-immigration group. "He's come into office with an aggressive strategy of trying to reverse the demographic changes underway in America."
One more thing
You depend on Slate for sharp, distinctive coverage of the latest developments in politics and culture. Now we need to ask for your support.
Our work is more urgent than ever and is reaching more readers—but online advertising revenues don't fully cover our costs, and we don't have print subscribers to help keep us afloat. So we need your help. If you think Slate's work matters, become a Slate Plus member. You'll get exclusive members-only content and a suite of great benefits—and you'll help secure Slate's future.
Join