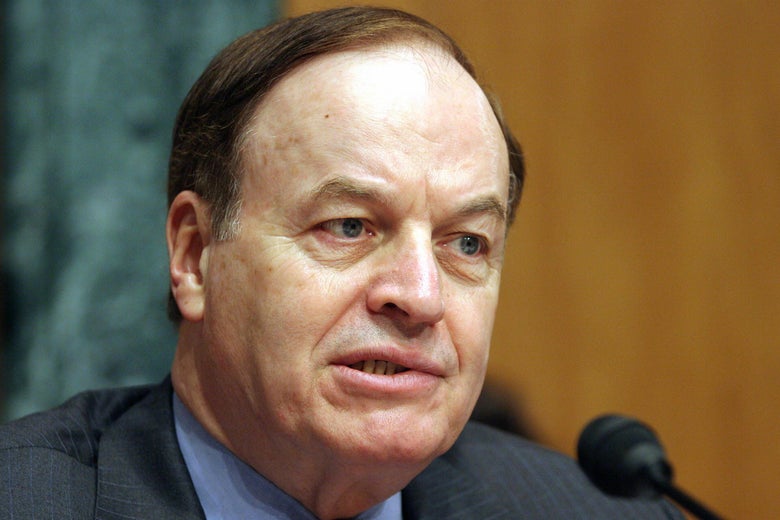 At a time when most Republicans seem to be falling in line behind Roy Moore's candidacy for Senate despite the numerous sexual misconduct allegations that have racked up against the former judge, the state's senior senator is a clear exception. Sen. Richard Shelby said Sunday that he wrote in a Republican, who he refused to name, noting the "tipping point" was the allegation that the former judge molested a 14-year-old girl when he was in his 30s.
"I'd rather see the Republican win, but I would hope that Republican would be a write-in. I couldn't vote for Roy Moore. I didn't vote for Roy Moore. But I wrote in a distinguished Republican name," Shelby, who has already cast his ballot for the Tuesday election, told CNN's State of the Union. "I'd rather see another Republican in there and I'm going to stay with that story. I'm not going to vote for the Democrat, I didn't vote for the Democrat or advocate for the Democrat. But I couldn't vote for Roy Moore."
Shelby had already said he wasn't supporting Moore, but his strong words on Sunday showed how there are at least some members of the GOP who are uncomfortable about supporting Moore to take over the seat left open by Attorney General Jeff Sessions. "The state of Alabama deserves better," Shelby said as he encouraged other voters to follow his lead and write in the name of another Republican on the ballot.
In justifying his decision to not vote for Moore, the Alabama senator said he had no reason to not believe the women who have accused the former judge of misconduct. When there's "a lot of smoke, there's got to be some fire somewhere," he said. "We call it a tipping point," Shelby said. "I think, so many accusations, so many cuts, so many drip, drip, drip—when it got to the 14-year-old's story, that was enough for me. I said I can't vote for Roy Moore."
Shelby's speaking out against Moore comes on the same weekend as Trump got even more involved in the race and gave the former judge an unequivocal endorsement at a Florida rally on Friday night. The president didn't just urge Alabama voters to "get out and vote for Roy Moore," he also joined the campaign of attacking the credibility of one of the accusers, Beverly Young Nelson. "Did you see what happened today? You know, the yearbook? Did you see that? There was a little mistake made," Trump said. "She started writing things in the yearbook." The woman had admitted Friday to adding "notes" under Moore's signature in her high school yearbook. The Moore campaign has long said the entire entry was forged.
One more thing
You depend on Slate for sharp, distinctive coverage of the latest developments in politics and culture. Now we need to ask for your support.
Our work is more urgent than ever and is reaching more readers—but online advertising revenues don't fully cover our costs, and we don't have print subscribers to help keep us afloat. So we need your help. If you think Slate's work matters, become a Slate Plus member. You'll get exclusive members-only content and a suite of great benefits—and you'll help secure Slate's future.
Join