Turning Point USA is an advocacy group founded by a 24-year-old named Charlie Kirk; its raison d'etre is presenting conservative ideas in a millennial-friendly format. On Wednesday, after a writer named Adam Weinstein criticized/mocked one of its pro-capitalism memes, the group's Twitter account responded by suggesting that people named "Weinstein" like to put their hands in other peoples' pockets, if you get their drift: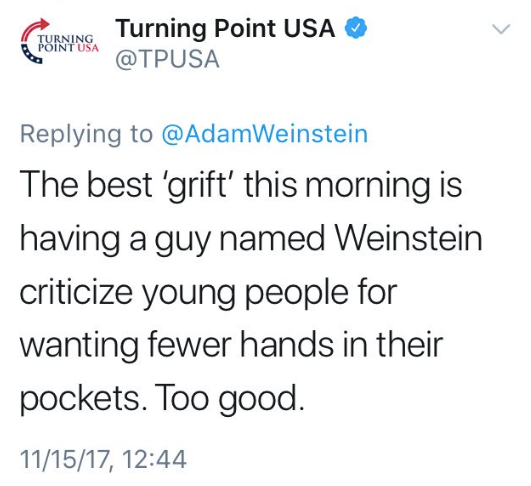 Turning Point subsequently deleted the tweet and apologized to Weinstein, making the claim that its joke—which was about putting one's hand in someone else's pocket in the context of a tweet about money and "grift"—was not a play on anti-Semitic stereotypes about greed but in fact a reference to Harvey Weinstein.
Hmm. Could be that. Or it could be that, for some reason, right-wing groups currently feel emboldened to use crudely bigoted rhetoric in a way they wouldn't have a few years ago. One or the other!