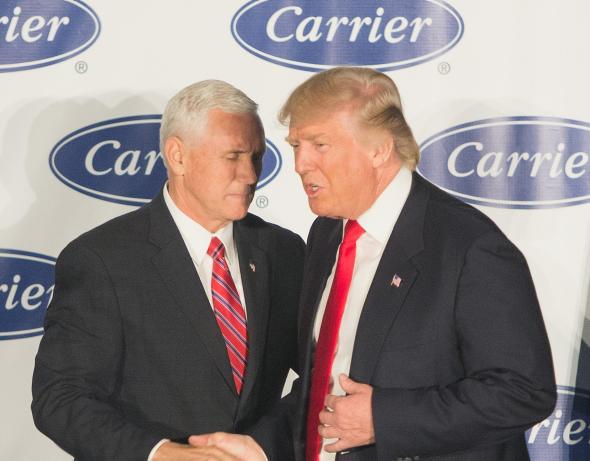 Remember President-elect Trump's triumphant appearance in Indiana at the Carrier plant where he'd cut a deal to save jobs that were set to be moved to Mexico? Well, in the first place, the agreement only ever extended to 800 specific workers, not everyone at the 2,000-person plant. And this week the company announced that some of the workers set to lose their jobs will be terminated Jan. 11—which is actually a relatively humane departure from the less-than-benevolent original plan to lay them off on Dec. 22, i.e. the last working day before Christmas. From the Indianapolis Star:
Carrier expects to lay off 215 people in January, down from its last estimate of 275. That would bring the total number of layoffs to 553 for the year, down from a previous figure of 660. The company in a statement said it reduced the number of layoffs because of attrition.
The layoffs come as Carrier is moving its fan coil production to Monterrey, Mexico. The outsourcing was part of the deal Carrier parent company United Technologies Corp. reached last year with the incoming Trump administration.
Said Trump during the 2016 campaign, describing how he'd impose a 35 percent tax on any goods manufactured abroad by firms, such as Carrier, that sent jobs overseas: "Here's what's going to happen. Within 24 hours, they're going to call back: 'Mr. President, we've decided to stay. We're coming back to Indianapolis.' That's what's going to happen—100%." Not quite!
POTUS also hosted United Technologies CEO Greg Hayes at a White House roundtable on Feb. 23. Here's en excerpt from the transcript:
TRUMP: Did you bring any more of those jobs back from Carrier? [Laughter.]
It's funny because they didn't!
TRUMP: But one thing he did—you know, I told—I said, you were given so much credit for that, and I heard, two days ago, that you're selling far more Carrier air conditioners than you thought, just as a patriotic move. People are buying Carrier because of what you did—bringing the jobs back to Indiana.
MR. HAYES: That's exactly right. It's a great success.
A great success indeed! For some people.
---