Republican Senate candidate Roy Moore is not going anywhere. In his first public appearance since allegations were first reported that he had sexual contact with a 14-year-old girl decades ago, Moore vehemently denied the allegations and harshly criticized the media outlet that first published the story. The defiant Moore said the Washington Post published "fake news" that was nothing more than "a desperate attempt to stop my campaign for U.S. Senate." The Senate hopeful added that the claims of his involvement with minors "are completely false and untrue" and "very hurtful to me personally."
Moore was greeted by around a dozen protesters when he arrived at a Veterans Day event Saturday. He declined to answer any questions from reporters on his way in or out of the building. During his speech, Moore called it "very strange" that the allegations would come out now. "I've been investigated more than any other person in this country," he said. "That these grown women would wait 40 years to come forward right before an election to bring charges is absolutely unbelievable." Some in the crowd clapped at that statement.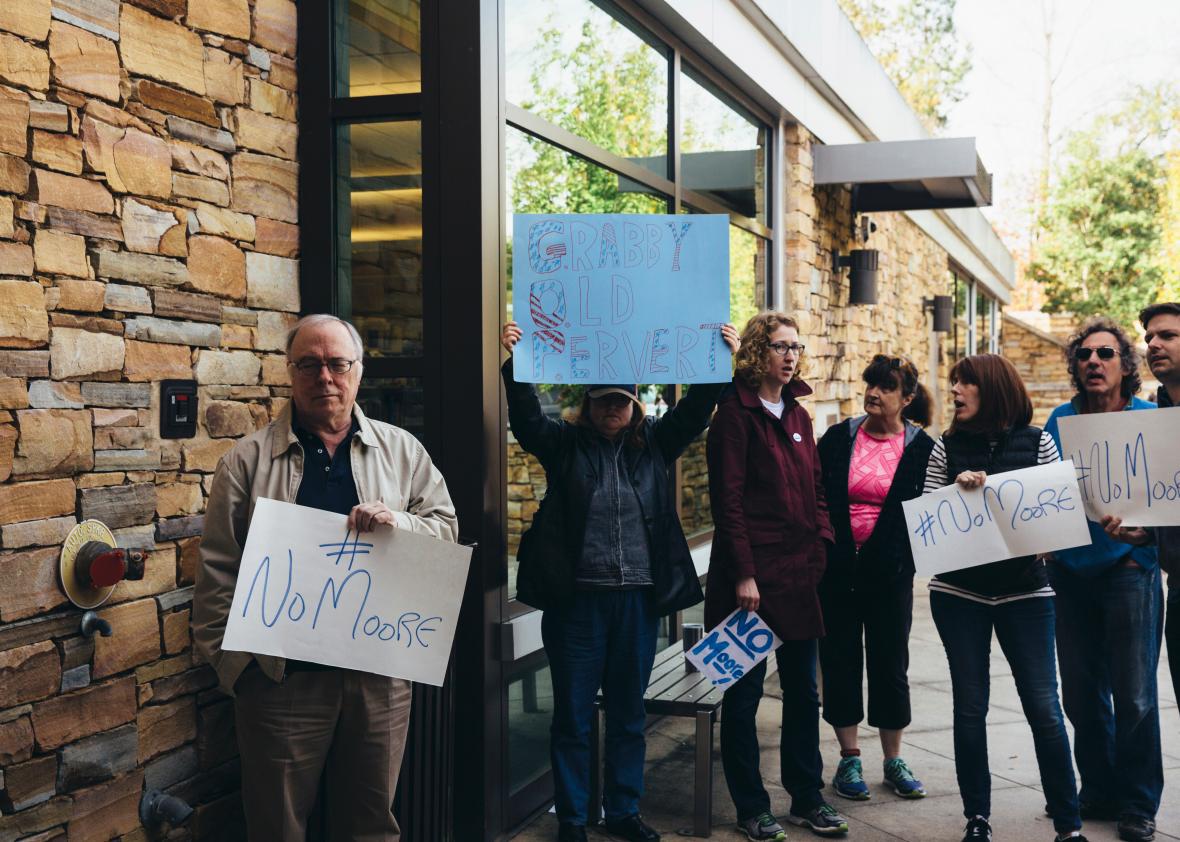 Moore also seemed to suggest members of his team or allies are investigating the claims made in the Post article. "There are investigations that are going on. In the next few days there will be revelations about the motivation and the content of this article," Moore said without elaborating about what those could be. He did say the allegations were part of a political campaign to "divert attention from the true issues that affect our country, like healthcare, military readiness, tax reform, immigration, and the national debt."
Earlier, Moore had also denied the allegations during an appearance on Sean Hannity's radio show, calling the claims against him "completely manufactured." The 70-year-old Senate hopeful, however, didn't categorically deny dating teenage girls when he was in his early 30s. "I don't remember ever dating any girl without the permission of her mother," he said.
Moore is sounding a defiant tone as Republicans are scrambling to figure out what to do in the race that has sharply divided the party. Some Republican senators are considering the possibility of pushing a write-in candidate, getting the governor to push back the election scheduled for Dec. 12 or perhaps even not seating Moore if he is elected. If Moore loses it would mean the Republican majority shrinks to just one vote. But if he wins, "the party faces a potentially more untenable prospect: welcoming a child-molesting suspect into their ranks, a move that every Republican candidate would have to answer for," notes the New York Times.
The way in which Moore can simply ignore the desire of many Republican leaders to drop out of the race illustrates the way Washington insiders are not as powerful as they once were. The Washington Post explains:
The tools available to Senate Majority Leader Mitch McConnell (R-Ky.) and other Washington figures to drive him out of the race either no longer exist or have been rendered impotent by the rise of a new political structure. From the media to big corporations to Congress, public distrust has grown across the board and made it easier for outlier figures such as Moore to thumb their nose at the so-called leaders.
"It's a distrust of institutions, all institutions," said Josh Holmes, a senior political adviser to McConnell. "There's just no deference at all in politics today."