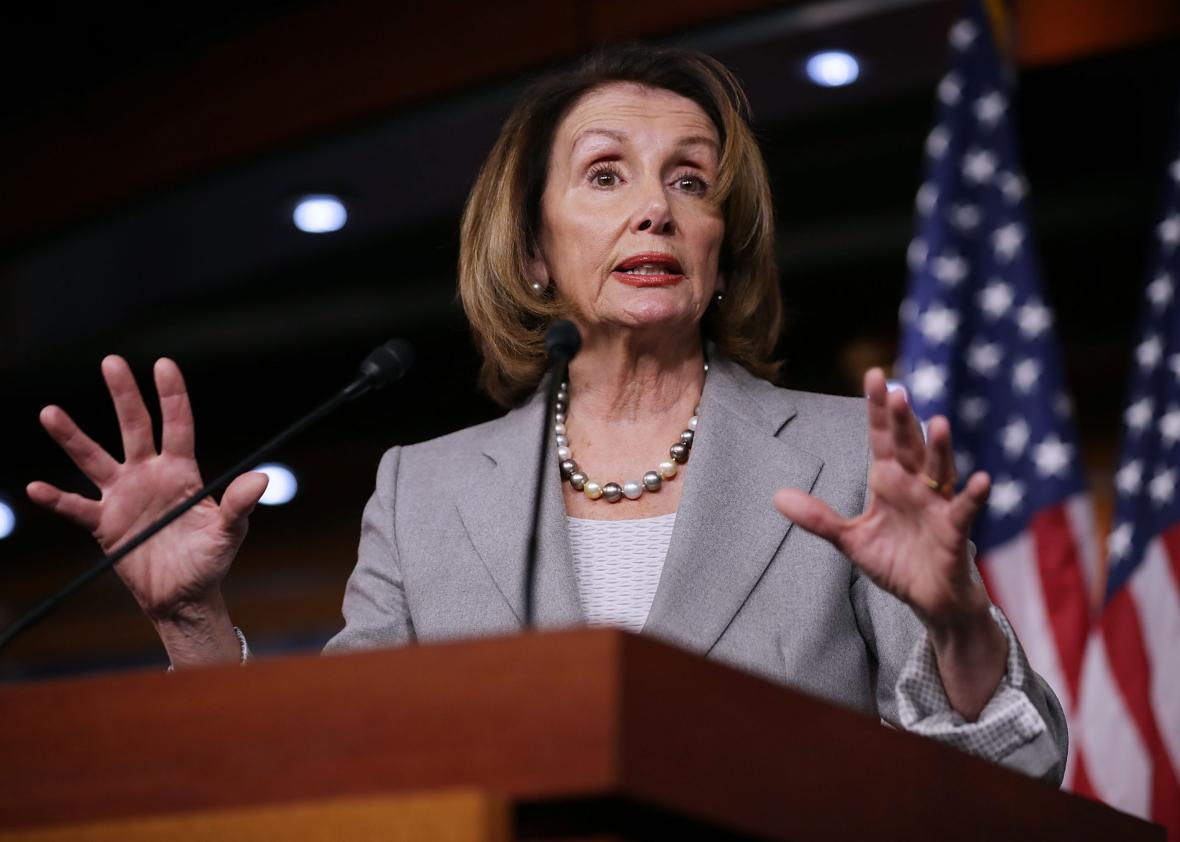 Over a week after BuzzFeed first reported sexual harassment claims against Michigan Congressman John Conyers, House Minority Leader Nancy Pelosi and three other top Democrats have called on him to resign. From the New York Times:
"The allegations against Mr. Conyers, as we have learned more since Sunday, are serious, disappointing and very credible," Ms. Pelosi told reporters. "It is very sad. The brave women who came forward are owed justice. I pray for Congressman Conyers and his family and wish them well.
"However," she added, "Congressman Conyers should resign."
Minutes later, Speaker Paul D. Ryan of Wisconsin told reporters he agreed that Mr. Conyers should quit.
In an appearance on Meet the Press on Sunday, Pelosi initially defended Conyers, calling him an "icon", and refused to say she believed his accusers. "I don't know who they are," she told NBC's Chuck Todd. "Do you? They have not really come forward." Conyers has been accused of sexual harassment and assault by over half a dozen women and other employees, including the signers of affidavits submitted to the Congressional Office of Compliance and acquired by BuzzFeed.
Pelosi's turnaround comes as Conyers has reportedly been hospitalized for "dizziness and shortness of breath" induced by reporting about the allegations against him, according to aides who initially rebuffed questions from reporters about his condition and have yet to elaborate on his whereabouts. "When asked where Conyers was hospitalized," the Detroit Free Press' Kathleen Grey wrote Thursday afternoon, "[Conyers attorney Arnold] Reed declined to reveal the location and said, 'The same place where Jimmy Hoffa is buried.'" Those aides say Conyers is not ready to resign. "Nancy Pelosi did not elect the congressman and she sure as hell won't be the one to tell the congressman to leave," Reed told reporters following Pelosi's announcement. "That decision will be completely up to the congressman. He's not thought about that." Conyers' open defenders in Congress include the Congressional Black Caucus, whose chair Cedric Richmond said Wednesday that the Caucus is "not urging" him to resign, even after CNN reported Tuesday that several members were working behind the scenes to convince Conyers to step aside.
An ethics investigation into the allegations against Conyers began last Tuesday. Conyers stepped down as the ranking Democrat on the House Judiciary Committee on Sunday and it was reported Wednesday that he will not seek reelection.
Cook Political Reports rates Conyer's Detroit area district as one of the most Democratic in the country; whenever Conyers does ultimately vacate his seat, he will almost certainly be replaced by another Democrat. He has been in Congress since 1965. Democratic leaders in Congress have nevertheless until now bristled at the suggestion that it might be time for Conyers, accused of fondling staffers and funding flights for his lovers at taxpayer expense, to go. In a piece Sunday, Vox's Laura McGann argued that Pelosi's initial defense of Conyers was a betrayal of women remarkable amidst the wave of stories regarding sexual abuse by powerful men. "Last year, Pelosi joked about a flap between Madeleine Albright and Hillary Clinton, repeating Albright's famous line: 'There is a special place in hell for women who don't help other women,'" she wrote. "Whatever happens next, today Pelosi is that woman."
---