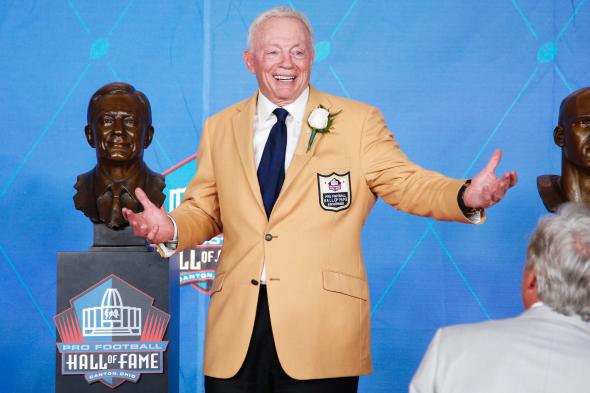 Just when you thought the 2017 NFL season couldn't get any more ludicrous, the news out of the league is Cowboys owner Jerry Jones has threatened to sue the NFL over the owners' decision to renew commissioner Roger Goodell's contract. Jones has, of course, butted heads with Goodell over his handling of Cowboys running back Ezekiel Elliot's on-again-off-again suspension for domestic abuse that has landed the league in court. Jones' camp has dropped hints that the impetus for the lawsuit isn't his star running back's suspension, but instead Jones' "previously held beliefs that Goodell's contract should be incentive-laden," according to the Washington Post.
It's not totally clear how far in the past these contract-related beliefs were formed, but in May, before the season started, the NFL owners voted unanimously, 32-0, to extend Goodell's contract and authorized negotiations to begin to get it done. Jerry Jones was one of those 32. Now Jerry Jones might sue the league to block the deal? Hmm … not that Roger Goodell hasn't made a complete mess of things when it comes to dealing with player discipline; the league has come out looking bad in a number of high-profile instances and Goodell even worse. That's to say there are no heroes here; there is no good fight. Just a couple of rich dudes fighting over some USDs.

What's the legal basis for the Cowboys owner's suit? In short: there isn't one. From ESPN: "Jones has not identified the grounds of such a lawsuit, but one source said Jones is exploring whether a requirement that two-thirds of owners must approve a commissioner's contract could be increased to three-fourths of owners." The arc of the moral universe is long, but it, ahem, bends toward … requiring three-fourths of owners to approve the commissioner's contract? This means Jerry Jones is suing based on essentially nothing to change a procedural rule in a professional sports league that will impact approximately one person. Jones will clearly need a lawyer to file this frivolous lawsuit designed to extort the league into giving him what he wants. So who did Jones pick? David Boies. Seriously.
Boies, a longtime liberal icon in the courtroom for defending Al Gore in the 2000 recount and arguing before the Supreme Court in favor of gay marriage, just this week had his hero credentials seriously dented when it was revealed he represented disgraced alleged rapist Harvey Weinstein as the producer hired an intelligence firm run by ex-Mossad agents to surveil and intimidate women he feared might go public with sexual harassment accusations.
All the NFL needs now is a Kremlin connection and a study finding it to be the primary cause of climate change for this meme of a season to get any more intertwined with American pop culture. On the plus side for the league, at least we're not talking about how the game causes brain injuries that cripple and kill those who play it.
---