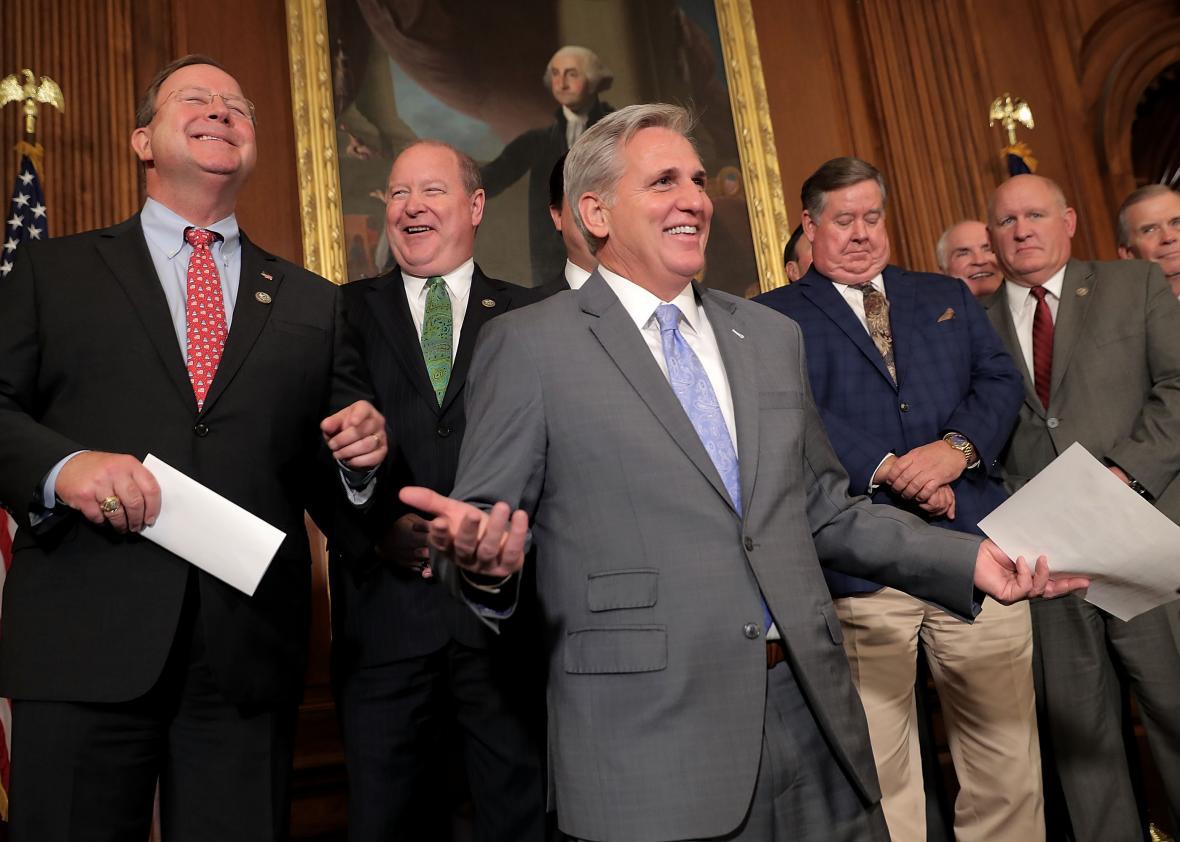 House Republicans easily passed their mammoth tax reform bill Thursday afternoon, by a vote of 227 to 205, with just 13 Republicans joining every Democrat to vote against it. Both the vote and the build-up were about as drama-free as it gets.
During votes on Wednesday afternoon, the House whips seemed less to be pressuring members than just checking in on them to make sure the math was airtight. It was, and then some. By the time floor debate was wrapping up on Thursday afternoon, the whips were in their chairs, taking a rest.
Republicans managed to get ten more members to vote for this proposal than they did their squeaker of a budget, which was controversial because it set up this particular bill. As with the budget vote, the highest concentration of nays came from New York and New Jersey Republicans, whose constituents could be hit hard by the repeal of the state and local income tax deduction and the lowered cap on mortgage interest deductibility. Four out of five New Jersey Republicans, including Appropriations Committee Chair Rodney Frelinghuysen, voted against the Tax Cut and Jobs Act, as did five out of nine New York Republicans. As New York Rep. Tom Reed, a Ways and Means Committee member who voted for the bill, told me Wednesday, the further members were from high-cost New York City, the more likely they were to vote for the bill. (That did not apply, however, to Rep. Elise Stefanik, who represents the northernmost part of New York state and voted against the bill.)
Most of California's Republican delegation, whose constituents could be hit even harder than New York, which already has a type of property tax cap, voted in favor the bill. But the 14-member group didn't provide the unanimous support that leaders enjoyed on the budget vote. Rep. Darrell Issa, who represents a pricey coastal district in Southern California, voted against it. He had told reporters on Wednesday that he expected two to three other California Republicans to join him, but wouldn't name them. We found out during the vote: Reps. Tom McClintock and Dana Rohrabacher also voted no.
Rohrabacher, who represents Orange County, said he made his decision five or six hours before the vote. He shared what is surely one of many sob stories afflicting coastal upper-middle class suburban families viewing this tax package.
"Some guy called up who I know, who is a Republican, he said, 'look, we're hanging on to my house, we have a million-dollar home, but the equity in the home is it," according to Rohrabacher. The unnamed guy calculated that his taxes would go up $8,000 under the bill, and told Rohrabacher that he'd have to take his son out of private school.
"Okay, I'm not gonna do that," Rohrabacher decided.
But aside from these New York, New Jersey, and California members, and conservative North Carolina Rep. Walter Jones' standard vote against everything, Republican leaders swept the rest. The Illinois members representing the Chicago suburbs and exurbs all voted for it. All of the Pennsylvanians, several of whom are quite moderate, voted for it. Most mysteriously, Rep. Barbara Comstock, representing the Northern Virginia suburbs that voted overwhelmingly against the GOP in last week's state elections, voted for it. 
As usual, the Senate will face more problems trying to pass its version of the bill, and then the two bills will need to be blended together in conference. That could still get thorny. But judging from today's House vote, tax reform might not be the end-all, be-all war that was expected of such an ambitious project.
---