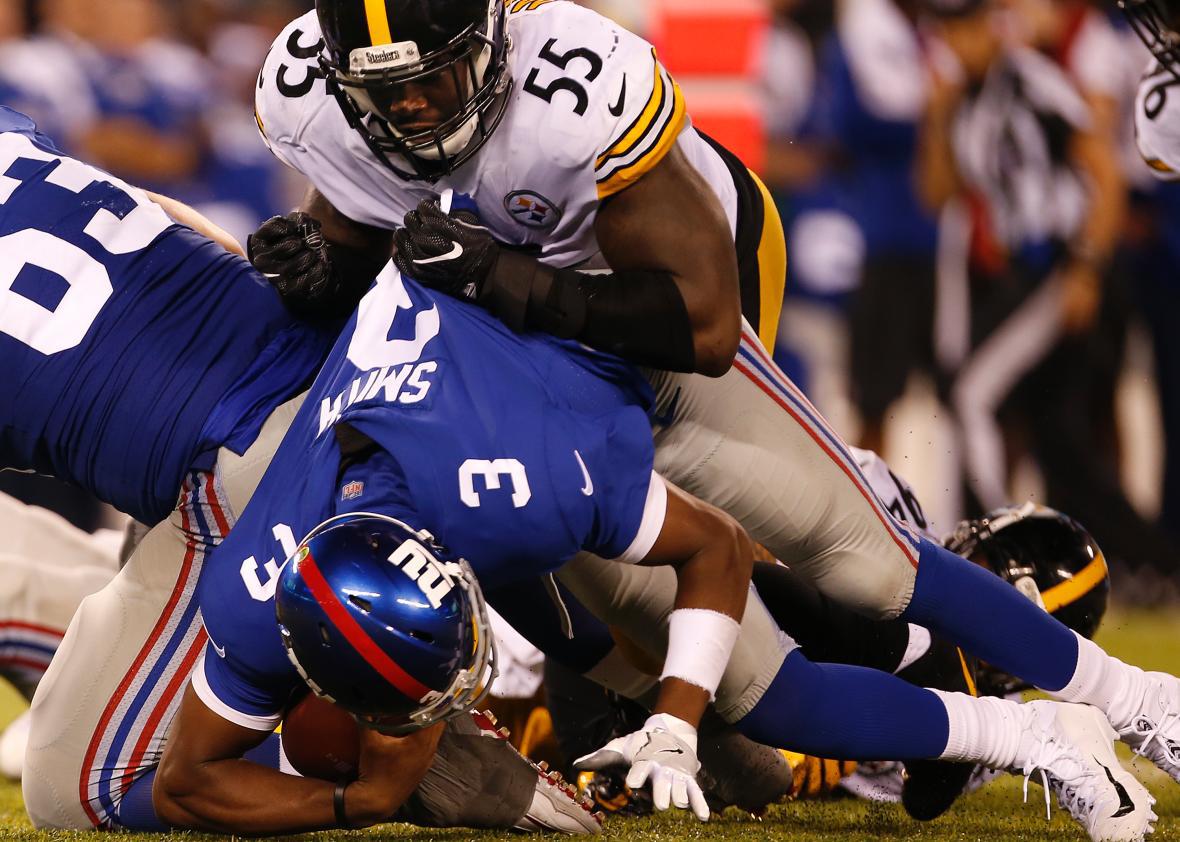 The New York Giants announced on Tuesday that two-time Super Bowl MVP Eli Manning would be benched this week in place of former New York Jets quarterback Geno Smith.
The news is notable in light of Manning's extraordinary longevity as the Giants starting quarterback, as well as the controversy surrounding Colin Kaepernick's apparent continued blackballing from the league.
The 36-year-old Manning had started 210 consecutive games, the second-longest streak by a quarterback in NFL history behind Brett Favre's 297-game run. He hadn't missed a game since Nov. 14, 2004 when Kurt Warner started for the Giants.
The Giants are 2-9 this year, but that likely has way more to do with his team's offensive line being terrible and his receiving corps having been devastated by injury than anything Manning has done. In Manning's last game, the Giants lost 20-10 to Washington on Thanksgiving. He completed 13-of-27 passes for 113 yards, with one interception and zero touchdowns.
Manning was offered the opportunity to continue to start by coach Ben McAdoo as a symbolic means of keeping his streak alive, but he turned that down. McAdoo and general manager Jerry Reese say they are looking to the future by giving Smith and rookie Davis Webb the opportunity to play.
Interestingly, the Giants had never started a black player at quarterback in the entire history of the franchise:
Smith hasn't thrown more than 42 passes since 2014 when he started for most of the season with the Jets. Smith threw 13 touchdowns and 13 interceptions and rushed for six touchdowns in 14 games that year.
Kaepernick, who has remained a free agent despite a bevy of quarterback injuries this season and statistical superiority to many of the league's starters, sued the NFL earlier this year for allegedly colluding to keep him off the field because he led social justice protests during the national anthem last season.
Giants co-owner John Mara said in May that the team never considered signing Kaepernick, while also making a point to describe negative fan reaction to Kaepernick's protests.
"All my years being in the league, I never received more emotional mail from people than I did about that issue," Mara told Sports Illustrated at the time. "If any of your players ever do that, we are never coming to another Giants game. It wasn't one or two letters. It was a lot. It's an emotional, emotional issue for a lot of people, moreso than any other issue I've run into."
On Tuesday, President Donald Trump again criticized the NFL for allowing players to protest during the anthem.
Kaepernick's collusion suit alleges that Trump is helping to facilitate the player's blackballing.
---