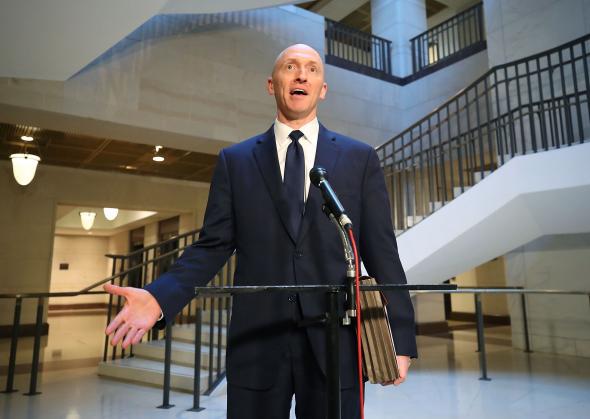 Former Trump campaign adviser Carter Page told congressional investigators Thursday that he discussed with Jeff Sessions his scheduled travel to Moscow in July 2016 during the heart of the presidential campaign, CNN reports. Page spent more than six hours testifying in a closed-door session before the House Intelligence Committee Thursday. Page's testimony that Sessions was told about the trip is of particular interest this week following Special Counsel Mueller's indictments handed down Monday.
Page's trip was not unknown, but it's garnered increased scrutiny after former aide George Papadopoulos' admission—revealed in his indictment—to federal investigators that not only did he try to set up a meeting between the Trump campaign and the Kremlin, but on June 1, 2016, he emailed a superior on the campaign that he had the contacts to make it happen. The still-undisclosed Trump campaign official then forwarded Papadopoulos' email to another campaign staffer with a note saying: "Let's discuss. We need someone to communicate that [Donald Trump] is not doing these trips. It should be someone low level in the campaign so as not to send any signal."
It appears Papadopoulos' trip proposal did not materialize, but the following month, Carter Page, someone sufficiently low level in the campaign, arrived in Moscow for a trip he maintains was unrelated to the campaign. It raises the question: Was Page in Moscow to connect with the Kremlin? Also, what knowledge did Sessions have of Page's trip and was he given any instructions? Page says the trip was innocuous. "Back in June 2016, I mentioned in passing that I happened to be planning to give a speech at a university in Moscow," Page told CNN. "Completely unrelated to my limited volunteer role with the campaign and as I've done dozens of times throughout my life. Understandably, it was as irrelevant then as it is now. If it weren't for the dodgy dossier and all the chaos that those complete lies had created, my passing comment's complete lack of relevance should go without saying."
Contrary to Page's description of the trip, the Papadopoulos emails make his trip far from irrelevant, as does Session's knowledge of the excursion. Everything put together you can make out the outline of the Trump campaign sending Page to quietly liaise with the very people who would later play a pivotal role in the U.S. election. We're not there yet, but it will be interesting to know what Page's itinerary looked like while he was in Russia.
*Correction, Nov 3, 2017: This post originally misspelled Special Counsel Robert Mueller's last name.
---