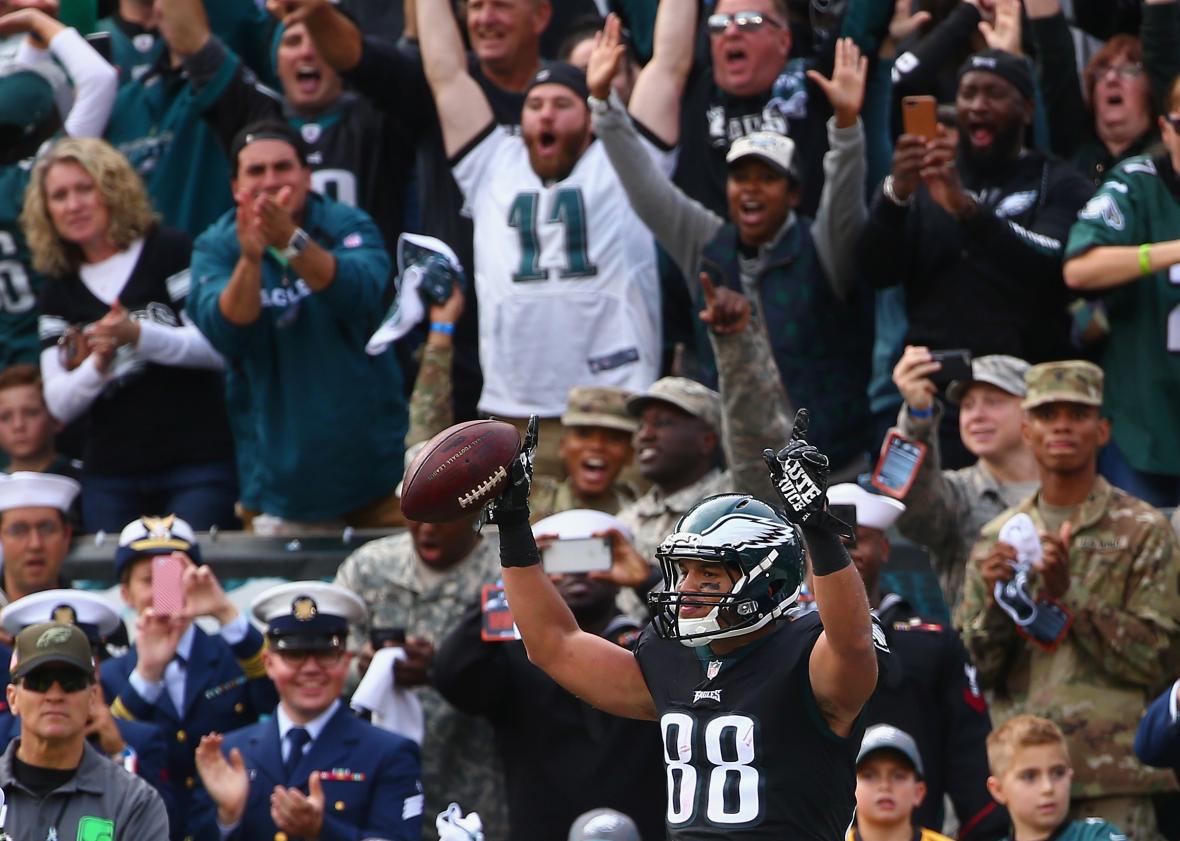 The Eagles are mighty impressive. On Sunday, Philadelphia put a first-half beatdown on the Denver Broncos and went into halftime up 31-9. Should they hang on to this massive lead (Update: They did, triumphing by 51–23), the Eagles will be 8-1, proving that they're not merely the class of the NFC East—they may also be the league's best team overall. Led by second-year quarterback Carson Wentz (who is in the midst of a stunning, MVP-caliber season), Philadelphia has the makings of a real Super Bowl contender.
Coach Doug Pederson has his squad firing on all cylinders, but teams have started hot before, only to fizzle come playoff time. The question remains: are the Eagles for real?
Well, it depends on who you ask. It also depends upon what they say about the nature of reality itself.
Ancient Greek philosopher Parmenides argued that reality is a unified, unchanging entity. If this is the case, then the Eagles, who exist in Parmenides' infallible cosmic state, have no choice but to be for real. This includes their secondary, which, while inexperienced, still boasts some playmakers and ballhawks.
If you are like Heraclitus and reject Parmenides' theory, then you may want more proof as to whether or not the Eagles are for real. According to Bishop Berkeley, father of subjective idealism, reality is the result of ideas and perception, and is a state conjured by the observer. He laid out the following argument:*
(1) We perceive ordinary objects (houses, mountains, etc.).
(2) We perceive only ideas.
Therefore,
(3) Ordinary objects are ideas.
So, given that we can see Carson Wentz's confidence and patience in the pocket, he, and the Eagles as a whole, are for real.
Meanwhile, ancient Chinese philosopher Zhuang Zhou would tell you something different. He is one of the first to make the "dream argument," which proposes that reality may be nothing more than a figment of some imagination. "While he is dreaming he does not know it is a dream," he wrote in his story, Zhuang Zhou Dreams of Being a Butterfly. "[A]nd in his dream he may even try to interpret a dream. Only after he wakes does he know it was a dream. And someday there will be a great awakening when we know that this is all a great dream."
Should humanity experience this great awakening in the middle of the 2017-'18 NFL season, the Eagles will hope it occurs next Sunday during their bye week. They will be prepping for a primetime showdown against the Dallas Cowboys, and knowing whether or not they are in a dream will be important during film study.
*Correction, Nov. 5, 2017: This post originally misspelled the last name of Bishop George Berkeley. 
---