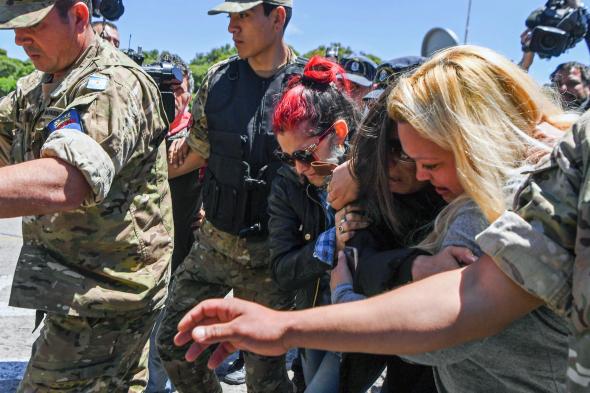 After a week of searching for a missing Argentine Navy submarine off the coast of the country, the families of the 44 crew members aboard have been told that their loved ones are believed to be dead. That news came Thursday after naval officials announced they had detected a sound believed to be an explosion aboard the vessel shortly after it went missing on Nov. 15th. A spokesman described the sound as "abnormal, singular, short, violent" and "consistent with a non-nuclear explosion."
From the Associated Press:
The sub was originally scheduled to arrive Monday at the Mar del Plata Navy Base, about 250 miles (400 kilometers) southeast of Buenos Aires. Relatives of the crew who have gathered at the base to receive psychological counseling broke into tears and hugged each other after they received the news. Some clung to a fence crowded with blue-and-white Argentine flags, rosary beads and messages of support. Some declined to speak, while others lashed out in anger at the navy's response… More than a dozen airplanes and ships have been participating in the multinational search despite stormy weather that has caused waves of more than 20 feet (6 meters). Search teams are combing an area of some 185,000 square miles (480,000 square kilometers), which is roughly the size of Spain.
The ARA San Juan submarine stopped communication mid-last week, but the search for the missing sub grew more frantic over the weekend after it had failed to make contact or surface, as would be expected if it was distressed. U.S. and British search crafts joined the effort off the east coast of Argentina, where the submarine was last heard from. "Hopes were buoyed after brief satellite calls were received and when sounds were detected deep in the South Atlantic," according to the AP. "But experts later determined that neither was from the missing sub."
---